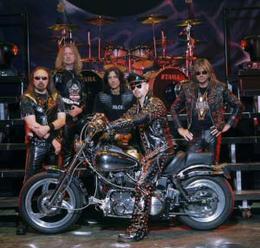 Sat. Aug. 30 -- I was discussing this with Dave Van Heusen the other day. Ten years ago, we might've been fantasizing, "How great would it be if Rob Halford got together with Judas Priest again, and Ronnie James Dio reunited with Black Sabbath, and they TOURED TOGETHER???!!! Yeah . . . right." Well, to quote the bard Dio, "If it seems to be real, it's illusion," so I can't quite believe that the Metal Masters tour, featuring Judas Priest (with Halford) plus Heaven & Hell (Black Sabbath with Dio), has come to pass; it's even got Motorhead and Testament thrown in; and THEY'RE ALL PLAYING SOME NEW MATERIAL. That last factor is crucial: A rock nostalgia show can be fun, but musicians put out megatons more energy if they've freshened their partnership via recent collaboration. Priest have just pushed their art to the pinnacle of insanity with the double concept sound orgy "Nostradamus" (read my review here). Heaven & Hell pumped out three ultraheavy new songs on a hits disc last year, also dropping a truly magnificent live DVD (read my review here). Motorhead, whose relentless speed drive tends to bore me, have continued cranking out an album or DVD most every year, and Lemmy's songwriting has shown some unusual twists. (Having recently caught him carrying the whole Horton Heat band on his back in a guest spot, I am also just beginning to understand the power of his bass playing.) Testament, after repeated label collapses and singer Chuck Billy's cancer scare, have reunited with guitarist Alex Skolnick to craft a passionate record that will adorn many Top 10 lists this year (read my review here). I have seen Priest, Heaven & Hell and Testament in the past few years, and they have all been ON FIRE. Old f*cks kick ass, because they KNOW WHAT THEY'RE DOING. I will be out there in the desert with pen in one paw and beer in the other. At the Glen Helen Pavilion.
Sat. Aug. 30 -- Monk tunes done reggae-style? I didn't expect to be as impressed as I was when I experienced Thelonious Dub on Monday. Read my review here. At a kind of funny old-style place, Colombo's Italian Steak House, 1833 Colorado Blvd., Eagle Rock 90041; (323) 254-9138.
Sat. Aug. 30 -- Vintage L.A. punk show: The Gears, The Controllers, and most important from this site's perspective, spazz-jazzers The Deadbeats, with Joe Berardi replacing the late Shaun Guerin on drums. I think I played on bills with all those bands a quarter-century ago. At Mr. T's Bowl, 5621 1/2 Figueroa St., Highland Park 90042; Deadbeats 10:30pm; $10; (323) 256-7561; http://mrtsbowl.tripod.com.
Sat. Aug. 30 -- Day of the Dutz: Quartet Equinox featuring drummer Brad Dutz, bassist Dean Taba, saxist Andy Suzuki and guitarist Dirk K. At Café Metropol, 923 E. Third St., downtown 90013; 8pm; $10 cover, $10 minimum; (213) 613-1537. Same day at 5pm: free improv from Brad Dutz & Ron Jones.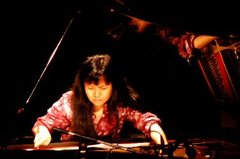 Mon. Sept. 1 -- ENORMOUS EARTHSHAKING EVENT: Angel City Jazz Fest. For god's sake but mainly your own, support Rocco Somazzi's Labor Day festival showcasing the finest in non-traditional improvisation, and show the world that there's an audience for for this stuff; otherwise the media will continue to ignore it and nobody will know when shows happen and therefore attendance will be puny. Truth: When people hear this music, THEY LOVE IT. Every one of the 15 indoor/outdoor acts (with live art and good food/beer/wine curated by restaurateur Somazzi all day) is exceptional, but if you've got to pick, try the all-star septet of spooky pianist Motoko Honda (1:30), the creative outness of guitarist Elliott Sharp (2:45), the gentle originality of keyboardist Wayne Horvitz's Sweeter Than the Day (4:00), the danceable cookery of guitarist Leni Stern's African band (4:45), the Angeleno warmth of pianist Alan Pasqua's quartet with drummer Peter Erskine (5:15), the wild swing of vibesman Nick Mancini (6:00), the pastoral avantism of pianist Satoko Fujii's quartet (6:30), the bluesy intelligence of altoist Arthur Blythe's quintet (7:45), and The Nels Cline Quintet's tribute to Jimmy Giuffre (8:30). Smaller cities have festivals like this all the time; L.A. almost never does, and the world thinks we're cavemen. The world is wrong. At Barnsdall Art Park, 4800 Hollywood Blvd., Hollywood 90027; 11am-10:30pm; (323) 434-0659. It's $35 at the gate but just $25 if you buy printable tix in advance here, where you can also download a PDF of the whole program. PHOTO OF SATOKO FUJII BY TORU SASAKI.
Thurs.-Sat. Sept. 4-6 -- Bass angler Reid Anderson, go-for-baroque pianist Ethan Iverson and LOUD drummer David King are The Bad Plus, saviors of jazz for the Now Generation with covers of Bowie and Blondie but mostly just thoughtfully edgy stuff. I like. At Catalina Bar & Grill, 6725 Sunset Blvd., Hollywood 90028; 8 & 10pm; $20-$30; (323) 466-2210; www.catalinajazzclub.com.
Thurs. Sept. 4 -- Political, passionate, poetic priestess Otep Shamaya fronts Otep, starkly theatrical metal that'll derange yer senses. At the Key Club, 9039 Sunset Blvd., West Hollywood 90069; www.keyclub.com; (310) 274-5800.
Thurs. Sept. 4 -- Pomes & 'bone from Dottie Grossman & Michael Vlatkovich, calling and responding. At Downey Museum of Art, 10419 S. Rives Ave., Downey 90241; 7:30pm; free.