Fri. Aug. 8 -- From Northern India, Jaipur Kawa Brass Band makes precolonial gypsy noise, from classical Indian to Bollywood. Huh! At Grand Performances in California Plaza, 350 S. Grand Ave., downtown 90071; noon and 8pm; FREE.
Sat. Aug. 9 -- Last chance to experience the environmental/psychedelic/excrement-booting country music of I See Hawks in L.A. before they head out to Europe. And you will be glad to know that they have been cleared of charges of public urination in Kern County. (See their site.) At Redwood Bar, 316 W. Second St., downtown 90012; 9pm; (213) 680- 2600.
Sat. Aug. 9 -- Noisy spaz metal and an insane voxtress -- Watch Me Burn will knock you on your ass. At Relax Bar, 5511 Hollywood Blvd., Hollywood 90028; probably after 10pm; cheap.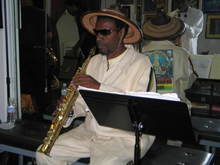 Sun. Aug. 10 -- Great outdoor summer vibe at the World Stage Jazz Fest: the quartet of drummer Roy McCurdy, a flash of the peacefully revolutionary '70s with the return of saxist Jesse Sharps (pictured) and his group the Gathering; Bobby Matos' very righteous Afro-Latin Jazz Ensemble, soul-Trane pianist Nate Morgan's ensemble, and a bunch more. We'll be remembering Gerald Wiggins all day. In the parking lot at 43rd Street and Degnan Boulevard; noon-7pm; FREE.
Sun. Aug. 10 -- Only thing the World Stage event lacks is planet-wailing vocalist Dwight Trible -- well, he's got a gig the same night with pianist John Beasly, bassist Trevor Ware and drummer Dexter Story. And it's later, so you can do both. At Jazz Bakery; 8 & 9:30pm; $25.
Wed.-Sat. Aug. 13-16 -- Catch him before he's huge: saxist Yosvany Terry and his Afro-Caribbean Jazz Quartet, featuring pianist Osmany Paredes, bassist Yunior Terry and drummer Ernesto Simpson Jr. At Jazz Bakery; 8 & 9:30pm; $30.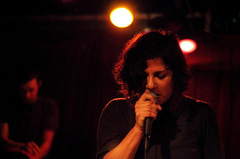 Thurs. Aug. 14 -- Carla Bozlulich's Evangelista is one of the few ways you can still tap the ancient energy of mystic chant, drone and exorcism. At the Echo, 1822 Sunset Blvd., Echo Park 90023; (213) 413-8200; 7:30pm; cheap.