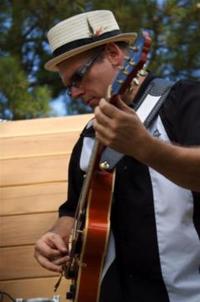 Joe Bartone admits slapping dreadlock wigs on Monk and Miles was a market-driven package. It's no comedy act, though. Dubwise jazz lights a fire to illuminate the guitarist's highly personal cultivation.
Right out of the gate, Thelonious Dub began to regroove our brains via the uncontroversial engine of Miles Davis' "All Blues." Over the simple swing-waltz rhythm, regular guy Jack Chandler applied his clean soprano sax to some decidedly abnormal note choices as Bartone, looking like a vacationing Shriner in cargo shorts and straw porkpie, laid down strange chorus-effected chords. When it was Bartone's turn to solo, it became clear who had inspired Chandler's liberal approach to scales: Out of the hollow-body pealed successions of "wrong" notes (accented with occasional Floydian twists of the whammy bar) that defied us to stay on our chairs. Bartone wandered into the basic chord structure once in a while, too, just to show he knew where it was, coming off like a tightrope walker juggling a tennis ball and a bowling pin. And he never lost balance. Really fun.
In tandem, Bartone and Chandler haltingly pretended they were trying to remember Monk's "In Walked Bud" before the whole quartet snapped into a quick Latin-reggae beat. The rhythm section really asserted themselves here: young Sean Rainey snapping his drumsticks with loose limbs; thin John Von bobbing his Maynard G. Krebs chin tuft as he nailed the bottom on his '70s-vintage handmade electric standup bass, which resembled a tuna coffin. Chandler changed to alto, its mildly quacking tone similar to his soprano's. Bartone whacked some steely dub echo effects. And the groove grew deeper and deeper.
More Monk ensued: Bartone strumming a drone chord behind Chandler's incisive solo on the hopping "Bemsha Swing," the group expanding further into Ganges territory on the sleepy "'Round Midnight." For the latter, Bartone pulled out his "electric sitar"; the onetime Rhode Islander later explained that it's a more luthier-crafted version of an instrument Danelectro made for Sears back in the '60s, with two necks -- one an electric guitar that gets sitarish buzz from a flat bridge, the other like a mandolin open-tuned to enable sarod-like arpeggios. It was a great effect (Barone imitated drone method by anchoring his pinkie on one fret and moving the other fingers of his left hand around the strings) and a sensitive reimagining of the Monk classic.
T.D. tripped most expansively on a psychedelic mariachi approach to Coldplay's "Clocks," and rocked steadiest on "Blue Monk," where Barone's dubby guitar and Chandler's bluesy soprano broke up the sway with effective tension/release.
For visual hookitude, the guys set up on Persian rugs and Rainey draped his kit with light-studded ropes. You get it all with Thelonious Dub: brain fun, originality, crack musicianship. See 'em, hear 'em, dig 'em.
This was my first visit to Gower Gulch's Hollywood Studio Bar & Grill, whose eclectic bookings (courtesy of Dolores Peterson) represent a major addition to the Tinseltown entertainosphere. The post-deco interior, the airy ambience and the good seafood (I had an ahi sandwich) lay out a big fat welcome mat, and I will return. Write dolwood@aol.com to get on the mailing list.