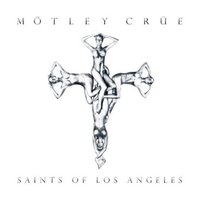 Motley Crue, "Saints of Los Angeles" (Motley)
It took perspiration and respiration for an old crue to reanimate their inner bad boys, but they did what they hadta, and the rock did surely roll.
What they hadta: 1) Assemble all the original members in non-hate mode -- drummer Tommy Lee out of jail, bassist Nikki Sixx out of rehab, singer Vince Neil out of his ego, guitarist Mick Mars out of the deep freeze. 2) Recollect their vintage years of struggle and depravity, as unscrupulously detailed in Neil Strauss's 2001 biography, "The Dirt." 3) Hire a bunch of tuneslingers to help write some decent songs around the concept. 4) Stir well and rock.
Why they hadta: Since 1989's mighty "Dr. Feelgood," few consumers have embraced any Crue studio album -- first a misfit outing with John Corabi as lead singer ("Motley Crue," 1994), then a depressive industrial wallow ("Generation Swine," 1997), then a half-baked tater with Randy Castillo on drums ("New Tattoo," 2000).
I happen to consider "Swine" a charge of real gunpowder whose lyric angst and sonic gunk accurately reflected the bankruptcy of the Motley souls and estates, while expertly pulling off a fresh evolutionary trip. But scrue me, the fans wanted the auld Crue, and with "Saints of Los Angeles," they got it. Just as a whiff of memory doesn't compare with fresh stank, the memory-lane flashback of "Saints" can't match the ambulance immediacy of "Feelgood." The new slab does, however, pack classic Crue chemistry and a heapin' helpin' of their hoss patootery.
"L.A.M.F.," the "Diamond Dogs"-style street-poet introduction about rats and rot, is silly enough to experience once; then comes the meat. After a satisfying dose of Nikki Sixx's chaotically punky bass, the first thing that really hits you about "Face Down in the Dirt," and repeats many a time thereafter, is Tommy Lee battering away for all he's worth, high-hat open, toms shaking -- you can almost see that slack-jawed, open-eyed expression of physical glee. Nearly as immediate is Vince Neil screaming that he'd rather be dead than stuck in a real job; like a lot of us in L.A. around 1980, he meant the hell out of it then and still does. His chihuahua bark fits this band's sound the way no one else's ever could, unless it were that of the Scorpions' Klaus Meine, whom Neil (like Sebastian Bach) imitates now and then.
The mystery of Crue's magic continues to have a whole lot to do with Mick Mars, that ultra-rare combination of perfect chops and perfect feel. Despite reports that his semiparalyzed condition virtually requires that he be wheeled around on a skateboard, his star moments are many: the nagging one-string blues riff on "What's It Gonna Take," the dick-jerkin' rhythm churn on the Cheap Tricky "MF of the Year," the howling wah solo and noisy bluster on "The Animal in Me" (a rock ballad worthy of the name), and his Dead Man's Curve skidwork on the Feelgoodly thumper "This Ain't a Love Song." People don't know how good this guy is.
To augment the tunesmithing of Sixx and Mars, nice little melodic twists on numbers such as the title track and "The Animal in Me" reveal the songwriting hand of Marti Frederiksen, who has contributed to well-wrought latter-day Aerosmith tunes such as "Nine Lives" and "Jaded." Sticking around from Nikki Sixx's Sixx: A.M and the Crue's "New Tattoo" is songwriter-producer James Michael, also knobsman for last year's fine Scorpions epic "Humanity: Hour 1." Michael, Sixx and DJ Ashba pull a full-throttle Harley roar out of the band -- testimony to the team's studio skill, sure, but Motley Crue kicked ass on record with Tom Werman, Bob Rock and Scott Humphrey, too, an indication that when the original four rub shoulders, explosions tend to occur regardless.
"Saints of Los Angeles" wouldn't be a Crue album without bonehead lyrics such as those that adorn "This Ain't a Love Song" ("this is a fuck song") and "Chicks = Trouble." Most wondrous is the part of the title track where Neil casually mentions the gang rape of a passed-out babe -- gosh, what naughty boys; obviously the devil made them do it.
And most likely, the devil will make you download this album somewhere for free. Me, I traded some Foo Fighters and Barbra Streisand for it, which entitles me to come up with my own words, get fucked up while enjoying its big bash, and taunt Motley Crue because their doctors and lawyers and wives won't let them do that anymore. Rock stars have it tough; don't let anybody tell you different.
I wrote this review on July 31, which the mayor's office declared to be Motley Crue Saints of Los Angeles Day. The band was presented with a commemorative certificate at the Sunset Boulevard Guitar Center. We live in a great city.
Motley Crue play the Glen Helen Pavilion on Saturday, Aug. 2.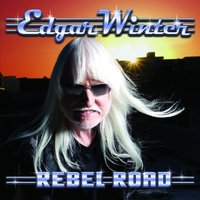 Edgar Winter, "Rebel Road" (Airline)
Delay putting this on till you have a few hours free, because it will compel you to imbibe. And that means party-drink, not tear-in-yer-beer time.
Shoulda known that Edgar Winter could still cut loose with one of the roach-stompinest blues-rock records ever made. Talking old-school, bubba, with nods to Aerosmith, Skynyrd, James Gang. Not that the creator of 1972's soul-boogie classic "They Only Come Out at Night" (featuring the immortal instrumental "Frankenstein") needs the references. But just to make sure no door retains its hinges, he brings on brother Johnny Winter (your life is empty without "Johnny Winter And Live" with Rick Derringer) to tangle strings and burn slide on the cunningly dubbed "Rockin' the Blues." And Edgar's got that bad mother-axer Slash tearing up the slosh-rolling title track. Country commander Clint Black even stops by to blow hardcore harp on a couple of tunes. If you're thinking "gratuitous" or some word with even more syllables, observe that these guest lifers have arrived with members fully extended; this is no paycheck gig.
Considering the genre, you're probably still thinking "formulaic" or perhaps "pedestrian," "antinomian" or "sesquipedalian." No -- Edgar and music pard Curt Cuomo went the extra mile to apply standout touches everywhere, notably the sexy chorus and sweetly paranoid bridge of "Eye on You," the rising transition on the thumpy "Power of Positive Drinkin'," the Elton John-worthy piano-synth span and howling obbligato femmevox on "Freedom," and the layered chase refrain of "Do It Again." The drummer is a one-man fiesta, and the groovin' bassist now and then picks unexpected notes that really grab your attention -- listen to his rubbery McCartney trip on the super-Beatly ballad "Peace and Love." (I dare you to enjoy a song with a title that sappy; I do.) Almost forgot: Does Edgar Winter have a way with howling the white blues, tickling the keys and Texas-tornadoing an alto sax? Silly question.
You don't gotta let down your guard; Edgar will grab your guard and chuck it in the incinerator. Go buy this damn thing.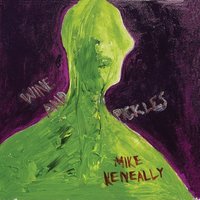 Mike Keneally, "Wine and Pickles" (Exowax)
Mike Keneally has one thing in common with Glenn Danzig: There's gold in his outtakes. For two decades plus, SoCal guitarist-keyboardist-singer Keneally has mined his mind for 16 tons of music, under his own name and in service to artists as diverse as Frank Zappa, Steve Vai, Wadada Leo Smith and Dethklok. Seems, though, that when he finishes a project he's always left with a mess of obsessive, creative, exceptional stuff that didn't fit. "Wine and Pickles" corrals 10 years of such into an album that sounds like an album. It delivers one surprise after another, but it flows.
Keneally could've satisfied himself with the bigger landmarks on his journey, which disresemble one another as much as the Eiffel Tower does the Grand Canyon and the Scripps Aquarium. There's the multipart fusion energy of "Li'l," for instance, with its jazz hoedown giving way to metallic bombast, hot groove and pure lyricism. There's "Inhale," a gorgeously strange collaboration with Lyle Workman that marries "Smile" to "Sgt. Pepper's" before catapulting into an evil post-hippie crescendo. There's "Skull Bubbles," riding a heavy crutch-race riff broken up and reunited by a pair of soaring bridges.
If Keneally had included only such bigger works, the juxtapositions might've clanged. So he eases the impact with short snips -- piano meditations, creepy soundtrack foggerations, inspired improvs. And he supplements the instrumental ingenuity with emotional stripdowns such as an alternate version of the previously released twisted popper "Backwards Deb" (about love and aloneness) and the powerful acoustic ballad that concludes the record, "The Endings of Things" (about love and drugs, I think). The spirits that materialize most often are those of Frank Zappa and, maybe not surprisingly, Todd Rundgren, who once upon a time called on F.Z. for Utopia arrangements. Apart from the many excellent musicians who contribute (guitarist Rick Musallam, drummer Jason Harrison Smith, bassist Bryan Beller, et al.), we can grab some continuity from substantial doses of Keneally's voice, an unpolished resource whose high range and heart connection he's fortunately unafraid to exploit.
Keneally also isn't afraid to reveal his complexity as a musician and a human being. That attitude, of course, eliminates 99 percent of his potential audience. But his Dethklok tour blog indicates that he's becoming ever more adept at autographing boobs. So maybe he's learning the art of simultaneous cake consumption and preservation after all.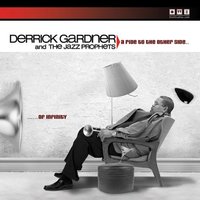 Derrick Gardner and the Jazz Prophets, "A Ride to the Other Side . . . of Infinity" (Owl Studios)
Despite the cosmic transport of its title, "Ride" slaps both feet on the solid New York pavement and struts. The Jazz Prophets, nearly all together for 17 years, work from the established Messengers model, embellishing little upon the post-bop verities.
And crucially, trumpeter Derrick Gardner's septet also subtracts nothing from same. If you think back to the circa-1990 period during which Gardner was coming up out of Chicago (a city that strongly informs his art), you may recall a lot of young traditionalists such as the Harper Brothers and Roy Hargrove who had talent but not yet depth. With the Prophets, jazz feels like a house they've lived in all their lives rather than a suit they put on.
While the tunes on "Ride" ring strong, what makes them special is the developed ensemble sensibility. This builds from the ground up with polished hardwood rhythms from drummer Donald Edwards (who achieves a difficult meld of snap and substance) and bassist Rodney Whitaker (whose every well-selected note packs a punch). Pianist Anthony Wonsley remains conscious of his responsibility stretch things --both the beat and, at times, the harmonic field. The subtle percussion of Kevin Kaiser pokes out mainly in the Latin selections, for which Gardner shows a special affection.
Gardner's trumpet has a swagger to it. Rob Dixon's tenor takes a few shots of bourbon and probes the edges of the chords, sometimes feeling they'd sound better knocked a little out of shape. Vincent Garner's trombone acts as the easygoing conciliator. Those are the basic solo personalities; when they get together for frequent arranged passages, they sound like brothers playing basketball in the back yard, interacting with the easy grace of contact sport. That shit doesn't come together overnight.
Bop, Latin, ballad; repeat as needed. And jazz lovers do need this music -- it is Word.