Fri.-Sat. Sept. 12-13 -- The saxist with the drive and the ideas: Greg Osby, mainstay of the modern avant. With guitarist Nir Felder, Pianist Adam Birnbaum, bassist Joseph Lepore and drummer Hamir Atwal. At Jazz Bakery, 3233 Helms Ave., West L.A. 90034; 8 & 9:30pm; $25-$30; (310) 271-9039; www.jazzbakery.org.
Sat. Sept. 13 -- The fastest-rising and most versatile outpianist in town, Motoko Honda, triangulates with scene stalwarts Emily Hay (flute) and Brad Dutz (percussion). At Café Metropol, 923 E. Third St., downtown 90013; 8pm; $10 cover, $10 minimum; (213) 613-1537.
Sun. Sept. 14 -- Adding to the example of the Bad Plus, Jacob Fred Jazz Odyssey and the Leviathan Brothers, Brooklyn's The Wee Trio are stirring up jazz you don't have to be old to enjoy. Vibesman James Westfall keeps it melodic, bassist Dan Loomis keeps it anchored and drummer Jared Schonig keeps it alertly rustling as they cover Nirvana, Sufjan Stevens and Thelonious Monk along with complementary originals like Loomis' catchy "Orange Finnish Tulip." Bring a teen. At Spazio,
Mon. Sept. 15 -- Last chance in the recent spate of dates to catch the intelligent, entertaining jazz/reggae of Thelonious Dub. Read my live review here.
Wed.-Sat. Sept. 17-20 -- Can't go far wrong with this progressively jazzy vet piano-bass-drums trio: Steve Kuhn, Steve Swallow & Al Foster. At Jazz Bakery, 3233 Helms Ave., West L.A. 90034; 8 & 9:30pm; $30; (310) 271-9039; www.jazzbakery.org.
Thurs. Sept. 18 -- Congrats, Hans, you found a bunch of extremists I haven't heard of (but should check out): Rent Romus' Lords of Outland (San Francisco), Ain Soph Aur, Toni Pope & Robert M, Peter Kolovos, plus live visuals by Vj Fader and "Home" (a short film premiere by CJ Borosque). ResBox at Steve Allen Theater, 4773 Hollywood Blvd., Hollywood 90027; 8pm; $10.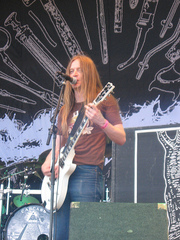 Thurs. Sept. 18 -- Death/grind progenitor Carcass returns with original guitarist Bill Steer, a couple of mighty metalmen from Arch Enemy (guitarist Michael Amott and drummer Daniel Erlandsson) and bassist Jeff Walker, plus Aborted, Suffocation (I dig the rolling thunder of these American deathdudes) and more. At House of Blues, 8430 Sunset Blvd., West Hollywood 90069; 7pm; $39-$49; (323) 848-5800; www.ticketmaster.com.