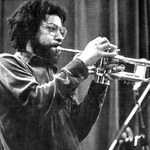 Fri.-Sat. Sept.19-20 -- Every time CalArts educator and Chicago avant steersman Wadada Leo Smith gets his Creative Music Festival together, it's a don't-miss situation. FRIDAY the trumpeter has a vocal theme going with his Silver Orchestra (singer Thomas Buckner, drummer Pheeroan akLaff, cellist Erika Duke-Kirkpatrick, windman Vinny Golia, bassist John Lindberg, violinist Mark Menzies, reedman J.D. Parran and pianist Vicki Ray), plus rare appearances by avantists Anthony Davis & Episteme (the pianist with singer Cynthia Aaronson-Davis, synthman Earl Howard, bassist Mark Dresser and reeman J.D. Parran) and Amina Claudine Myers (the pianist's trio accompanied by the CalArts Choir). SATURDAY it's Smith's Golden Quintet (with the incredible modern pianist Vijay Iyer, the incisively imaginative bassist John Lindberg, the Afro-rooted drummer Pheeroan akLaff and AACM stalwart percussionist Famoudou Don Moye), plus masterful Persian music from Lian Ensemble and video projections by the mynde-blowing Carole Kim. You think we'd get this world-class lineup in L.A. without Wadada pulling the strings? Uh-uh. At REDCAT, 631 W. Second St., downtown 90012; 8:30pm; $20; www.redcat.org.
Fri.-Sat. Sept. 19-20 -- Can't go far wrong with this vet piano-bass-drums trio: Steve Kuhn, Steve Swallow & Al Foster. All three are pillars of progressive jazz from the late '60s onward, with associations as diverse as Stan Getz, Carla Bley and Miles Davis. At Jazz Bakery, 3233 Helms Ave., West L.A. 90034; 8 & 9:30pm; $30; (310) 271-9039; www.jazzbakery.org.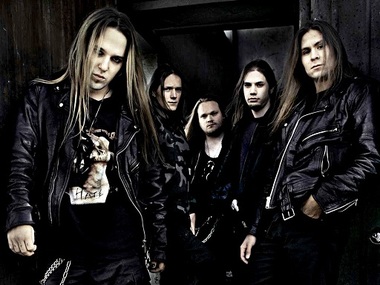 Fri. Sept. 19 -- Metal will seldom rip your flesh the way Finnish guitarist Alexi Laiho and Children of Bodom can rip. Read my review of their latest album here. With the fast-rising prog metal of Between the Buried and Me, great sweaty prole metal from The Black Dahlia Murder, and a "very special guest." Ooh. Sarah Palin? At the Wiltern, 3790 Wilshire Blvd., LA 90010; $28; (213) 388-1400.
Sat. Sept. 20 -- You like tributes much? Me either, usually. But when the Luckman Orchestra pays Tribute to Eddie Harris, listen up -- saxist-bandleader Charles Owens has original ideas about arrangement and can call on the absolute best local jazz musicians, all of whom know what a trip the late saxist Harris was (well beyond "Compared to What" with Les McCann), even if few others do. At Luckman Fine Arts Complex, 5151 State University Drive, LA 90032; 6:30pm; FREE; all you gotta do is call for reservations, (323) 343-6600.
Sat.-Sun. Sept. 20-21 -- For modern improv that grooves hard, try drummer Keith Carlock and Rudder; read my (uncredited) LA Times live review from January here. At the Baked Potato, 3787 Cahuenga Blvd. West, Studio City 91604; 9:30 & 11:30pm; $20; (818) 980-1615.
Sat. Sept. 20 -- The SASSAS folks are putting on the second installation of the Surrealists' "Exquisite Corpse" game, where performers separated in space overlap one another's solo performances. The modern architecture and the garden set a perfect mood for the daring and diverse selection of musicians, including guitarist Joe Baiza, trumpeter Dan Clucas, saxist Alicia Mangan, singer Dwight Trible, vocalist Kira Vollman, percussionist Rich West and more. Sound at the Schindler House, 833 N. Kings Road, West Hollywood; 7:30pm; $18; http://www.soundnet.org/sound/2008/index.shtml.
Sat. Sept. 20 -- Mark Trayle, J. Frede and Wild Don Lewis' Small Drone Orchestra are among the dozens of soundists environmentalizing this year's Soundwalk. Pick up map at Koo's, 530 E. Broadway, Long Beach 90802; 5-10pm; free; www.soundwalk.org.
Sat. Sept. 20 -- I lied last week about Thelonious Dub; you can still catch them this week. Read my live review here.. At Vinoteque, 4437 Sepulveda Ave., Culver City 90230; around dinnertime I'm guessing; (310) 482-3490.
Tues. Sept. 23 -- Etran Finatawa are three Tuareg and three Wodaabe nomads from Nigeria who will throb you right out of your head. Watch them on YouTube here. At Amoeba Music, 6400 Sunset Blvd., Hollywood 90028; 7pm; (323) 245-640; FREE.
Wed. Sept. 24 -- The vibesman for extravagant yet listenable jazz modernism, Nick Mancini puts together a new Soul Jazz Sextet with woodwinder Katisse, guitarist Dave Wood, keyboardist Adam Benjamin, bassist Greg Swiller and drummer Nate Wood. Nick Rosen curates this "Touché" night at the Purple Lounge at the Standard Hotel, 8300 Sunset Blvd., West Hollywood 90069; 11pm; (323) 650-9090.
Thurs. Sept. 25 -- Etran Finatawa. See Tues. At the Japanese American National Museum, 369 E. First St., downtown 90012; 7pm; FREE; (213) 625-0414.