Fri. Sept. 26 -- A new improv trio you'll want to check out: Hare's Breath Ensemble featuring left-field neoblues guitarist Joe Baiza (Saccharane Trust, Universal Congress, etc.) plus psycho-lounge drummer Matt Crane (.99 Dreams) and bassist Todd Homer (Angry Samoans, Lynn Johnston). Got a good feeling about this one. At Mr. T's Bowl, 5621 1/2 Figueroa St., Highland Park 90042; late; (323) 256-7561; http://mrtsbowl.tripod.com.
Fri. Sept. 26 -- Pianist Steve Lockwood will not play "Misty" for you, but he will play listenable originals with a post-postmodern bent, abetted by drummer Dave Hocker and bassist Putter Smith. At Café Metropol, 923 E. Third St., downtown 90013; 8pm; $10 cover, $10 minimum; (213) 613-1537.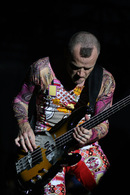 Sat. Sept. 27 -- Hi, Flea, hi, Barry -- thanks for starting Silverlake Conservatory of Music, that great young institution offering local kids an opportunity to learn music. This year's SCM Hullabaloo, which raises scholarship money for the school, features performances by Chili Peppers bassist Flea & Tree, topflight modern traditional trumpeter Roy Hargrove, jazz singer Roberta Gambarini, SCM students and teachers, members of the LA Philharmonic, and "very special guests," which in this case will not mean their cousins from Topeka. There'll be auctions, and if the ticket price seems high, consider that the benefit includes all this entertainment plus hors d'oeuvres and A FREE FULL OPEN BAR. Classy location, too. At Union Station, 800 N. Alameda St., downtown 90012; 5-11pm; $125; tickets only at www.silverlakeconservatory.com (you'll need to turn off your pop-up blocker).
Sat. Sept. 27 -- Late add: At 10pm, Joe Baiza's Congress featuring Joe Baiza, Setuart Liebig, Dan Clucas and Wayne Griffith, plus Atomic Sherpas featuring Carlos Alvidrez, Michael Alvidrez, Joe Berardi, Carey Fosse, Matt Lake and Vince Meghrouni. At Taix 321 Lounge (at Taix Restaurant ), 1911 Sunset Blvd., Echo Park 90026; FREE.
Sat. Sept. 27 -- You already know a lot of the acts at the We the People Festival, like Les Claypool (Primus), Sen Dog (Cypress Hill), Tom Morello (Rage Against the Machine), RZA, Suicidal Tendencies, Fishbone, Dilated Peoples, etc., etc. But if you're down there at 5pm, drift down to the Third Stage and pick up on the butt-shocking world groove of Maetar. They just sent me a new piece that's like a combination of Shakira, a Yemenite wedding and Pink Floyd's "Set the Controls for the Heart of the Sun." The funk will out. At Los Angeles State Historic Park, 1245 Spring St., downtown 90012; www.wethepeoplefestival.com.
Sat. Sept. 27 -- He got it from the source: Pianist Harold Land Jr. is the son of the late West Coast saxist who played with Monk. And Junior, who's none too young, played with Senior. The real jazz. At Café Metropol, 923 E. Third St., downtown 90013; 8pm; $10 cover, $10 minimum; (213) 613-1537.
Sat. Sept. 27 -- A very electric guitarist who'll get some goo on ya: Michael Landau, with bassist Jimmy Johnson and drummer Gary Novak. At Baked Potato.
Sat. Sept. 27 -- The Honorable DHC, a.k.a. Dean Chamberlain, expostulates "rockin' old-school country & roadhouse gospel" with his band and choir and a "special guest." Above Amalfi Restaurant at Room 5, 143 N. La Brea Ave., LA 90036; 7:30pm; $8.
Tues. Sept. 30 -- Norwegian black-metal titans Dimmu Borgir never do anything small, so their new DVD package had to be THREE discs -- two video, one CD. They're having a preview party for the fans, with Q&A from guitarist Silenoz and an appearance by Brendon Small of "Metalocalypse," the Adult Swim cartoon show starring . . . an outrageous metal band! The cheap admission price also gets you a sneak peek at the DVD (to be released Oct. 14), a Nuclear Blast Records grab bag, and a chance at a raffle prize -- pretty good odds, since the place is small. Dimmu play on the Blackest of the Black tour with Danzig, Moonspell and more at the Gibson Nov. 5. DVD party at Steve Allen Theater at the Center for Inquiry, 4773 Hollywood Blvd., Hollywood 90027; 10pm; $10; parking in back; buy tix here.
Tues. Sept. 30 -- Sea chanties and various oddities spray from the throats and instruments of cellist Jessica Catron, guitarist Jeremy Drake and new guy Corey Marc Fogel, now known as RickyRicky (formerly Missincinatti). At Tangier, 2138 Hillhurst Ave., Los Feliz 90027; (323) 666-8666; 9pm; $10.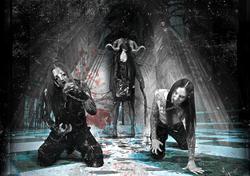 Thurs. Oct. 2 -- One of the best international metal circuses of the year: arena-worthy Viking thud from Sweden's Amon Amarth, first-rate black death buzz from Austria's Belphegor (pictured; read my review of their latest album here), high-engergy modern Maiden from Florida's The Absence. Haven't seen Belphegor live before, and I'm looking downward to it. At Avalon, 1735 Vine St., Hollywood 90028; (323) 467-4571; www.avalonhollywood.com.
Thurs.-Sun. Oct. 2-5 -- Kenny Burrell got in on the ground floor of electric jazz guitar; you can learn a lot from this guy. At Catalina Bar & Grill, 6725 Sunset Blvd., Hollywood 90028; 8 & 10pm; $18-$40; (323) 466-2210; www.catalinajazzclub.com.