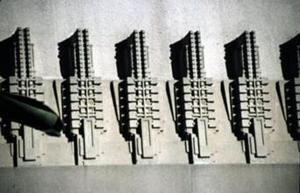 Just a few snapshots to chronicle Rocco Somazzi's picnic of ear-friendly outness. First, everybody was full of praise for Mr. Somazzi's taste, perseverance and hospitality. (He's from Europe, where musicians are treated like humans.) Second, what a setting: Do a 360 atop the hill amid cooling trees to take in the Frank Lloyd Wright Mayan-revival architecture, the classic grandeur of the Griffith Observatory on the opposite mountain, and the burnt-orange glow of the sunset, and thank your stars you live in Los Angeles. Third, what a fabulous day -- a bit of a breeze, not too hot. Somazzi says he's doing it again next year. Good crowd this time, but let's bust it out in 2009.
Sorry I didn't catch all 15 acts; the flesh is weak.
Motoko Honda's Sound E/Scape Project. A staggering roster performs Honda's wide-ranging compositions. She strokes the keys and also lets you know why they call it a hammerklavier. Vinny Golia, the picture of gravitas, adds alto sax to his warehouseful of winds -- he used to say he didn't wanna be compared to Ornette and Bird; now everybody knows he cooks his own stew. Steuart Liebig ignites bass flambé. Joe Berardi on drums, Jeff Gauthier on violin, Jessica Catron on cello and Kris Tiner on trumpet testify that Honda is a rising talent to watch.

Both Sides Now. Shane Endsley's quintet electrocycles through tidelike Enoisms, sensual drones and gentle percolations, perfect for sunny absorption.
Nick Rosen Group. Bassist Rosen too has kept the context in mind, his quintet inspiring warm reveries with flute and violin.
Elliott Sharp. If Eddie Van Halen were an avantist, he'd come up with this kind of two-hand solo hammering and sliding, both freight-train rhythmic and multiphonically orchestral. "Now I'm gonna detune -- for my sins and yours."
Leni Stern. The guitarist-singer's African band zones listeners into greensward repose and prods them to wakefulness with her sometimes wild, always flowing improvisations and the upsetter countercadences that jolt from smiling Makane Koyate's calabash.
Alan Pasqua Quartet. I catch just a snatch of cleanly defined Monk from the pianist's gardenworthy Californian unit -- I can't stay because there's nowhere to sit; the auditorium's packed for the most jazzlike jazz of the day from an all-star quartet featuring drummer Peter Erskine, bassist Darek Oles and saxist Bob Mintzer.
Arthur Blythe Quintet. The king of '80s alto focuses with Buddha stillness, situating the blues firmly in the present and future. Nate Morgan's piano calls up Horace Tapscott and McCoy Tyner while artfully coloring the small spaces left by Gust Tsilis' 8-foot marimba bop. Drummer Alex Cline and bassist Nick Rosen whisk up a swinging groove you could fly to the moon on. Afterward in the audience, I grab the hem of vocal incantationist Dwight Trible, who expresses delight at Blythe's resurgence and awe at Tsilis' masterful fury -- "Wow, I want to play with that marimba guy!"
Nels Cline Quintet. Never pigeonhole Cline; he understands all music and can drop into any mode with absolute perfection. Here he pays tribute to cool-jazz clarinetist-arranger Jimmy Giuffre, who died in April, and you should hear Nels nail a straight-jazz guitar tone. (Flashing on Jim Hall is my guess.) From swaying blues to spacious free improv, his band tunes in to a love vibe of total beauty. Grinning Scott Amendola skims the lightest skins rhythm you've ever heard from him, leaving room for Joel Hamilton's big bass. Scowling Ben Goldberg ripples out ecstatic long runs on clarinet. (Vinny lends a grudging imprimatur to the sacrilege of employing the B-flat instrument instead of the A.) Metal-looking wraith Becca Michalek adds chewy coarseness on baritone and alto. Now it's 10pm. And everyone is very, very satisfied.
Postscript to Vinny: I'm suing you for $2. I've got strong legal theories and the resources to make your life hell.
Read Downbeast.com's interview with Rocco Somazzi here.