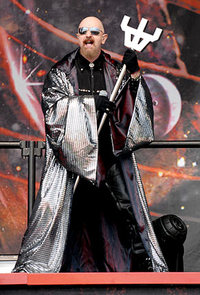 Drink too much, rock like a beast for six hours and pass out without brushing your tusks. That was supreme entertainment 3,000 years ago, and the song remains the same in the Metal Masters Tour.
A high warm wind blew across the afternoon desert, fluffing the hair/nonhair of headbangers young/old. Four fighter jets zigzagged in formation overhead -- power metal in the sky. There was an air of certainty. It felt good.
Vet Bay Area thrashers Testament were an inspired choice to open, rising up with a sense of freshness and genuine delight at their return to Cali. Sasquatchian singer Chuck Billy looked virtually trim as he mustered the troops with his fists-up biker handlebar pose on the new revver "Henchmen Ride." Alex Skolnick shook his skunk-striped bush -- not so much the "serious" instrumental artiste since his reunion with Testament -- and reveled in rock-star tilts of his gold-top Les Paul, spieling with fret-melting abandon. And only a rocket attack could've boomed louder than the kick drum of Paul Bostaph, an ex-Slayer who can pummel or stomp with the baddest. Most heartening: Testament mined substantial gold from this year's "The Formation of Damnation," notably the Arab-Indian chant anthem "More Than Meets the Eye." These five scarecrows raised a flap that filled the great outdoors right up to the mountain crests.
Though the first cell cameras snapped open for Motorhead, that speedbang rock institution rang thin by comparison, and not just because there were only three of 'em. Blond-shagged Mikkey Dee slammed with old-school might (amazing how many good drum solos we heard that day), and Phil Campbell punctured many an eardrum with his effortless wah-wah strangling. But Lemmy Kilmister's overfuzzed bass (strummed, not plucked), which cuts well enough in a club setting, dissipated into the canyons and left a hole in the low midrange. Which didn't mean the Headmen did not rock: "You feeling all right?" croaked Lemmy. "We'll soon f*cking fix that." He whacked out relatively recent material such as "In the Name of Tragedy" ("dedicated to William f*cking Shakespeare") and something or other from the new "Motorizer" album, and cleared the table with the hyped-up classic "Overkill." An ax guest -- couldn't hear his name -- joined the gang to crunch "Killed by Death." And the obligatory plunge into the gambler's testimonial "The Ace of Spades" was sloppier than hell -- must be how they keep it fresh. I was thinking: Lemmy always gets a big cheer when he blurts out the line "I don't want to live forever." In 1968, Steppenwolf hit with "Born To Be Wild," whose reference to "heavy metal thunder" is the earliest metal coinage I know; in the same tune, John Kay sings Mars Bonfire's dreamy prayer, "I never wanna die." Something changed between 1968 and 1980, when "Spades" arrived. Altamont, Manson, Nixon and Thatcher can do that to ya.
1968 was also the year the four original members of Black Sabbath first convened; guitarist Tony Iommi would've choked laughing if you told him he and bassist Geezer Butler would be on the same path 40 years later -- today with singer Ronnie James Dio and drummer Vinny Appice as Heaven & Hell, revisiting their early-'80s Sab collaboration. And they seemed to be enjoying it more than ever, Iommi and Butler not as dark as before in the glorious gentle sunset hour, but reveling in their musicianly skill and the satisfaction that derives from shucking the limitations of expression and material they've had to observe with Ozzy in recent years. If they weren't as dark (though flanked by two huge smoke-spouting gargoyles), they were no less heavy, especially in the boulder-shod passages of "Sign of the Southern Cross" and "Children of the Sea." Appice made giant waves when he stood up to slam all the toms arrayed at strange angles to the side and behind him. And it was good to see H&H pulling out less obvious selections such as "Die Young" -- an imperative that, Dio hastened to explain amid the general motif of age and mortality, should not be construed as his advice, Lemmy be damned. Dio's approach to immortality has been to become nearly incorporeal; thin in his sparkly red shirt, he whisked so ghostlike from one edge of the stage to the other that the chest-vibrating intensity of his voice seemed to be coming from empty air.
The arrival of Judas Priest produced a similar disorientation. The atmospheric introduction from/to the new album "Nostradamus" gave way to the cruel thud of its second track, "Prophecy." But whence arose that wheedling demonspeak ("I am the darkness")? Then I noticed a silver-robed figure above and to the left. Inch by inch it started to move, doffed its hood, and of course it was Halford, singing his lungs out, slowly moving to dominate center stage. After that, the set was a headbanging blur. My notes look as if I wrote them with the pen in my mouth, which was almost possible, because both hands were sloshing big cups of Corona, but you can't drink with a pen in the way, and empirical evidence proves that I did drink. The lack of memories suggests I had a fantastic time in the moment, and I do remember taking it personally when Halford shrieked "I believe you're the devil's child," and wondering why he waved that big flag around like David Lee Roth and Bruce Dickinson have been doing lately, and getting shivers from Scott Travis' drum onslaught on "Painkiller," and annoying everyone in earshot with my attempts to harmonize on "Hell Bent for Leather." For some reason, the guitars of Glenn Tipton and K.K. Downing seemed like Rock Elements rather than Personal Vehicles, though there must have been plenty of stratospheric solos. Other correspondents' set lists from the tour indicate that Priest most likely played some nonstandard choices such as "Eat Me Alive," "Between the Hammer and the Anvil," "Hell Patrol," "Dissident Aggressor" and "Rock Hard, Ride Free." I hope they did. In any case, they sure as hell did rock.
WATCH JUDAS PRIEST'S PERFORMANCE OF "PROPHECY" ON TUESDAY'S "JIMMY KIMMEL LIVE" IN THIS YOUTUBE VIDEO.