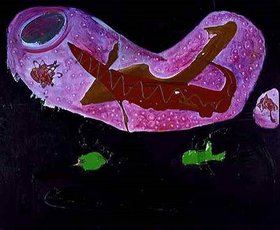 Did you know Herb Alpert is a painter? I didn't until I noticed in the program that this concert celebrated the inauguration of the Herb Alpert School for Music at CalArts. Wondering how the Tijuana Brass leader and A&M Records mogul feels about being associated with such an avant event, I researched his bio and discovered that he's not only a trumpeter/songwriter but an ab-ex dauber and sculptor -- not a bad one, either (examples above and on main page). Shoulda known: TJB albums such as "Going Places" and "Whipped Cream" taught me a lot about music when I was a teen, and through licensing agreements procured by Alpert's partner, Jerry Moss, A&M brought America some of my favorite English rock records by Humble Pie, Procol Harum, Free, Spooky Tooth and the Move. No doubt Alpert's school will flip many a wig.
Just so we'd be more familiar with the country we'll be invading next, Lian Ensemble launched the night with a set of mournful classical and classical-inspired Persian music. It was kinda restrained, considering the level of passion this genre is capable of generating. Despite some crisp melismas, Siamak Shajarian's high tenor vocals carried a whiff of library dust; the tars (guitar-banjo things) of Pirayeh Pourafar and Amir Koushkani churned away laboriously until Koushkani asserted himself with James Hetfield-like metal intensity toward the end. The rhythm of Mahshid Mirzadeh's santur (72-string dulcimer) locked steady as she seemingly allowed her two tiny mallets to drop onto the strings with divine precision rather than deliberately flicking them. Mani Bolouri on kamanche (upright violin) proved the star improviser, his dignified plaints surging with submerged anger. On the semi-celebratory concluding selection, drummer Houman Pourmehdi jerked things into high gear with Gene Krupa improvisations on his naf (frame drum), tossing it in the air and wringing cymbal-like crashes from it. None of the players smiled; life is grim.
Trumpeter, AACM avantist and CalArts driving wheel Wadada pulled together another version of his all-star Golden ensemble (which in the past has included Ronald Shannon Jackson, Malachi Favors and Jack DeJohnette), with mixed and sometimes mixed-up results.
This Golden Quintet boasted the increasingly celebrated Vijay Iyer on keyboards, lanky Viking explorer John Lindberg on bass, and African-hatted Famoudou Don Moye (from the Art Ensemble of Chicago) and Pheeroan akLaff (Oliver Lake, Henry Threadgill, Geri Allen) on drums. They positioned themselves behind a black gauze scrim, giving the impression that we were watching some kind of grainy video -- good effect.
Then they started messing around. Iyer squonked and echoed on electric piano and synth, 1972-Miles-style, before moving to grand-piano flurries. Smith blared spontaneous expressions. Lindberg tried out an underwater wah effect. Though all seemed to be consulting sheet music, and Smith periodically swiveled his trumpet to signal a change of direction, for half an hour it was hard to figure out where they were going. Luckily, if we got bored we could focus on the fascinating drum interaction between Moye's dense, powerful rustle-and-slap and akLaff's more percussive battery; both were interested less in rhythm than in motion, both factors absent from the rest of the quintet.
When the video environment by Carole Kim and Bo Sul Kim clicked on, everything changed. The new dimension provided a referent that united all the players, and a cyclone began to revolve.
Part of the cohesion no doubt arose from Smith's compositional concept about the controversial seating of the Mississippi Freedom Democratic Party at the 1964 Demo Convention. (Smith hails from Mississippi.)
But a narrative was hard to glean from the still highly abstract music. What really seemed to get the wind rising was the simple forcefulness of the images, projected to appear on both the stagefront gauze and a screen behind the band. Starkly divided bars of black and white, though unsubtle, made their point effectively; expanding road maps emphasized the notion of connection, as did projections that included the audience in the schema. Come to think of it, the Golden Quintet's movement this night from fragmentation to union had its own social/historical logic. Smith's last somber, lonely note, though, clearly declared that our work is far from finished.