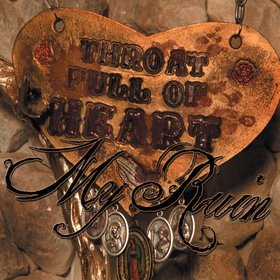 Mick Murphy's guitar kills you, then Tairrie B's voice flays your dead flesh. That's how Los Angeles' My Ruin have rolled for nearly a decade, through several albums and quite a few drummers and bassists; that's how they roll on "Throat Full of Heart." And it's one of my favorite punishments this year.
When writing about the torrential rock of Kylesa awhile back, I said that there's one main reason later generations of Black Sabbath acolytes seldom live up to the legacy -- the drums. While Kylesa does the job with two drummers, My Ruin has dominated modern Sabdom with one, and I never thought they'd get another as good as Yael, the woman whose precise power anchored the band for five years. Murphy, who drums well himself, did manful tubservice on 2005's "The Brutal Language." But this froggie skinsman Matt LeChevalier provides a new dimension, a rubber wall off which Murphy can bounce his seemingly unlimited arsenal of riffs. Later info suggests the drummer didn't stick with the band; too bad.
Listen to the way LeChevalier's besotted slog works with and against itself on "Ready for Blood," or the way his two-fisted snare cracks your back on "Dragon Steel," or the way his floor-shaking kick drum -- the album's secret weapon -- boots the groove down the alley like a severed head on "Skeleton Key." He's simultaneously a thinking musician and a total bad-ass; ain't many of those.
Murphy's axwork is indomitable: the belly-slug riff and lunatic lead on "Memento Mori," for instance, or the sexy, shoulder-shaking figure he loops out while riding LeChevalier's wide-open high hat on "Nothing Is Sacred." Although the Murphy's dedicated metalocity never gets old, the injection of Nathan Wright (from Knoxville's PickUpTheSnake) as co-songwriter on the rollicking heavy-roots number "Slide You the Horn" makes for a welcome shot of Jack Daniel's during a night of phenobarbitol.
And what can you say about Tairrie B, who plunged into recording this album while recovering from an auto accident that nearly ripped off her arm? Yeah, maybe the accompanying DVD -- which includes promo clips of two songs plus "making of" footage highlighted by the tons of candles 'n' milagros she brought to the studio -- milks it a bit much with hospital scenes and gory closeups of the oozing wound. But y'know, expressing and transcending pain is what her soul-scouring roar is all about.
In one studio-documentary segment, Miss B doesn't feel at first that she's coming on strong enough. "Do I sound like a girl?" she asks. "That's all I'm worried about." She need not have concerned herself; nobody's gonna come away from "Throat Full of Heart" flashing on Hanna Montana. Some may, however, acquire new notions of how a woman (not a girl) might sound.