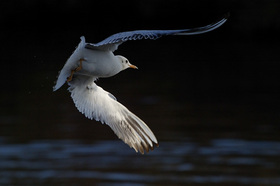 After former No Mag publisher and "Sub-Hollywood" author Bruce Kalberg was held four days in connection with the shooting of artist Peter Haskell, prosecutors, finding that Kalberg acted in self-defense, opted Monday to bring no charges against him, according to a friend of Kalberg. Kalberg, 59, was expected to be released today.
The friend said that Haskell, having been evicted from the downtown Los Angeles loft where Kalberg lived, broke in and attacked Kalberg on Thursday, September 11. Kalberg, who had been carrying a pistol to guard against Haskell's repeated threats, pulled out the gun during the scuffle and shot Haskell, killing him. Kalberg immediately called the police, and was held on $1 million bond pending an investigation by the coroner, whose findings supported Kalberg's account of the incident.
Haskell, 51, had done illustrations for the Knitters album "Poor Little Critter on the Road," and was an aspiring filmmaker.
Read my previous brief post on the matter here.
WEDNESDAY 9/17 2PM UPDATE: Sandi Gibbons, public-information officer for the L.A. City District Attorney's office, confirmed, "We determined that there was insufficient evidence to sustain a charge of murder or manslaughter." She added that the decision was influenced by Kalberg displaying marks around his throat.
FRIDAY 9/19 9AM UPDATE: Detective D.W. Fields of the Hollenbeck Division, who was on the scene of the Main Street incident on September 11, said that the single wound to Peter Haskell came from a .25 caliber weapon at point-blank range. He said that the evidence the District Attorney's Office had at its disposal included the physical circumstances, the recovery of a shell casing, and the coroner's report; a toxicology report will not be finished for some weeks. Detective Fields said that the District Attorney's Office had not requested further police investigation, and that the final determination on whether to proceed rests with the D.A. rather than the police.