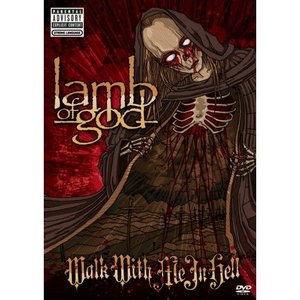 Lamb of God, "Walk With Me in Hell" (Epic DVD)
As much as this represents a worthy follow-up to the riff-'n'-strife metal tour odyssey that was 2005's "Killadelphia," it's a bit of a letdown, for the same reason that Robert Graves' "Claudius the God" couldn't quite match "I, Claudius": the struggles of an underdog are just more fun than the power plays of an emperor. If a Grammy nomination, chart domination and good-natured downtime horseplay lack the same entertainment value as band members punching one another in the face, though, the performance documented on the second disc of "Hell" surpasses the already high standards "Killadelphia" established for image and especially for the clean, steel-hammer sound. Behold, the sacrificial lamb has killed the priest.
Alex Ehrsam, "Djaz Dtox" (www.alexehrsam.fr)
French guitarist Ehrsam wanted to do something different with fusion guitar, and dammit, he did. On top of the de rigueur shredding, squealing and funkateering, his main contribution is a nasty, dissonant approach to chopping chords; from nervous outbursts to Zappafied tear-'em-ups, his music keeps an edge, even on the pastoral acoustic arpeggios and bent bossa of "Cold Chill." The drum programming, though complex, sounds clinical -- fleshly hands are needed. But no doubt Ehrsam feels more at home with his own thoughts, as on the concluding "Malpractice," a truly original combination of dark Marilyn Manson tremolo and urban cocktail romance smooched with poison lipstick. Massed anguish, industrial chaos, demented voices and Christophe Rieger's crooning sax are interrupted by sudden silences, and the drama sounds confessional, not theatrical. Disturbing.
SMV (Stanley Clarke, Marcus Miller, Victor Wooten), "Thunder" (Heads Up).
You've been wanting new car speakers, right? Blow your old ones into the gutter with a funky freakout from three notable electric bassists. They sound as if they're having a gigantic goof in the studio -- plenty of strange ideas ("Hillbillies on a Quiet Afternoon"), yet with the professional resources to turn 'em into crafted confections. I keep thinking they're about to break into Rufus' "Tell Me Something Good," but that's just the atmosphere. Fun.
Kurt Rosenwinkel Group, "The Remedy: Live at the Village Vanguard" (ArtistShare)
For stimulating relaxation, you can hardly beat guitarist Rosenwinkel, rolling through eight quarter-hour excursions into the land of intelligent melodicism. His excellent quintet, including Mr. Understated Clarity, Mark Turner, on sax, and the rustling drummer Eric Harland (who's been so good with Charles Lloyd), slide easily into the aesthetic -- maybe a little too easily, 'cause both can be a lot more intense than this.
Totem, "Solar Forge" (ESP-Disk)
You know how old labels sometimes get relaunched and sign new artists? Once in a while, as with this Totem trio (guitarist Bruce Eisenbeil, bassist Tom Blancarte, drummer Andrew Drury), the modern partnership is perfect. I guarantee you've never heard anything like the dense condensations Eisenbeil scrapes out of his strings -- not just creative, but exciting and musical. And as Blancarte and Drury bow and rattle around him, you will surely flash on groundbreaking '60s stuff such as Sun Ra's "Heliocentric Worlds," which sounded as if great musicians just happened to be jamming in some loft, and lucky for us, somebody happened to be there with a microphone. Not that the result back then was always timeless: It's worthwhile primarily just from a historical perspective to hear newly reissued 1965 ESP-Disks like the Henry Grimes Trio's "The Call" (the rediscovered bassist is making much more cogent music today) and the Milford Graves Percussion Ensemble's all-perc outing (whose selections the former Albert Ayler drummer really should not have titled with five numbered versions of "Nothing"). Eisenbeil and Totem, however far outside they travel, stay mindful of gravity's pull and never lose their ass in space.
Avishai Cohen Trio, "Gently Disturbed" (RazDaz)
I doubt bassist Cohen is that disturbed, unless he's upset at himself for making an album this bland with pianist Shai Maestro and drummer Mark Guiliana. Cohen's own more percussive piano playing on earlier records is more involving than Maestro's, which is mainly just flowing and pretty in an '80s Bruce Hornsby kind of way.
Carla Bley Big Band, "Appearing Nightly" (ECM)
I respect few composer-arrangers more than Carla Bley, so maybe my standards were too high upon approaching this somewhat unambitious live attempt to re-create the nightclub ambiences of her 1950s youth. Despite having at her disposal a 16-piece ensemble (including usual Bley suspects such as trumpeter Lew Soloff, saxist Andy Sheppard, bassist Steve Swallow and drummer Henry Drummond), the palette is watery and lacks harmonic challenge, while the mood skews light to the point of occasional silliness. Could be fun if you're in the right mood.
Seven That Spells, "Black Om Rising" (Beta-Lactam Ring)
Since few have pursued full-on energy psychedelia since about 1968, it's left up to these young geeks from Croatia. Rumbly drums, aggro chorded guitar, spacy keys/sax and drony bass (no vox) make for chair-gripping excitement if you dig, say, the extended version of "Astonomy Domine" on Pink Floyd's "Ummagumma" album or early Can. Strong studio tracks on one side of the disc, with a pretty good concert DVD on the other. Play it loud.