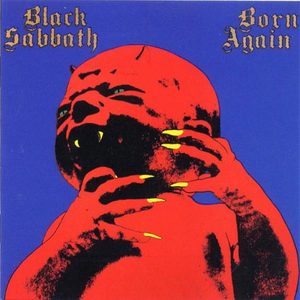 The "All Music Guide to Rock" gives it one star and no description. The "Virgin Encyclopedia of Heavy Rock" sneers, "This Sabbath incarnation was generally regarded as the most disastrous."
But . . . Martin Popoff's "The Collector's Guide to Heavy Metal" gives "this unsung masterpiece of devastation" a 10 out of 10. And while talking to Silenoz of the black-metal juggernaut Dimmu Borgir the other day, I mentioned that this year marks the 25th anniversary of "Born Again," Black Sabbath's one-off 1983 collaboration with Deep Purple singer Ian Gillan.
Silenoz required no prompting: "I think it's an underrated album."
Though Gillan has chucklingly crowned himself the worst singer Black Sabbath ever had, it has become ever clearer, as the mists of time dissipate, that he conjured some lasting magic with guitarist Tony Iommi, bassist Geezer Butler and drummer Bill Ward. "Born Again" -- wearily and ironically titled to reflect the band's third major manifestation after the 1979 firing of Ozzy Osbourne and the 1982 decampment of Ronnie James Dio as vocalist -- reeks with a peculiarly unholy and chaotic atmosphere of smoldering corruption. Once it seeps into a listener's capillaries, it begins to inspire obsessions. Many commentators have described the deep impression it made on their youthful minds. And I myself recently drove 70 tortured miles in the rain just to set eyes upon the lichen-eaten Oxfordshire manor where it was recorded. But more on that later.
THE SONGS
Some observers disparage the album's murky mix, some its garish demon-baby cover art, some its betrayal of the Sabbath tradition. But band and public generally agree on the might of its songs, which were drawn from ideas generated during the Dio years or puked up on the spot.
Gillan, sweating little to conform with typical Sabbath themes of nightmare visions or societal ills, cleaves to his strengths in lyric composition: booze, cars and tail, rendered with his characteristic fanciful wit. He artfully melds the first two in the careening leadoff number, "Trashed," which tells his true tale of drunkenly demolishing Ward's auto while racing it around a mini-car track "about a hundred and five" during the sessions. The band makes you feel the wind in your hair as Gillan climbs from the wreckage to complain piteously that he's sucked up the last reserves of tequila and must resort to the British staple of whiskey. As always, he emerges unscathed and filled with fake repentance.
Immediately after "Trashed," "Born Again" establishes itself as a Sabbath record with the brief instrumental "Stonehenge," all moody stillness and awe, then strikes a wonderful Gillan-Iommi balance on "Disturbing the Priest." Behind a migraine-inducing guitar figure, Gillan (whose vocal pyrotechnics and harmony effects continually amaze) outcackles the most demented Ozzy outbursts; Iommi and Ward settle into a sinister vamp before administering a shillelagh to our skulls with the kind of elemental assault only Sabbath can execute. The lyrics, drawn from Gillan's unexpected friendship with the neighborhood vicar after the band drowned out choir practice, find the singer scheming to lure the man of God over to the dark side.
Three Gillan paeans to poon alternately leaven the rest of the album: the irritable rocker "Digital Bitch" (he prefers analog), the sludge-whomper "Hot Line" (a plea to be plugged in), and the catchy collision of doom riffery and romantic balladry called "Keep It Warm" (one guess what "It" is). Each takes a different rhythmic turn, keeping the action ebbing and surging with physical insistence.
But the main weight of "Born Again" gravitates toward two distinctively Sabbathy epics.
One is the title song. As Iommi's mournful guitar figure gazes up from watery depths, Gillan sings abstract words of pride and bloodlust, followed by monolithic Thor-like guitar thunder paired with Gillan's Valkyrie invocation of cyclic rebirth. It's truly frightening yet uplifting, and I'd love to know from what unearthly corner of his soul Gillan pulled his performance. It certainly makes Deep Purple's passionate "Child in Time," which it somewhat resembles, seem like hippie macramé.
But you really wanna walk down a moonless road? Tune in to Butler's soul-eating bass effects on "The Dark," a Stygian tributary current that sucks you directly into the album's vortex, "Zero the Hero." Now you are truly lost. Iommi's eternally nagging riff, lit up by a counter-riff that creaks open periodically like the door to hell's furnace, and solemnized with a tolling iron-bell figure, rolls ever onward into unconsciousness, making eight minutes seem like a wink or a year. Gillan, punching the beat atop Ward's gore-tub slop, spits out condemnations of complacent mediocrity. The song fades out on slurping electronic devil lips and Iommi maniacally cranking about six guitar solos at the same time. "Zero" concluded Side 1 of the original LP; you oughta go take a leak before allowing the CD to resume and before playing anything else, because nothing can truly follow this.
THE SOUND
Iommi and Ward, when they received the packaged record, hated the way it sounded, complaining there was too much bass and too much reverb. Butler, often blamed for the mix, claims he had nothing to do with it and agrees that the low end muddies it up.
Well. There's been speculation that the master lacquer was allowed to sit too long and it somehow deteriorated. This is bull; I picked up an officially released '80s cassette, which would have been copied from tape sources rather than lacquer, and it sounds exactly the same as the LP, except the vinyl has a little more balls.
The 2004 Sanctuary CD I own, obviously mastered with an ear to cleanliness, has a lot more detail and a lot less bass. But the scrubbing loses some of the swampy gas.
Iommi has implied that the responsible party was Robin Black, credited as both engineer and co-producer. (He had worked on Blodwyn Pig's 1969 "Ahead Rings Out," Alice Cooper's 1973 "Billion Dollar Babies, Lou Reed's 1973 "Berlin," Jethro Tull's 1980 "A," and Black Sabbath's 1975 "Sabotage," the Sabbath album whose sound "Born Again" echoes most.) Accounts suggest the band drifted off before the mix was finalized, Robin Black was left to his own devices, and he just made it sound the way he thought it should. To my ears, his choices made for an album that's more than a document of songs; it's a cauldron of a particular place and time, when four men were desperately living out the last days of their youth and squinting toward an uncertain future.
THE WORK TAPE
Fans can be glad of another option, though. In 2004, an ex-girlfriend of Bill Ward dug up an old cassette from the sessions, which has been released as the bootleg "Born Again Demos." The title is misleading; rather than demos, the tracks sound like rough mixes of the master takes.
The song order is shuffled in a logical and appealing way. The balance of instruments is different. Some parts, such as Geoff Nicholls' circusy keyboard parts on "Trashed," are omitted. Some of the vocal parts are different, particularly on "Zero the Hero," which even features an early version of the lyrics.
Most important, the cassette material contributes a complete take of an excellent never-released song, "The Fallen." Gillan and Black Sabbath seem to switch places here, as Iommi tears loose with a fiery single-string blues-rock riff reminiscent of Deep Purple's Ritchie Blackmore, and Gillan hallucinates a scene straight out of a Butler/Osbourne night sweat: "Trapped in a falling dream/Alone with a silent scream/Fumbling through dead of night/I'm falling right out of sight." Really good to have this one.
We get to float in an extended fog of "Stonehenge" for two or three additional minutes; the decay of "Zero the Hero" extends for a welcome extra minute.
And of course we hear more clearly Sabbath playing like a band, which is never a bad thing. Bill Ward especially benefits; he was rightly pleased with the rhythmic conceptions and accents he brought to "Born Again," and displeased that they got obscured in a flood of reverb. The official release's more subliminal drum effect, though -- there's something to be said for that. I wish we had rough mixes of "Sabbath Bloody Sabbath" and "Sabotage," too.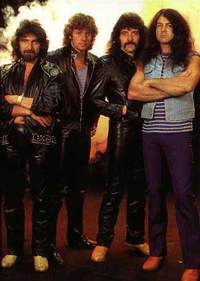 HOW IT HAPPENED
Everybody lies about the circumstances that precipitated this unusual project. But here's how things stood in 1983.
Gillan was bankrupt. After leaving Deep Purple in 1973, he bought his own studio and fronted his own fairly successful band, whom he advised to go their own ways for the moment because his voice was shot. Doctors had ordered that he give it a few months' rest, and he didn't try to sing a note till he stepped up to the microphone with Sabbath. At the same time, he had gotten feelers about rejoining the most successful lineup of Deep Purple, which would in fact occur in 1984. But not all the Purple members were immediately available, he needed money, and the offer from Black Sabbath seemed like both fate and fun. So he ditched his band, not at all to their delight.
Iommi was ready to ditch Black Sabbath. But Iommi was under contract to English manager/mafioso Don Arden, who had retained Sabbath when his daughter, Sharon Arden, split from his company, taking along her soon-to-be-husband, Ozzy. Don Arden envisioned a supergroup featuring Iommi, Butler, drummer Bev Bevan (the blond guy in the above pic, a member of the Move and ELO, whom Arden also managed) -- and Gillan.
Ward was drying out. On the verge of drinking himself to death, he had entered rehab, and Iommi asked him (a bit too soon) to rejoin. The supergroup became Black Sabbath again, with Gillan simply the latest singer. Gillan rolled with it.
Iommi was on hard drugs, and Gillan exhibited his legendary boozemania throughout the "Born Again" sessions -- each musician providing a poor example to Ward. Ward relapsed, either during the sessions or immediately after (depending on whom you ask); unable to do the post-album tour with Iommi, Butler and Gillan, he was replaced by Bevan.
Either Don Arden or Geezer Butler (depending on whom you ask) came up with the idea of a Stonehenge stage set for the tour. Through a miscommunication, it was built so large that most of it couldn't fit in any venue; the fiasco served as inspiration for a bit in the 1984 mockumentary "This Is Spinal Tap," where the stones were built much too small instead of too large. Gillan, who had trouble memorizing Sabbath's songs, mumbled his way through the tour, and was fired just in time to rejoin Deep Purple for the hit album "Perfect Strangers."
Black Sabbath, with Iommi the sole constant, continued through many personnel changes, sporadic success, and periodic reunions with Ozzy and Dio. Iommi and Butler now perform as Heaven & Hell, with Dio on vocals and Vinny Appice on drums. Ward hosts a monthly webradio show on Rock 50; his next date is October 11 at 11am.
MY PILGRIMAGE
Black Sabbath continues to exert a druglike attraction upon millions, not least the current writer.
This summer, I wanted to enter the vibrational fields of two talismanic sites: the studio where "Born Again" was recorded, and the ancient monument that wrought its mystic influence on the music -- Stonehenge. My wife wanted to visit London first. (My 16-year-old daughter and her friend came too; I'll leave them out for the sake of concision.) Then we would drive to my destinations.
I am American; the rental car was not. I had to sit in its right-hand driver's seat, shift its manual transmission with my left hand, drive on the left side of the road, and negotiate the many roundabouts that dot the U.K. highway system. For readers unfamiliar with roundabouts, they are circular intersections with a number of exits; the English use them instead of traffic lights. More precisely, they resemble the circles of hell in Dante's "Inferno." They should be marked on the map with pentagrams.
The day we left London dawned gray and drizzly. We immediately got lost, for the first of 100 times. (To encourage you to hire local drivers, the English have designed road signage that communicates to a modern man with the same efficiency as Celtic runes.) After receiving aid from dozens of kind Samaritans, we arrived three hours and 70 miles later at the bland Oxford suburb of Kidlington. We spotted a Black Bull pub, and almost next door a Black Horse. Knowing we were near Shipton-on-Cherwell, where the studio stands, we stopped for directions at the Black Bull.
There we petted a black dog, whose owner told us where to go. Arriving at Shipton-on-Cherwell -- little more than a rural crossroads -- we consulted an innkeeper who owned two black cats. "It's at the fork of the road across from the triangle with the three trees," he said, wiping his hands on his once-white T-shirt. "Do you know Mr. Branson?"
Virgin Inc. billionaire Richard Branson founded the studio where "Born Again" was recorded -- called the Manor, because that's what housed it: a large old stone house on an estate of several acres. Other albums worked on at that location have included John Cale's 1972 "The Academy in Peril," Mike Oldfield's 1973 "Tubular Bells," Public Image Ltd.'s 1981 "Flowers of Romance," Uriah Heep's 1983 "Head First" and Radiohead's 1995 "The Bends."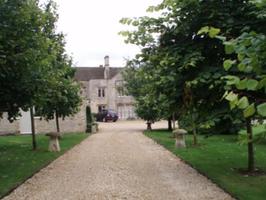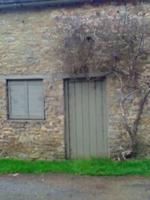 We found it, behind a long stone wall. There was no sign; the place had reverted to private residence over a decade previous.
A fine mist drifted down out of a pale gray sky. It was quiet, as only the English countryside can be. England is full of ghosts; you need only sit and wait for them. I thought of the words Geezer Butler wrote back in 1969, about his true experience of waking to a strange vision: "What is this that stands before me? A figure in black which points at me." The words became the lyrics to a little song called "Black Sabbath." On the cover of the first Black Sabbath album in 1970, the figure in black was pictured standing before an old mill in Oxfordshire, 30 miles south of here. We must have passed close by it on our way.
I walked up to the open gate in the stone wall just as a woman was driving out. She rolled down her window and coolly informed me that this was a private home. I apologized for intruding.
I turned around. My wife, who had been just behind me, was gone. Nothing but drizzle, silence and, inside the wall, a wide expanse of lawn.
I waited. No sign. I called out. A man came out of the manor and asked what the disturbance was. I explained and apologized again, feeling like a creep.
I waited some more in the car, thinking my wife had been snatched by ghouls. After a half hour, a hand came through the car window and rested on my shoulder.
"Want a bite?" said my wife, holding out a tiny crab apple that bore her tooth marks. I declined to follow Adam's example. "I've been visiting the sheep!" she explained. Only one of the local sheep had allowed her to pet it. The black one.
During the recording of "Born Again," the Manor tumbled with pranks and booze. Now it felt like a tomb.
We needed to reach Salisbury, the nearest large city to Stonehenge, before dark. As we drove onto the main highway, a large flock of birds flew over our car. Hundreds of birds. Black birds.
After being lost many more times, we arrived at our lodging, an old farmhouse outside Salisbury. The owners were in mourning; their son, our daughter's age, had died suddenly three weeks previous. They had a black dog.
I ain't superstitious, but in one day of visiting the studio where Black Sabbath recorded, a Black Horse, a Black Bull, two black dogs, two black cats, a black sheep and 666 black birds had crossed our path. I thought of another title from Sabbath's first album: "The Hand of Doom." (For a hair-raising 1970 performance of that song, click here.) The drizzle continued, the quiet remained unbroken, and we were going to Stonehenge.
BEWARE OF DARKNESS
Black Sabbath were the first rock band to court darkness as a consistent artistic path. Howlin' Wolf had procured his black-cat bone, and Screamin' Jay Hawkins had climbed out of a coffin to shriek "I Put a Spell on You," but these were voodoo love charms. Sabbath wasn't much into love.
In 1997 I interviewed UC Santa Barbara professor Jeffrey Burton Russell, who had written seven books on Satan and witchcraft but had just come out with "A History of Heaven." He said the new tome was part of his therapy; long immersion in "that bath of depressing material" had left him in serious need of Prozac and a change of subject matter.
The same thing happened to Black Sabbath. Having exploited the innate human fascination with evil, they found themselves mired in it. All became heavy substance abusers, hedging their bets by wearing crucifixes. Ozzy Osbourne has said he narrowly escaped death many times, as has Bill Ward, who was nearly killed by a 1998 heart attack. Maybe it's a coincidence that, like many flower children, Brian Jones, Jim Morrison and Jimi Hendrix all dabbled in the occult.
So I was thinking about what drew me to Black Sabbath. The lure of magic would have been just a dumb cartoon without the music. This band, originally called Earth, preserved outlaw subterranean impulses essential to the nature of humanity. Jesus was Dionysus tamed; Sabbath let the pagan god run wild again. The trick was to tap primal forces without being consumed.
Archaeologists tell us that Stonehenge, on the Salisbury plain, was a sacred mesolithic and neolithic site for thousands of years before its largest rough-hewn rocks were erected around 2500 BC. It had nothing to do with Druids; the Druids were the new kids, and their Christian successors have millennia to run before they can match the site's ritual history.
Recent speculations have surfaced that Stonehenge's smaller bluestones were revered for their healing properties; such notions are not incompatible with earlier theories that the circle represented the realm of the ancestors. The idea is that -- probably at the rising of the sun on the summer solstice, with which the stones are aligned -- a procession began at a circular sanctuary now called Woodhenge and wound some three and a half miles to Stonehenge. Woodhenge, with its posts made from trees, represented the land of the living, while Stonehenge, made from lifeless rock, represented the land of the dead. Ancient priests may have sought the ancestors' aid in easing the transition of the newly deceased, as well as in providing whatever other intervention those who had passed over could muster.
As we drove through the surrounding farmland, we didn't know what we were seeking, exactly. When we first rounded a bend and saw Stonehenge in the middle of the naked plain, it looked small and unreal. When we got there, we found a few protesters peaceably objecting to the violation of this sacred site. In fact, some progress has been made in that direction; the stones are cordoned off so that visitors can approach no nearer than 40 paces.
The path to Stonehenge goes from the parking lot and under the main road. And it was while we were below ground that the feeling hit me. My soul grew heavy. A nameless sadness filled me; I felt I might even cry. It didn't occur to me until later that it was here in the earth, not in the open air, that the ancestors had been laid.
Paths to ancient sacred places often feature a sharp crook immediately before the destination, possibly to emphasize the difficulty a soul encounters in wandering to its final rest, and to provide the living with an impressive sudden revelation. At Stonehenge, the tunnel under the road served this purpose well.
On first close sight, the stones inspired deep reverence. Their deliberately crude shapes felt connected to the earth. Observers' voices fell to a whisper as they walked slowly and stood long in position. The contrast with the gaudy Vatican could hardly have been greater.
Stonehenge has one gift to offer most visitors: humility. Maybe it harbors other gifts, but we had to leave without them. We didn't know how to ask. Now I knew why on "Born Again," the song "Stonehenge" has no words.
HOME
The land of the dead is not a place from which one necessarily returns. Maybe it was stupid to venture there. At times the omens scared me.
But six weeks before we went to England, we had found on our porch a white dove with a broken wing. We kept her.
When we got home, I thanked her. I thought she had somehow preserved us against a lot of blackness. We are now even.

For the historical information, I have consulted a number of web sites and several books, including Francis Pryor's "Britain BC," Dave Thompson's "Smoke on the Water: The Deep Purple Story," David Cohen's "Ian Gillan: Child in Time," Don Arden's "Mr. Big," and especially Martin Popoff's fantastic interview compilation "Black Sabbath: Doom Let Loose."