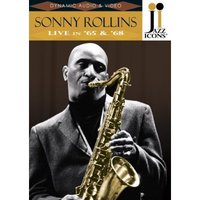 Sonny Rollins, "Live in '65 & '68" (Jazz Icons)
Ashley Kahn's notes about Sonny Rollins quote the tenor saxist as saying he can't think and play at the same time. Rollins must have had his own definition of thinking. Look at his face at age 35 as he works -- a privilege we have rarely enjoyed till this Jazz Icons DVD came out. With his shaved head and contained demeanor, Rollins could make you flash on Kobe Bryant, and maybe Rollins does embody something of the athlete; the weaving physicality of his improvisations recalls the thousand minute coordinations of legs, arms, fingers and eyes Bryant executes when he drives to the hoop. Is Bryant thinking? Yes; he's just not 100 percent conscious of it. Maybe what he does is art, too.
Rollins in 1965 has reached his pinnacle, and it's impossible to blow any better. Having toned down the extreme avantisms he broached with Billy Higgins and Don Cherry a few years earlier, Rollins has added split tones and gushes of Coltrane hyperspeed to his arsenal, but only as accents to augment the total mastery he achieved with his 1957 "A Night at the Village Vanguard" trio recordings. He's got the sudden inspired extrapolations on the melody, the elastic expansions and contractions of rhythm, the cunnilingual shapings of note contour and tone. And he succeeds in making you imagine that he's actually not thinking; that it's all just pouring out of him. Well, that might've been sometimes true of even the best saxists, a Parker or a Gonsalves. Not this guy, though. Every measure is a composition.
The material doesn't stray from the reliable Rollins book: a tour de force "There Will Never Be Another You," a playfully arrogant "St. Thomas," a freeform blowout on "Oleo"/"Sonnymoon for Two," a quick "Darn That Dream" preceding the stand-alone schema that sets up his tribute to Lester Young, "Three Little Words." Boston drummer Alan Dawson, though little known, swings like a well-oiled gate. And here's Danish bassist Niels-Henning Orsted Pedersen, who would eventually play with just about everybody, at 19. Try to fault his quickness, intervallic technique or drive; you can't.
Rollins returns to Copenhagen TV for the briefer 1968 portion of this DVD, which ranks slightly below the '65 performance for a number of reasons. The addition of Kenny Drew is superfluous; good as the pianist always was, his light fluidity distracts. No problem with the creative Tootie Heath on drums or with Pedersen, who returns radiating still more understated confidence to exact punishment upon the big new watch on his left wrist, but Rollins himself has slipped a fraction. Though his ideas continue to flow, as they do to this day, his long tones have begun to quaver, his "St. Thomas" is sluggish, and under his beret and beard, he looks tired. The death of his friend John Coltrane the year before let a lot of air out of the jazz balloon; for Rollins, it must have been like losing a twin.
No question, this DVD is a huge gain for jazz fans. Some young musicians will watch it and give up. The strongest, though, will see it as a challenge. This, folks, is what you're shooting for.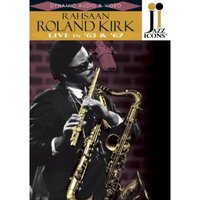 Rahsaan Roland Kirk, "Live in '63 and '67" (Jazz Icons)
Every new exposure to Roland Kirk adds to the multiwindman's historic stature. The guy was an incarnation of the life force, and when you see him with several instruments hanging from his big body or tucked under his arm, they assume properties of octopus limbs, not metal tools. His long absence from the scene (he died in 1977 at the age of 41) makes this DVD drawn from Belgian, Dutch and Norwegian TV a special prize.
The durable European musicians who backed Kirk in '64 include pianist George Gruntz and drummer Daniel Humair; bassist Niels-Henning Orsted Pedersen pops in for the '67 date. But they're nearly invisible behind Kirk's gale-force assault as he huffs up to three horns at once or locates the meatiest tones on tenor and flute, on both of which his dominance was undisputed. Whether holding one note indefinitely via circular breathing, ripping deep blues out of the prissy clarinet or running roughshod over "The Shadow of Your Smile," Kirk boggles the eyes and ears; makes you wonder what this blind prophet would've thought if he could have seen himself.
The 1967 segment is especially fun to watch, as a frenzied Kirk wanders off mike with his manzello, bangs into the microphone with his tenor and topples his stritch stand (which he deftly catches before it falls). A cramped soundstage just couldn't contain this man. And a DVD hardly can either -- sweat and steam virtually pour from the thing. Grab it.
In addition to the Rollins and the Kirk, the third slate of Jazz Icons releases spans DVDs by Cannonball Adderley, Nina Simone, Bill Evans, Lionel Hampton and Oscar Peterson. And the eight-disc box ($96 from Amazon) includes a bonus DVD featuring Rollins in 1959. Check out the whole series here.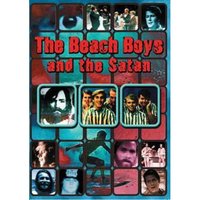 "The Beach Boys and the Satan" (Zeit Media)
The title makes you think this 1997 German television documentary is a full hour about the very tangential connection between the Beach Boys and Charles Manson. In fact, the Satan angle is only a hook: Director Christoph Dreyer just threw together every piece of footage he could find about surf music, tossed in some archival context, and conducted new interviews with the likes of Brian Wilson, Kim Fowley and David Thomas; Manson and the Anton La Vey satanic crew get maybe 5 minutes. But the false advertising doesn't detract from the doc's fascination.
Twenty minutes of generic surf rolls by before Dreyer gets to the meat, and then . . . goddamn, where'd he get this stuff? You'll love, for instance, the Beach Boys doing a promo clip for "In My Room" in which the Boys are forced to wear suits and ties, and their "room" looks like a college dean's library. We see Brian Wilson surfing on "Saturday Night Live," Phil Spector dictating in the studio, Manson henchman Bobby Beausoleil starring in Kenneth Anger's surrealist film "Lucifer Rising." Some of Dreyer's own material is first-rate, such as Brian explaining that the sound of the theremin on "Good Vibrations" actually scared him. Other clips are just silly, such as Fowley electing to sing rather than speak his cultural overview. Anyway, it's entertaining as hell.
Since German copyright laws exercise much less restraint than American ones, it's doubtful that Dreyer obtained licenses for all this treasure; good luck on "The Beach Boys and the Satan" remaining in local circulation. See it while you can. (Netflix gots.)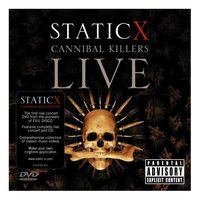 Static X, "Cannibal Killers Live" (Warner Bros. DVD/CD)
Static X kick ass. Of the many acts from the nu-metal/industrial era, the L.A. quartet have continued to jolt audiences cuz they've got plenty going on -- not just the elemental urgency of their hard beats, but the spooky Manson keyboards, the economically melodic yet weird leads of guitarist Koichi Fukuda, and the hoarse-drawn carriage of shock-haired singer Wayne Static, whose roots in Sepultura metal and reggae toasting cut across barriers of race, sex, class and nationality. "Let's do some shots!" suggests Mr. Static early on, inviting everybody to his pissed-off party, if that's not a contradiction. Static X don't exactly embrace contradictions, they ignore 'em; applying a '70s high-hat shoop to metal clobberations in forming their "evil disco" comes off as natural as gulping Jägermeister after a snort of horse tranquilizer. Good hooks, too, as on the doomy churner "The Trance Is the Motion" and the almost Kraftwerkian keys on the boinky machine-gunner "Behemoth."
The 17-song concert vid boasts socko low end and not-overnervous cutting techniques among a lot of camera angles; the 4:3 aspect ratio doesn't bother me. You also get 12 music videos and a CD of the show. Damn good deal for 16 bucks.