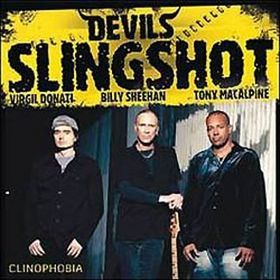 Devil's Slingshot is a new band knotting guitarist Tony MacAlpine, drummer Virgil Donati and bassist Billy Sheehan -- a true triangulation of the metallicus in jazzo. MacAlpine has shredded with his own units and fusionistic forces such as CAB and Planet X, but his first record was an all-metal alliance featuring Rudy Sarzo (bassist with Quiet Riot and Ozzy), Tommy Aldridge (drummer with Black Oak Arkansas and Whitesnake) and Bob Rock (producer of Motley Crue and Metallica). Donati, another CAB and Planet X soldier, is one of the most technically accomplished skinsmen in a highly competitive genre. And you might know Sheehan from David Lee Roth, Steve Vai or a hundred other jazz and rock alliances.
Devil's Slingshot's new "Clinophobia" spans realms of evil metal and flighty fusion, with a strong emphasis on songlike nuggets -- the tracks average well under five minutes. "Flamed" combines superchuggery and dark thuggery with challenging counteraccents; Donati's "Injustice Line" imports Stygian riffs to the Caribbean; you might visualize bulldozers and smoking cliffs of garbage while soaking up the alternately rude and lyrical "Lay Off."
MacAlpine's high voice jumps with hyperkinetic energy, and he's got a poetic way of speaking that turns his musical associations into "dots" on his personal graph paper, and fusion into a "blazing party of notes."
* * *
How did Devil's Slingshot come together?
"Virgil and I toured a couple of years before this record even came out. We just went out and played material from both of our records, all of our records over the years, and there was a certain energy level there. We decided it would be great to compose material and make it a really cool instrumental band. I'm so lucky to play with such great musicians. You give 'em a shred of an idea, it really becomes something else. That kind of imagination you can't teach."
You figured out a new direction based on the musicians.
"There's so many different things that I'm doing, so I have many outlooks to parallel my dots from. Each thing kind of helps the other one, kind of cultures your thinking a little bit. That's why I've loved to play with so many different musicians, like Steve Vai and all kinds of different guys."
Billy Sheehan shows off the low-end side of his playing.
"Playing with him is different from playing with somebody like Bunny Brunel, who is so amazing with what he does, and approaches the bass from a completely different place. When we did the record, Virgil and I were on tour with Michel Polnareff in Europe, and writing the stuff in different studios over there, and giving it back to Billy here in L.A., and Billy would put his tracks down."
It sounds as if the normally explosive Virgil was thinking in starker terms.
"We were definitely thinking of the record having a concise kind of approach, rather than an individualistic kind of blazing party of notes. Virgil and I have always been into rhythm aspects of the construction of tunes. And I played bass for a number of years in different things. I really enjoy songs that sound well-constructed rhythmically. All of us had that same vision, because we all come from that same camp, especially Billy."
What is Clinophobia? A fear of clinics?
"It's actually fear of sleeping, fear of bed. When you're on tour, you're waiting all day, taking planes and boats and tour buses, just to play an hour and 20 minutes. We were just making a joke: What if we didn't really sleep, and we just played music all the time?"
So you're afraid if you fall asleep you'll miss a gig or something?
"Exactly."
And where did the band name Devil's Slingshot come from?
"I was in Spain, in a small city called San Sebastian. I saw this storm, and the damage the next few days. It was this giant slingshot-looking thing -- I mean huge, like a giant tree."
As I listened I got visual pictures. Do you think of visual images while writing?
"For the most part, the things that we hear and all our senses are kind of connected. But I think the visual part would come later, with the mixing. Because writing is a fundamental chore. It's work. It's more like painting an image, rather than feeling it or having a vision come to you."
SPEAKING OF DEVILS, TONY MACALPINE, VIRGIL DONATI, BUNNY BRUNEL AND OTMARO RUIZ PLAY THE BAKED POTATO THURSDAY AND FRIDAY, OCTOBER 30 AND 31 (HALLOWEEN), SANS RUIZ ON THURSDAY.