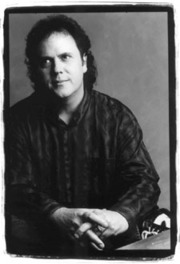 James Carney was one of my favorite local jazz guys till he moved back to his home state, New York. He brought a fresh combination of filmic narrative, static pastel harmony and Crescent City rhythm, and his absence has left a hole here.
But at least Carney is returning next Wednesday for a concert at REDCAT sponsored by his alma mater CalArts. He leads a quartet well versed in his music: saxist Tony Malaby, bassist Chris Lightcap and drummer Dan Weiss. It's not an avant thing, more of a beauty thing. Check it out.

Will you play both acoustic and electric piano here? Synth?
Just acoustic for this concert. But I have been using electronics quite a bit, and in September we recorded a new album, "Ways and Means," that features electric piano and synthesizer; it will be released in the spring.
Has being back in New York changed the way you compose?
Definitely. The exposure to all of the incredible musicians that come from every part of the world to be in New York City is a great inspiration, and has certainly helped me to grow and discover new ideas. Now that I've been here almost four years, I believe every musician should consider living and creating here for at least some period of time in their lives. It can be overwhelming, frustrating, and even caustic, but it is also a beautiful place at its core, and the music made here demonstrates all of that.
"Shame," from your "Green-Wood" album, has an unusual atmosphere. What's it about?
"Shame" is an excerpt from a commission I received in 2006 from the Syracuse International Film Festival. I wrote a score for a 90-minute silent film from 1925 called "His People," which is a dramatic narrative focusing on the hardships of family life in the Lower East Side ghetto during that time. "Shame" was a cue created for a scene when one of the two sons has betrayed the father in unimaginable ways, even denying his ties to the family to gain access to the high society of Manhattan -- the father finally confronts the son at a posh party and the other guests quickly learn that the kid is actually poor and has faked his way into their wealthy inner circle. For the festival in Syracuse, we played the score live in a restored theater and then recorded excerpts in the studio a few months later as part of the "Green-Wood" CD. "Power" is also from that film score.
Where does your distinctive harmonic sense come from, especially in the horn arrangements?
I was lucky to hear and play lots of symphonic music as a kid, especially as a tuba player, and I've always loved harmonic progressions that keep the listener guessing about what's next, but that somehow sound logical too. So I'm sure those early music experiences influence how I approach composition in general, and especially the orchestration of wind instruments.
JAMES CARNEY PLAYS REDCAT (WWW.REDCAT.ORG) NOVEMBER 22; SEE THIS WEEK'S METALJAZZ PREVIEWS.
Read my 2002 interview with Carney in LA Weekly here.