Fri.-Sat. Oct. 24-25 -- Ace organ kneader Larry Goldings leads a trio with guitarist Peter Bernstein and drummer Bill Stewart. At Jazz Bakery, 3233 Helms Ave., West L.A. 90034; 8 & 9:30pm; $25-$30; (310) 271-9039; www.jazzbakery.org.
Fri.-Sat. Oct. 24-25 -- Educated roots the right way from guitarist Skip Heller. At Red Ball's Rock 'n' Roll Pizza, 6551 Topanga Canyon Blvd., Woodland Hills 91303; 7:30pm; cheap.
Fri. Oct. 24 -- Mixed metal bill: parodic sword-metalers Iced Earth, emo-proggers Into Eternity, and best, Oakland openers Saviours, dirtbags with balls and a deep Sab-Maiden tradition. At the Wiltern, 3790 Wilshire Blvd., LA 90010; $25; (213) 388-1400; www.ticketmaster.com.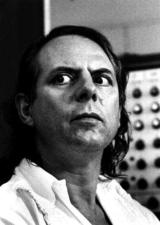 Sat. Oct. 25 -- There ain't enough chances to get live access to the music of avant composer Karlheinz Stockhausen, a pioneer in electronics and modern dissonance. Among the many fine musicians performing various compositions are Ellen Burr, Bruce Friedman, Motoko Honda and Jim McAuley. Miles Davis will be there if he can get out of his coffin in time. Only a half-hour away at Harbor College Music Recital Hall, 1111 Figueroa Place, Wilmington 90744; 8pm; $10.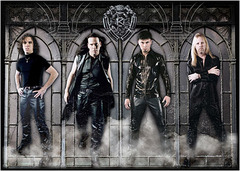 Sun. Oct. 26 -- One of the funnest of the OTT Euro myth-metal outfits: Kamelot (I mean, they SHOULD be allowed to have those strings and harps on "Ghost Opera"), plus Fatherland power-metal pals Edguy. At the Key Club, 9039 Sunset Blvd., West Hollywood 90069; $30/$35; www.keyclub.com; (310) 274-5800.
Thurs.-Fri. Oct. 30-31 -- Fusion that hurts good: guitarist Tony MacAlpine, drummer Virgil Donati and bassist Bunny Brunel, all highly accredited chopsters, plus excellent keyboardist Otmaro Ruiz on Friday. Read my interview with MacAlpine here. At the Baked Potato, 3787 Cahuenga Blvd. West, Studio City 91604; 9:30 & 11:30pm; $20 & $25; (818) 980-1615.
Thurs. Oct. 30 -- Dissonant instrumental guitar post-surf from Polar Goldie Cats, plus Jeremy Drake & Jessica Catron as Missincinatti. At Relax Bar, 5511 Hollywood Blvd., Hollywood 90028; 8pm.
Thurs. Oct. 30 -- One order of gage-no-chaser gets you Thelonious Dub. At the Foundry on Melrose, 7465 Melrose Ave., Hollywood 90046; 9:30pm.
NOTE: Some of you may have known Silver Lake scenester Rikki Madrigal; for Brian Bentley's thorough story on her life and death, click here.