Fri. Oct. 3 -- The Jeff Gauthier Goatette coaxes beauty into man's ugliest century; the violinist musters pianist David Witham, bassist Joel Hamilton and drummer Alex Cline in a more group-improvised, "unplugged" (i.e., turned-down) event. Read my review of their latest album here and my review of a recent Goatette concert here. At the Museum of Neon Art, 136 W. Fourth St., downtown 90013; (213) 489-9918; $10.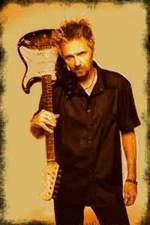 Fri. Oct. 3 -- The truly thumptastic drummer Shane Gaalaas reunites with burning guitarist Jeff Kollman (pictured) and bassist Christopher Maloney in Cosmosquad -- they've got a new DVD. Read my review of their latest album here. At the Baked Potato, 3787 Cahuenga Blvd. West, Studio City 91604; 9:30 & 11:30pm; $20; (818) 980-1615.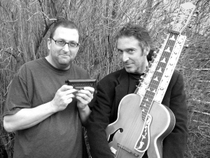 Fri. Oct. 3 -- Slide guitarist Scot Ray and harmonica player Bill Barrett are Gutpuppet: blues of virtuosity as well as intensity, plus a lot of other world formations. Ain't nothing else out there like this; entertaining, too. At Café Metropol, 923 E. Third St., downtown 90013; 8pm; $10 cover, $10 minimum; (213) 613-1537; reservations recommended.
Fri.-Sun. Oct. 2-5 -- Kenny Burrell got in on the ground floor of electric jazz guitar; you can learn a lot from this guy, as he's proved in his years running UCLA's jazz department, but mainly, just watch him. At Catalina Bar & Grill, 6725 Sunset Blvd., Hollywood 90028; 8 & 10pm; $20-$40; (323) 466-2210; www.catalinajazzclub.com.
Fri. Oct. 3 -- The Gothic Killer Clown of Metal, Fifi Larue, puts on one cray-zeye show. At 14 Below, 1348 14th St., Santa Monica 90404; 11pm; (310) 451-5040 (call to make sure it's happening).
Sat. Oct. 4 -- The Eagle Rock Music Festival happens again this weekend. For yer slice o' improv, try Raga-jazz from Arohi Ensemble at the Church of Christ, 5080 Maywood at 7pm; and the SASSAS Soundshoppe featuring Albert Ortega, Joe Potts and others at the same place at 9pm. For the best in local jazz history, get with Derf Reklaw and the rotating cast of masters called Build an Ark at the Global Stage on Colorado Blvd. between Eagle Rock Blvd. and Caspar; 9pm. For space in four dimensions, check the outsemble of drummer Joe Berardi, guitarist Jeremy Drake, bassist Jesske Hume and, hot damn, butoh dancer Oguri at American Legion Hall, 2109 Merton Ave., Eagle Rock 90041; 9:45pm.
Sat. Oct. 4 -- Improvising Composers United (ICU) are throwing a big bash featuring comprovisations by Daren Burns, Ingo Deul, Casey Butler, Sarah Phillips, Megan Fong and tuba explorer William Roper. Musicians on the program include Famoudou Don Moye of the Art Ensemble of Chicago, harpist Susie Allen, vocalist Carmina Escobar and pianist-kotoist Misuzu Kitazumi; visual artists include Julie Butler and Kio Griffith. Righteous stuff. At L.A. Central Library's Taper Auditorium, 630 W. Fifth St.; 2pm; FREE.
Sun. Oct. 5 -- Trip the mechanis borealis with the guitar-vocals-drums electronified trio of G.E. Stinson-Kaoru-Alex Cline. And: Bassist Steuart Liebig, drummer Joe Berardi, trumpeter Dan Clucas and slide guitarist Scot Ray hurt the blues in their own modernist way as Tee-Tot Quartet; read my review of their record here.. Super bill. At Center for the Arts, 2225 Colorado Blvd., Eagle Rock 90041; 7pm; $10; (626) 795-4989.
Mon. Oct. 6 -- Helloween have long ruled Germany's dark forests with their melodic metal. At House of Blues, 8430 Sunset Blvd., West Hollywood 90069; 7pm; $33-$78; (323) 848-5800; www.ticketmaster.com.
Tues. Oct. 7 -- Odd bill: The austere mists and proggy cranks of Sweden's Opeth, along with the very down and very dirty noise groove of Matt Pike's great High on Fire, and Relapse artists outa Georgia Baroness. At the Wiltern, 3790 Wilshire Blvd., LA 90010; 7:30pm; $22; (213) 388-1400.
Tues. Oct. 7 -- Chicago distorto-metalers Nachtmystium open for former Blues Explosioner Jon Spencer's Heavy Trash. At the Echo, 1822 Sunset Blvd., Echo Park 90023; 8:30pm; $14; (213) 413-8200; www.atthecho.com.
Tues. Oct. 7 -- Leviathan Brothers wanna please you not crease you with their melodic piano jazz. Support locals. At Jazz Bakery, 3233 Helms Ave., West L.A. 90034; 8 & 9:30pm; $25; (310) 271-9039; www.jazzbakery.org.
Thurs. Oct. 9 -- Whether bubbling under, stalking rats or spacing on a neoclassical cloud, bassist Steuart Liebig's new quartet Hooked on Lemon Drops, featuring windman Andrew Pask, keysman Wayne Peet and drummer Christopher Allis, will take you places you didn't know you wanted to go. At Industry Café and Jazz, 6039 Washington Blvd., Culver City 90232; 7:30-9:30pm; donate like you wanna; (310) 202-6633.