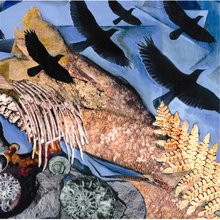 Intronaut, "Prehistoricisms" (Century Media)
Can you dare to be virtuosic progdudes without playing superfast? L.A.'s Intronaut say yes, allowing them to link arms between the total space-outs of moodmen Isis and the hyperkinetic drive of 'Naut cousins Behold . . . the Arctopus.
Now that they've forged a few impressive records and weathered a few personnel squalls, Intronaut are (un)settling into a distinctive (im)balance that's listenable and involving. If any factor dominates, it's gotta be texture, with the guitars of Sacha Dunable and David Tunnick claiming wide territories of rude riffology and aquarium arpeggio. Rhythmwise, the drums of Danny Walker beat their tribal tattoos with a spontaneous determination that interlocks perfectly with the articulate bass of Joe Lester, who accomplishes the difficult combination of inventive counterpoint and constant groove. Though the music's all worked out and nearly solo-less, Intronaut feel like a jazz ensemble -- just noisier and heavier.
"Prehistoricisms" presents itself as an album about evolution, best exemplified in "The Literal Black Cloud," which shuffles through about nine different cataclysmic changes in 5 minutes -- bellowing, floating, sloshing, carving, and ending with a single cymbal ding like God's exclamation point. There's a lot of rough-and-tumble action, accented now and then, as on the title cut, with psychedelic frackyouowntering. And the record ends in a sometimes beautiful 16-minute suite called "The Reptilian Brain," starting with tablas and sitar drones and launching into primordial chaos. You might flash on Mastodon, but Intronaut are more abstract, less fanciful, more communicative.
Still, Intronaut retain elements of outsider armor in the CD packaging: no writing credits; tiny type for the song list; front and back covers that don't even include the band's name or album title. Stamp of the underground? Or subconscious suicide?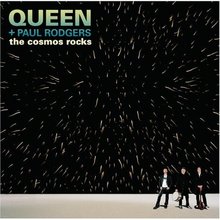 Queen + Paul Rodgers, "The Cosmos Rocks" (Hollywood)
One clue to this album's badness (and I don't mean goodness) can be found just inside the booklet cover: "Produced and performed by Brian May, Paul Rodgers and Roger Taylor" -- i.e., the band. Three other gentlemen get credited as co-producers and engineers, which in the parlance of the trade means toadies. Conclusion: Nobody had the balls to remind the legends what does and does not suck.
Now, I had high hopes for "The Cosmos Rocks." After Queen + Paul Rodgers pumped out their respective auld-tyme hits, from "Tie Your Mother Down" to "All Right Now," on 2005's live "Return of the Champions," I thought May and Taylor had been freed at last to rock their socks off, and that Rodgers had found collaborators who could bring out the best in his inestimable voice. The challenge would be discovering enough common ground to make this sound like a real band.
So . . . Whadda we all like around here, guys? Well, who could object to that good ol' '50s rock & roll? So let's start with a Little Richard tribute like "Cosmos Rockin'," except with a twist: "Next thing you know they'll be rockin' out in space!" If this weren't about the 11 billionth time some aging star had tried to suck nourishment from his withered roots, this one might've melted a milligram of wax from my left ear. "Sock it to me!" indeed, grampaw.
Or howbout some slow-grinding Foghat boogie, like "Still Burnin'," which should have been called "Still Protestin' Too Much." We can swallow "Rock & roll never dies" from AC/DC, because they damn well prove it, but this just lies there like a rotten carp. "I went to sleep, and when I woke, everything had turned around" -- one all-too-true statement Rodgers should've left in his diary. Nice wah-slide solo from May, though.
Through most of the album, Q+PR sound as if they forgot exactly what this "songwriting" thing was supposed to be. We get dimensionless acoustic insistence on "Small" and "We Believe," Queenly harmonies tacked onto an icky kindergarten square dance on "Call Me," a forgettable wimp-out called "Say It's Not True" sung by Taylor, I think. Coming from a crew of sexagenarians, the perky "Surf's Up . . . School's Out" comes off, despite its creative soundscape, as plain weird. Rodgers, always a master of the clunker, outdoes himself with lines like "The myths and the dragons of time will explode" and "They look so pretty as they march and drill"; amid many other philosophical musings he suggests that we need a politician "who knows how to say 'I'm sorry.'"
For the first decent tune, just hold on (and on) till track 8, the hip-twitching tango "Voodoo," whose catchy chorus, sexy bridge and concise guitar solo might incline you to forgive the Courvoisier-soaked chimes. "Some Things That Glitter" is a well-constructed soul ballad with a fluttering solo and classic Queen twin-guitar touches. And a full range of ax shadings adorns "Through the Night," a serviceable plodder along the lines of Free's "Heavy Load." That's it. Three years, three worthwhile songs.
If you only yearn to experience the mocha caress of Rodgers' voice and would get down on your knees to hear him sing the instruction manual of a toaster oven, "The Cosmos Rocks" will suffice, because he's in excellent form and the microphones are expensive. If you were hoping God would save Queen, though, keep praying.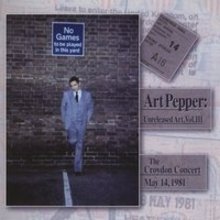 Art Pepper, "Unreleased Art, Vol. III" (Widow's Taste)
The third live double-CD dug from the vaults by Art Pepper's widow continues in a worthy tradition. Pepper rips through "Cherokee" and gets the torch smoking on "Goodbye," his dry, rough-hewn alto still probing dark emotional corners in this 1981 concert a year before his death. The underrated Milcho Leviev shows his fleet yet precise touch on piano; Bob Magnusson squeezes out the dense tone that would make him a top-call sideman; Carl Burnett is one of those drummers who makes everything seem easy. When I saw Pepper around this time, I was surprised how much life he could bring to the '50s stand-up-and-blow-for-hours bop tradition, and I never thought I'd have anything but memories of the occasion. Nice to pick up on this.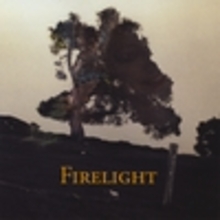 Nate Scoble, "Firelight" (www.natescoble.com)
L.A. guitarist-singer Scoble picks up on an almost extinct tradition of '60s British folk and twists it in unusual directions. His darkly informal voice remembers every scary/creepy detail of love-time and -space as Rebecca Lynn's violin stretches out echoes of his wonder, Spencer Savage's lazy drums kick him along, and Mike Gordon's bleating sax releases the inner disorder Scoble can't bring himself to admit. For fans of Incredible String Band.