Fri.-Sat. Nov. 12-15 -- The non-missing link between bop and the avant, who's played with everyone from Frank Morgan to Miles Davis: vet saxist Sonny Fortune. He'll rip live with the vets, drummer Roy McCurdy, pianist Theo Saunders and bassist Henry Franklin. At Jazz Bakery, 3233 Helms Ave., West L.A. 90034; 8 & 9:30pm; $30; (310) 271-9039; www.jazzbakery.org.
Fri. Nov. 14 -- Motley Crue still have plenty of rock under their boots and crud under their fingernails. Read my review of their current "Saints of Los Angeles" here. At Hollywood Palladium, 6215 Sunset Blvd., Hollywood 90028; 9pm; $85.50.
Sun. Nov. 16 -- A big, wonderful celebration of Horace Tapscott's L.A. legacy, Jesse Sharps' agglomeration of The Gathering. Read my review of their new record here. At Jazz Bakery, 3233 Helms Ave., West L.A. 90034; 8 & 9:30pm; $25; (310) 271-9039; www.jazzbakery.org.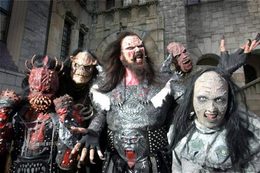 Mon. Nov. 17 -- A mighty spectacular bill: Finnish costumed maniacs Lordi (above) actually stock a lot of hooky hard-rock songs, and local legend Lizzy Borden has his own bent sense of theater -- he's better live than on his somewhat overworked new "Appointment With Death," which nevertheless has some great songs such as the classic pop-metal wailer "Perfect World" and the gothic churner "The Darker Side." At House of Blues, 8430 Sunset Blvd., West Hollywood 90069; 7pm; $15.50 (cheap!); (323) 848-5800; www.ticketmaster.com.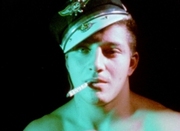 Mon. Nov. 17 -- You don't have to be a gay Satanist to enjoy the surreal films of Kenneth Anger. In addition to his classic 1964 biker flick, "Scorpio Rising," REDCAT tonight screens a number of his recent shorts, including one on why Mickey Mouse is Hitler and one on the death of Elliott Smith. No "Lucifer Rising" (with Mick & Marianne), but you can't have everything. Anger appears in person. At REDCAT, 631 W. Second St., downtown 90012; 8:30pm; $9; www.redcat.org.
Wed.-Thurs. Nov. 19-20 -- Every hot guitarist in the world kneels before the lightning bizarritudes of Allan Holdsworth. With bassist Jimmy Johnson and drummer Chad Wackerman. At the Baked Potato, 3787 Cahuenga Blvd. West, Studio City 91604; 9:30 & 11:30pm; $25; (818) 980-1615.
Thurs.-Sat. Nov. 20-22 -- Former Coltrane sax foil Pharoah Sanders frees the chosen people, and the great thing is you get to choose yourself. At Catalina Bar & Grill, 6725 Sunset Blvd., Hollywood 90028; 8 & 10pm; $30-$40; (323) 466-2210; www.catalinajazzclub.com.