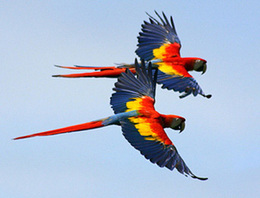 L.A. drummer Dan Morris died unexpectedly of organ failure December 21, 2007, at age 37. Despite his relative youth, Morris had made quite an impact on the local and even national music scene, as this night's gathering of jazzbos, rockers, artists, jokers and friends demonstrated. It was great to see Alex Cline's Sunday Evening Concerts event filled to capacity. It was only sad that the death of a remarkable guy provided the magnet for this very touching, well-paced and musically satisfying tribute.
Kicking things off was the Cheat, a young rock quartet Morris had produced. Elements of Neil Young plod, 13th Floor Elevators psychedelia, gloomy pop and punk polka, plus good songwriting and smoky atmospherics, showed why Morris went out of his way to record them. A worthy warm-up.
Singer-songwriter Eleni Mandell attended the same Valley magnet high school as Morris. Backed by the spare electric vibrations of guitarist Jeremy Drake, she answered the request of Morris' widow for her numb lullaby "Dreamboat," her voice a soft lilt as she breathed words about departure and danger in dark waters.
Marie Morris herself, standing alone, kindled the night's emotional center through a minor-key folk ballad of her own inspired by the broken radio in Dan's old truck. It was a beautiful song with a high-climbing bridge, and Marie's true soprano went straight to the heart: "I thought you should know that I'm ready to go."
Ponytailed Matt Piper followed on solo banjo, exploiting the instrument's resonant properties to deliver a strong flavor of India in the melancholy melody of his lovely composition, which combined open strings with simple, logical single-note progressions.
The diminutive Takako Uemura presented herself in full kimono to sing Japanese ceremonial music, appropriate to the occasion with its slow pace and thoughtful openness. Percussionists Adam Idell and Dave Shaffer contributed spare accents, Will Salmon warmed the air with considered flute, and Alex Cline added variety with bells, chimes, electronic drones and stately bass drum.
Larry Karush conjured a wonderful kaleidoscope from an acoustic piano, beginning with a dissonant blues rendition of "You Don't Miss Your Water" and continuing into expansive realms of spanging abstraction and hand-waving soul. A rambling, rumbling master.
The Obliteration Percussion Quartet became a trio to honor their absent member, Dan Morris. Incorporating several instruments they got from their friend, Brad Dutz, Dave Shaffer and Joe Berardi started with military paradiddles and broke down into joyful jams that seemed to leave spaces where we could imagine what Morris would have contributed. The jams coalesced into Native American dance and dissolved again into the chirps of toy electronic birds (birds were a Morris obsession). The Obliterators finally revved heartbeats with a driving African groove and a precision-executed stop-start unison conclusion.
Former Eels percussionist Butch Norton tugged at his cowboy hat and read sex classifieds (complete with response number) while Don Ho's "Tiny Bubbles" played on a little machine. Dan would have approved.
Between sets throughout the night, Dan's friends and collaborators stepped up to relate memories of his talent, generosity, encouragement, humor and frivolity; Morris memorabilia adorned the walls. A lot of love, a lot of applause after every segment.
Finally, Alex Cline raised his sticks to conduct a special Band of the Moment including keyboardist Wayne Peet, bassist Steuart Liebig, trumpeter Dan Clucas, guitarist G.E. Stinson, violinist Jeff Gauthier and gockenspieler Erin Barnes. They performed "He Hears the Cry," a longish Cline piece that Morris had admired enough to perform it in one of his groups. Electronic space ghosts introduced somber trumpet-violin harmonies; the Milesy electric piano welled up; the bass locked in; the ensemble began to flap its wings slowly. The heroic Spanish elegy rose to thrashing passion, union, triumph. Norton Wisdom painted iconic images of spirits in flight. Any tension washed away with the tides. All Souls' Day came to an end.

Friends continue to post on Dan Morris' MySpace page.
Read Dan Morris tributes on MetalJazz.com here.