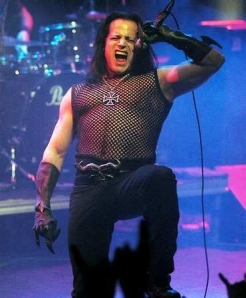 Glenn Danzig works, man. He's 53. He's got a bald spot. After shredding his tonsils in 20 cities in less than a month on this Blackest of the Black Tour of his, he could barely talk Wednesday night, and he got winded. But the freak looked strong in that sheer black shirt, and he never stopped jabbing those pumped arms, charging around and flinging up the horns. Luckily, he had a few thousand friends who knew all his words, so if he needed a break he just stuck out the mike and let us sing 'em. But the incomparable voice was on pitch, rough and furious. He offered us hell. Why, thank you.
As the soul of hard rock, Danzig knows how it's done. Get some simple riffs, and play 'em like you need to bust into a burning house and save your only child. Get a melody; it only needs to be three or four notes, just enough so drunk f*cks can sing along. Don't make it too fast, or it won't stick in the memory. Have an attitude.
Sounds easy. It's not, or everybody'd be doing it. Danzig did it again and again Wednesday, celebrating the 20 years Danzig-the-band has been cranking since it supplanted his previous units the Misfits and Samhain. You know how many great songs he's got? Damn.
Roaring out of the gates with "SkinCarver" ("All the world must die!") from his somewhat overlooked 2004 "Circle of Snakes" album, Danzig then went animal on the early stuff like "Twist of Cain," "Am I Demon?" and "Under Her Black Wings" and, despite the throat rasp, turned in a creditable croon on "How the Gods Kill" and raged the blues on "Tired of Being Alive." He tapped last year's "The Lost Tracks" double album for the slow-twisting "Satan's Crucifiction," and drove the dagger down hard on "I Don't Mind the Pain." It would've been impossible to end a set with more rip & crash than the band injected into "Black Angel, White Angel" and the classic "Mother," but the sex grind of the encore selections "She Rides" and "Dirty Black Summer" made for xtra satxfaction.
A pair of vintage-looking longhairs, drummer Johnny Kelly and bassist Steve Zing, nailed the beat way down on the railroad track where it belonged. And one must always kneel before Prong guitarist Tommy Victor: This dangerous mechanic totally owned the catalog -- inflecting every elemental riff with squeals, wahs and minute shadings; splintering out ice-hot solos; climaxing with enormous feedback flame-ups. He has grown with Danzig to the point where he's virtually indispensable. He rocks.
It was a monstrous performance, with an artful stage setup featuring alien skull sculptures, and the post-Halloween crowd was all over it. Welcome home, Mr. D.
Winding backward through the night, now . . .
Boasting as many band T-shirts in the audience as Danzig, spike-shanked Norwegian black metalers Dimmu Borgir were not shy about claiming the stage amid billows of red smoke. The contrasting vocals of the group's two huge Ajaxes -- lead voxman Shagrath's grainy croak and bassist I.C.S Vortex's heroically melodic proclamations -- stood out more than usual, but really this is an instrumental band, as the classically glorious processional hunt-summons "The Serpentine Offering" most strongly emphasized.
Two fierce slave girls writhed aflank the riser where touring drummer Daray lurked behind a hilarious hedge of multisize cymbals, and where geek-ghoul keyboardist Mustis spoozed horror chords or clanged Baroque arpeggios. Rhythm guitarist Silenoz skulked back and forth looking serious; touring lead guitarist Cyrus clambered up on the riser for a steeplechase solo. Things got dicy for one crowd surfer when it looked as if the fans were about to pitch the guy onstage onto the band's very pointy titanium shin-gear.
Styles ranged from the monolithic "The Reptile" to the "primitive, simple headbanging," as Shagrath called it, of "Puritania"; when Dimmu piled into the shrieking, pummeling conclusion of "Mourning Palace," we knew we hadn't been cheated. For a couple of decades, black metal has evolved a whole new way of writing songs -- one that (especially live) depends less on hooks than on surges and ebbs of energy, condensations and evaporations of texture. And nobody's better at it than Dimmu Borgir.
While Portugal's Moonspell employ the modern vocal woof, they're really kind of old-school melodic metal. ("Genesis!" yelled one heckler.) Their unusual combination of snake-charmer rock and double-kick counterpoint oozed plenty of charm, though, and guitarist Ricardo Amorim spieled out a really slick, curvy Afro-Iberian solo. A secret weapon not to be underestimated: He and bassist Aires Pereira were able to stand next to each other and simultaneously twirl their hair in opposite directions!
Skeletonwitch and Winds of Plague got screwed by the usual maladies that befall openers: short sets, bad sound and bad lighting. Too bad, as both have made good albums. Skeletonwitch's hillbilly dervish thrash was made to seem more one-dimensional than it is because we couldn't hear the twin guitars. Nicely accented by keyboards, Winds of Plague's waves of ambitious drama got flattened in a wall of mud -- impressive lyrical guitar solo, though. Both bands might heed the advice of Skeletonwitch voxman Derrick Nau: "Smoke weed! Thanks a lot!"