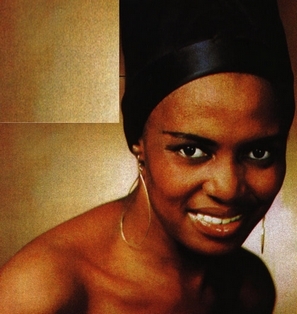 by Loana dP Valencia.
It was the spring of 1980. The place: Boyle Heights, a predominantly Mexican-American community where no one needed to speak English except in school. A young Miss Hamilton, an African-American schoolteacher assigned to First Street Elementary School (composed of many first-generation U.S.-born & undocumented children), was plotting a small revolution unbeknownst to us all.
Preparations were under way for the schoolwide celebration of Cinco de Mayo, though our event had nothing to do with commemorating the Mexican battle against the French in Puebla. (What did we Mexican children born in America know of war?) It was, simply, a day where we could feel comfortable being exactly who we were. A day of cultural amnesty.
Among all the Mexican dances presented by the various classrooms during that outdoor presentation, Miss Hamilton and her group of volunteers (this writer included) danced to the only song of non-Mexican origin -- Miriam Makeba's "Pata-Pata" -- dressed in what I can only call a white toga and a huge red paper flower over our hearts. Before rehearsals, I had never, ever heard the song before, but how could I have? Over and over my mind whispered, Who was this woman? Where does she come from? What language was she singing in?
While our Spanish-speaking parents, our Spanish-speaking neighbors, and our bilingual friends and classmates watched us dance to this seemingly happy song of unknown origin, little attention was paid by me to their reactions. More than anything, I reveled in a silent joy of representing something else, something MORE than what I knew.
Miriam Makeba's introduction into my insulated community was a quiet awakening to the reality that the world extended FAR BEYOND the confines of my own geography, to the reality that the world included people who did not speak Spanish OR English, and furthermore, to the reality that fierce dedication to a cause could ignite binding ties to people from all around the world.
As any child could attest, the melody in "Pata-Pata" is an infectious one, which is the song's first gift. The second is the little secret planted in its lyrics: the mention of Johannesburg. My nose was soon glued to the surface of my school library's globe. Which continent did I begin my search on? How long did it take me to find it? Nothing matters more than remembering the hunger to know, which made me – somehow -- more than myself.
I confess here, publicly and for the first time, that my fascination with maps and atlases began with "Pata-Pata." Throughout my childhood and adult life, I have spent many silent and blissful hours with fold-out maps, globes, oversize map collections, and Thomas Guides. Political maps, physical maps, topographic maps, road ma . . . I grew to love them all for the places they took me to in my imagination, for the history they contained, for teaching me to cherish becoming more than what I knew. Less than a decade later I would learn, in an introductory anthropology class at U.C. Davis, that the clicking sound in "Pata-Pata" was not an instrument, but a sound native to Miriam Makeba's South African language. As my hunger to learn more about the world grew, a consciousness of consciousness manifested itself. I would come to claim the word "activist" and clutch it to my heart like so many who came before me, like those who walked with me, like those who would make themselves known in the future.
Recently, I learned that Harry Belafonte was among many notables (Dr. Martin Luther King Jr., Sidney Poitier and Jackie Robinson included) who donated money to fly over 81 of Kenya's brightest students to study in the United States in 1959 with the hopes that they'd return to Kenya and use their knowledge to the betterment of their communities. One of the students who earned a place on that flight was Kenya's Barack Obama Sr. Mr. Belafonte was also one of Miriam Makeba's mentors.
Still riding the wave of an incessant euphoria induced by the election of Barack Hussein Obama as this nation's 44th president (oh, those glorious blue states!), on the morning of November 10th I heard the news of Miriam Makeba's passing. My memory ran back to the then-unknown act of solidarity with anti-apartheid activists by young Mexican girls on Cinco de Mayo in 1980. I reached over to the side of my bed, placed my hand on the atlas I keep there beside me, and sadly smiled.
Looking back, I can so easily see that Miriam Makeba sang so that future generations would never have to know of the heartbreak of exile or the horrors of apartheid. I recognize how music obliterated barriers and allowed her to travel & perform in many different countries to raise awareness to this important cause. I can understand how the history of her people and her country traveled with her in those songs, and how music was a way to keep dear to her all that she knew during her exile. Above all, I so deeply appreciate how her music has been, as Nelson Mandela has said, a gift of hope to those who have dedicated their lives to anti-apartheid beliefs & activism.
Deep are the ties that bind me to her, and it began – simply, innocently - with a song. I find solace in knowing that she has inspired countless others around the world from cultures different than her own, and it thrills me to know she lived to see the first African-American elected to the presidency of the United States.
Miriam Makeba has been -- for me at 10 years old and for me at 40 – the origin of a hunger for a worldly consciousness. Through the opportunity presented to me 28 years ago by Miss Hamilton's own love for Miriam Makeba, I know that the responsibility to nurture this appetite constantly rests in my own hands.
"The music keeps going all night long 'til the morning sun begins to shine." Miriam Makeba, your heart may have stopped in Italy last week, but your spirit will never cease to dance. I am indebted to you for exemplifying through music and dance that life can have purpose, that life can be cherished, and that life should be celebrated with the coming of each morning's sun. ***
* * *
To read and listen to Ofeibea Quist-Arcton's NPR feature on Miriam Makeba, click here.
To view one of the many versions of "Pata-Pata" on video, click here.