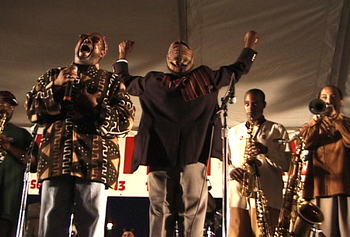 The Gathering, "Leimert Park: Roots & Branches of Los Angeles Jazz" (www.thegatheringwebsite.net)
You're gonna smile when you hear this disc. Jesse Sharps, a musician whose roots run deep on the L.A. scene, corralled a couple dozen of his favorite players in 2005 to refocus the energies that his old mentor Horace Tapscott used to generate. He called it the Gathering and recorded it, and listeners around the world should pay attention.
See, it's got a feel. From the richly lulling introduction of Sharps' "Peyote Song III," into its Dolphyesque Afro-Latin percolations and through the whole album's varied moods and individual statements, you hear a whole community, black and white, older and younger, breathing the same warm air and reaching for the same promised land. This is exactly what you don't get with a Lincoln Center Orchestra or even a Mingus Big Band -- selfless love, a natural blend.
As with Tapscott's Pan Afrikan Peoples Arkestra, of which many artists here were members, three of the five selections stretch real long, reflecting a process of living a shared life where everyone has a voice. Ahhh. And the instrumental voices have so much to say, whether the Coltrane bubble of Azar Lawrence's tenor, or the biting energy of Kamasi Washington's tenor, or the harsh resins of Miguel Atwood-Ferguson's viola, or the snogging bluster of Joey Dosik's baritone (or so many more).
Straight outa his chest, Kamau Daaood drives forth his freedom poetry over a loose beatnik vamp on "Language of Saxophones." Dwight Trible moans the unstaffable notes between Roberto Miranda's bass bowings on "Desert Fairy Princess" before the whole ensemble mounts a dune-riding Arabic caravan. Miranda's dissonant modern score and bustling rhythms unite Jesus' prayerful confliction with the bombs and bangs of an embattled modern-day city on "Agony in the Garden." (To see how Miranda's conducting renders the performance spontaneous, take a few minutes to download the video here. Going back to the source, the ensemble recapitulates the exciting post-bop swing and deftly charted horn-section riffs of the Tapscott arrangement "Lately's Solo." The track ends abruptly mid-measure -- maybe by some accident of recording or production, but it's appropriate: This music is a snapshot of a musical continuum that won't artificially fade out or end with some scripted crescendo. It's just life.
A full-length film of the event is in the works, but this album already stands as a righteous companion to Jeannette Lindsay's long-labored documentary "Leimert Park," which is available here.
Read Downbeast.com's interview with Jesse Sharps and Gathering producer Tom Paige here.
THE GATHERING PLAYS THE JAZZ BAKERY SUNDAY NOVEMBER 16.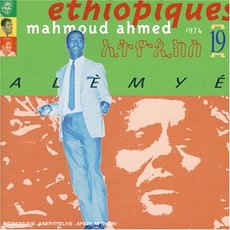 Éthiopiques 19: Mahmoud Ahmed, "Alèmyé" (Buda)
Talk about a feel, you can almost smell the stew cooking in the courtyard and touch the brocaded cushions in the studio control room when you soak up the vintage recordings from the Éthiopiques project, and this 1974 find by "the key figure of modern Ethiopian music" (the third Ahmed disc in the series) is one of the finest. It was released a few years ago, but I realized I'd never reviewed it, so what the hell -- it's timeless.
You gotta love Ahmed's wailing, gravely complaining tenor voice; he's still active, by the way. An even wilder trip, though, is the Ibex Band, which backed him. What a demonic shake these nodding slackers stirred up -- simple as mud, but hard to pinpoint, changing time signatures from song to song, and even within a song, as on the hustling "Etu Gèla," which broke my abacus as it jumped from 7/8 to 11/8 and probably a bunch of numbers I couldn't count. The tenor saxist always sounds as if he's about to faint from tuberculosis trying to squeeze in his catchy horn riffs; meanwhile the trapsman and conga player shuffle along in completely unconscious perfection, riding the booming figures of the lead instrument, which is . . . the electric BASS. You're bound to flash frequently on the Doors because of the ever-present Vox organ, upon which the keyboardist leans with one or two nearly random fingers; on "Gubelyé" he repeatedly jabs at a two-note chord exactly 11 tones apart -- hey, ONE of those notes has gotta work with the melody; if you don't like the other one, just imagine it's not there! Sheer genius.
I now require everything the Ibex Band ever recorded, so I'm going back to get Éthiopiques 6, Ahmed's "Almaz," originally released in 1973. I hope it has musician credits, which "Alèmyé" doesn't -- just a group pic the size of a postage stamp. These guys deserve a granite memorial.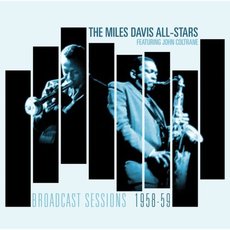 The Miles Davis All-Stars featuring John Coltrane, "Broadcast Sessions 1958-59" (Acrobat)
"Broadcast Sessions" is pretty much a blues record, featuring a lot of the same material Miles was wearing out throughout the late 1950s, before he did "Kind of Blue" in '59. So it's great of course. Cannonball Adderley, Paul Chambers, Bill Evans/Red Garland/Wynton Kelly, Philly Joe Jones/Jimmy Cobb -- check. And Davis' playing is at its cleanest.
But most fanatics will lust for unheard John Coltrane solos, and they get 'em. Best: Trane goes wonderfully fragmented/cubist on "Bye Bye Blackbird" in May '58 and playfully weird on "Sid's Ahead" (not "Sids Ahead") in November '58. Funny, though; by January '59, when he takes on Cole Porter's "All of You" and Milt "Bags" Jackson's "Bags' Groove" (not "Bag's Groove"), Coltrane is blowing fast, melodious and nearly straight.
The oddest discovery is a cooking November '58 gang bang on "What Is This Thing Called Love," sans Coltrane but including Cannonball & Nat Adderley, Chambers, Garland, Gerry Mulligan, Candido, Barry Miles, Chris Nirobe and a hot uncredited guitarist. Candido's hand drums are the loudest things on it.
Decent sound, Wikipedia-like notes -- all in all, "Broadcast Sessions" makes for a nice little historical gap-filler. Can we get too much Trane and Miles? Ain't yet.
* * *
A LORDLY OFFER: Since I love jazz and hate typos, I hereby offer to proofread any jazz booklet notes (in English) pre-release, without credit and FOR FREE. I have many years' expertise in the field. No, I am not kidding. Make me wish I never said this at greg@metaljazz.com.