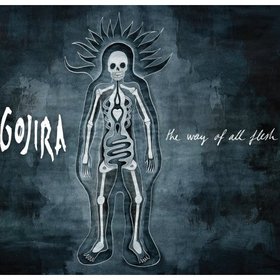 Gojira, "The Way of All Flesh" (Prosthetic)
Hard to believe these Froggie metallians have been kicking around for 12 years; harder to believe they keep taking gigantic evolutionary leaps. As much of an impression as the slow-swimming cetacean spasms of 2006's "From Mars to Sirius" made, "The Way of All Flesh" introduces a cannier creature -- less repetitive, more prehensile, more explosive. This sounds like a band on the verge of dominion.
Gojira want to do everything now. Hear especially the 10-minute "The Art of Dying," which sneaks in with a quietly clicking African percussion groove before undertaking a mess of shifts: hard blast, aching drag, body-blow double-kick, imperial Russian pomp -- all interspersed with Tuvan drones, textured white noise and vocalist Joe Duplantier's near-melodic cough.
Every track has its own tricks, though, with a lotta change-ups in tempo and density. "Toxic Garbage Island" hits hard with its machine-gun surge & dirge. "Adoration for None" (featuring Lamb of God voxman Randy Blythe) rallies the troops with angry slog and horror-movie riffing. The insistent, majestic title track that concludes the record features one of the most effective false endings you'll hear, dark and understated.
Plainly, too, Gojira are willing to suck up virtually any kind of music: ELP cheez-synth and Mansonesque chant ("A Sight To Behold"), evil buzz-picked black metal ("Esoteric Surgery"), a touch of Dio gallop ("Vacuity"), even cinematic pirate swagger ("Wolf Down the Earth"). Though the musicianship isn't showy, with the exception of the versatile Mario Duplantier's drums, the four demonstrate a composer's ability to communicate, breaking the sound into chewable chunks and keeping you listening with tight track sequences or, in the album's second half, burbling backward-guitar links.
Artful stuff. These guys should tour with Intronaut, and not only because they've got similar abstract sound aesthetics; J. Duplantier's inside-cover pterodactyl illo resonates well with 'Naut's fossils. Prehistory is the new future.
GOJIRA PLAY THE NOKIA THEATER WITH IN FLAMES SATURDAY, NOVEMBER 22.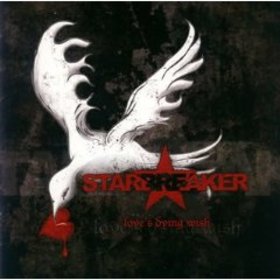 Starbreaker, "Love's Dying Wish" (Blistering)
The second Starbreaker album advances a distinctive tradition of luxuriously subversive rock. TNT/Westworld singer Tony Harnell and Swedish guitarist Magnus Karlsson plunge you into a hot bath -- squishy ax textures bubble up into your armpits; heady vocals spiral around your ears like steam; keyboards echo among velvet curtains; the drums and bass of John Macaluso and Jonni Lightfoot pound your unresisting deltoids till you're limp. Meanwhile, someone's whispering, "The one thing we'd kill for has died in our arms."
The someone, of course, is Harnell, one classic/classy rocker who has never succumbed to ennui, mediocrity or feel-gud formula. Though he's known as one of hard rock's all-time top technical lungsters, his first priority is always songwriting, and "Love's Dying Wish" may not rise quite to the level of Starbreaker's 2005 debut, which encompassed melodic masterworks such as "Break My Bones," "Crushed," "Light at the End of the World" and "Save Yourself." Or maybe it's just as finely crafted; ask me in a year. That's how long it takes to realize that the songs I once passed over have become my favorites.
But the short-term hit list is already substantial, beginning with the first track, "End of Alone," whose crunchy rhythm, hooky keys and despairing vocal plea immediately mark it as a Harnell gem. "Building a Wall" uses a simple piano riff against shifting noise-guitar chords to establish a delicious slow tension; slick Karlsson bridge solo, too. The clobbering beat and wide romantic vistas of "The Day Belongs to Us" make for a gestalt therapy that chicks and dudes can both embrace; "Which god should we trust?" indeed. And Harnell takes an appealing squint at his surfer-rocker youth on the tuff strut "Unknown Superstar," well aware of the irony that his mature fruits have reaped far less attention than his adolescent '80s blurts.
I've been known to complain that Harnell doesn't crank enough product, but I'm gonna shut up about that now. When he finally delivers, you can always hear it was time well spent.
Read my review of Tony Harnell's recent solo EP, "Cinematic," here.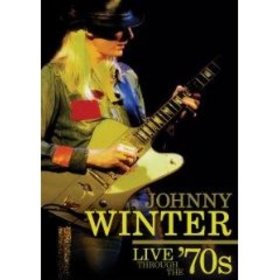 Johnny Winter, "Live Through the '70s" (MVD DVD)
'Bout spat my dentures when I beheld the 1970 Denmark footage of the world's rockinest blues guitarist bonking out Edgar Winter's "Frankenstein" with bro Edgar actually in the band, then Edgar shuffled over to the second drum kit and tumbled out an amazing drum solo, then there were all these other Johnny and even further Edgar jams with various backups like Dr. John and Bobby Caldwell from the USA and Europe thru '79, and dumb-smart-funny interviews with some college kid where Johnny's got this outrageous black hat drooping down over his crank-addled eyes, and damned if it all didn't look sharp and sound bangful throughout, as Johnny punished his Firebird and some weird vintage Epiphone to flow, tangle and rip through all them meantown blues, playin' the guitar just like a-ringin' a bell. Nothing with Rick Derringer, but can't complain considering, especially since Johnny does indeed essay "Rock and Roll Hoochie Koo" in trio format on Don Kirshner's "Rock Concert" in '73. All praise to executive producers Paul Nelson and Ed Seaman and DVD producer Rick Fuller and the gang for scraping all this together; never thought I'd see the day. Damn.