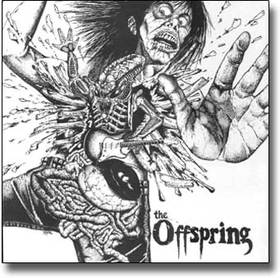 "Heavy metal" art can be kinda predictable, but not always. Take for instance this collection of album-cover art and mostly not that, through which I wandered on opening night last Friday and didn't see a damned thing that was fairylandish.
Imagination doesn't always mean alien sunsets, as a couple of my favorites demonstrated. One was a black-ink illustration by Ross Sewage (of S.F.'s Impaled) depicting a rockdude a-pukin' into the mouth of an anthropomorphic beer can, as the can seems to yank a car key out of the dude's ass -- now, that'll make ya think twice about drinking and driving; good spatial perspective, too. There were some glossy multilayered monster graphics by Kahori Takeda -- an unusual technical approach, quite colorful. Some 16 artists were represented, including the late Marc Rude (died 2002), who drew deathly sh*t for the Misfits, Offspring (above), et al.
Of course you're gonna see many permutations of mutilated skulls, babies dismembered by demons and the like, but the variety of stylistic approaches is a jolt, and the levels of skill and energy skew way up there. Co-curator Kevin Fetus says he's planning another show for the summer.
"Musick and Colour" stays up till mid-January at Art & Mayhem Gallery, 3416 Glendale Blvd., LA 90039; (323) 666-7731.