Fri. Dec. 12 – Virgil Donati Super Fusion is the mind-boggling drummer of Planet X plus keyboardist Matt Rhode, guitarist Alex Machacek and bassist Rufus Philpot. At the Baked Potato, 3787 Cahuenga Blvd. West, Studio City 91604; 9:30 & 11:30pm; $20; (818) 980-1615.
Fri. Dec. 12 -- Quite a pro outfit on the bank of the mainstream: the quintet of guitarist Mike Clinco with saxist Bob Sheppard, bassist Darek Oles, drummer Mark Ferber and pianist Jeff Colella. At Café Metropol, 923 E. Third St., downtown 90013; 8pm; $10 cover, $10 minimum; (213) 613-1537.
Fri. & Tues. Dec. 12 & 16 – Roots and branches from The Honorable DHC & Righteous Sisters, with others. At Cinema Bar, 3976 Sepulveda Blvd., Culver City 90036; 9pm; free.
Sat. Dec. 13 – Every call deserves a response, and poet Dottie Grossman, trombonist Michael Vlatkovich and guitarist Tom McNalley are here to serve. At That Yarn Store, 5028 Eagle Rock Blvd., Eagle Rock 90041; 6pm; (323) 256-9267; free.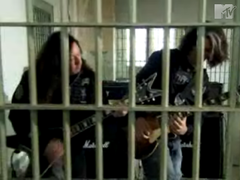 Sat. Dec. 13 – Resurgent Bay Area thrashers Testament show their new video and present a bunch of their other film clips at Alcatraz etc. amid other bands' videos on MTV2's "Headbangers Ball," 2am (technically Sunday morning) Eastern and Pacific Time.
Sat. Dec. 13 – Visual art, anyone? Art & Mayhem (in association with Kevin Fetus of the Fetus Eaters and Watch Me Burn) presents "Musick and Colour," featuring the work of numerous artists including the late Marc Rude, plus a couple of bands (Lack of Interest is one). At Art & Mayhem, 3416 Glendale Blvd., LA 90039; 6-9pm; (323) 666-7731; free.
Sat. Dec. 13 – Space out with Thelonious Dub. At Brenart Restaurant & Wine Bar, 53 Union St., Pasadena 91103; 7pm; (626) 796-7460.
Sun. Dec. 14 – Sothis and Abysmal Dawn head a herd of fine local metal bands. At the Knitting Factory, 7021 Hollywood Blvd., Hollywood 90028; starts 7pm; http://la.knittingfactory.com.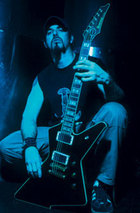 Wed. Dec. 17 – Ramon Ortiz has made some changes in the lineup of his superfine rhythm-heavy Latin-metal cargo vessel, Ankla; they'll be playing material from their upcoming album atop a multiband bill. At the Whisky, at some time or other, for some price or other; the club's site and Ankla's contradict each other; try calling the club at (310) 652-4202.
Wed.-Thurs. Dec. 17-18 – Metallica. Read my review of their latest album here. Stoners The Sword open. This is the bill Lamb of God got kicked off of because the venue's owners (a church) thought the band's name was blasphemous; replacing LoG are the very worthy Bay Area vets Machine Head, who made an excellent thrash update record last year and actually expand with a touch of Haight-Ashbury psychedelicism live. At the Forum, 3900 Manchester Blvd., Inglewood 90305; 7pm; $25.50-$82.50; www.ticketmaster.com.