Fri. Dec. 26 -- An alert via Jeannette Lindsay: Pianist Nate Morgan has been an inspiration on the L.A. music scene for as long as I can remember, taking the lessons of McCoy Tyner and Erroll Garner to celestial and soulful realms few have visited. He's been having health problems for quite a while, though, and his family could use help with the bills. Jeannette doesn't know who'll be performing at this initial benefit, but I can imagine, considering his community and influence, that the lineup will be staggering. She also offers an address for donations: Nate Morgan c/o the World Stage, P.O. Box 83253, L.A. 90083. At the World Stage, 4344 Degnan Blvd., Leimert Park 90008; 8pm.
Fri. Dec. 26 -- Ratt were one of the rockiner metal glamsters of the '80s with "Round and Round" and all, and they've been active lately with original singer Stephen Pearcy (who's pushing a pretty good current solo album), guitarist Warren DeMartini and drummer Bobby Blotzer. Not sure who else is with them, but their site says Quiet Riot guitarist Carlos Cavazo has been making gigs, and onetime Motley Cruester John Corabi has been slinging some ax, along with bassist Robbie Crane. With The Donnas. At House of Blues, 8430 Sunset Blvd., West Hollywood 90069; 7pm; $30; (323) 848-5800; www.ticketmaster.com.
Fri.-Sat. Dec. 26-27 -- Thelonious Dub. Damn, these freakers play a lot. Which is good. Friday at Red, White & Bluezz, 70 S. Raymond Ave., Pasadena 91105; 7:30pm; (626) 792-4441. Saturday at Brenart Restaurant, 53 Union St., Pasadena 91103; 7pm; (626) 796-7460.
Sat. Dec. 27 -- An Unknown Instructor and a Saccharine Trustee, no longer strictly Universal, it's Joe Baiza Congress Of, featuring the post-jazz guitarist, funky bassist Ralph Gorodetsky, saxist Tracy Wannomae, and lessee, on drums it's . . . In the bar of Taix Restaurant, 1911 Sunset Blvd., Silver Lake 90026; 10:30pm; free; www.taixfrench.com.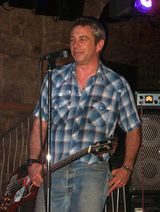 Sat. Dec. 27 -- Speaking of L.A. jazzpunk emperors, please welcome Mike Watt & the Secondmen, plus serio-whimsical rock-folk Americana from Listing Ship and like-minded chanties and sensitivity from Drake and Catron as Missincinnati, which I intend to spell that way. At the Redwood Bar & Grill, 316 W. Second St., downtown; (310) 245-0273; www.theredwoodbar.com.
Sun. Dec. 28 -- Sleepr Wave boink you throbbingly in the electronic ear via guitarist G.E. Stinson and vocalist Jen Hung, and B.K. Bynum's video images do likewise to the electronic eye. At Mandrake Bar, 2692 S. La Cienega Blvd., Culver City-adjacent 90034; 7pm; cheap; (310) 837-3297; www.mandrakebar.com.
Wed. Dec. 31 -- Ease 2008 gently out into the wilderness of oblivion with the spacin' beat electronics of World Ambient Symphony -- guitarist Matt Piper, percussionist Koorosh Daryaie and bassist Daren Burns. A Rocco Somazzi-sanctioned event at Royal-T, 8910 Washington Blvd., Culver City 90232; 9pm-1am; $45 includes three-course dinner and champagne; reserve at (310) 559-6300.