Fri. Dec. 5 -- Get yer fix of electronified kix with the quartet of violinist Jeff Gauthier, keyboardist David Witham, bassist Steuart Liebig and saxist-vocalist Becca Mhalek. At the Museum of Neon Art, 136 W. Fourth St., downtown 90013; 8pm; $10; (213) 489-9918; wwwneonmona.org.
Fri. Dec. 5 -- A special fusionistic experience: Tool drummer Danny Carey joins with Pigmy Love Circus pard John Ziegler (guitar), Tribal Tech's Kirk Covington (keys), and ZPZ Band's Pete Griffin (bass) to form the trippy & twiddly Volto. At the Baked Potato, 3787 Cahuenga Blvd. West, Studio City 91604; 9:30 & 11:30pm; $20; (818) 980-1615 (reservations advised).
Fri.-Sat. Dec. 5-6 -- Keyboardist John Beasley has a huge résumé of gigs and arrangements, notably for Miles Davis and Herbie Hancock, and he's got a new Herbie tribute album out, for which he's brought the goods: former Headhunters windman Bennie Maupin, legendary bassist Buster Williams and tiptop drummer Jeff "Tain" Watts. At Jazz Bakery, 3233 Helms Ave., West L.A. 90034; 8 & 9:30pm; $25-$30; (310) 271-9039; www.jazzbakery.org.
Sat. Dec. 6 -- Improvising Composers United (ICU) presents a mess of fine postjazz trips from musicians including Misuzu Kitazumi, Motoko Honda, Sarah Phillips, John Lindberg, Billy Mark, Jon Armstrong, Ulrich Krieger, Andre LaFosse, Craig Bunch and Nandita Kumar. At Harbor College Music Recital Hall, 1111 Figueroa Place, Wilmington 90744; 8pm; FREE.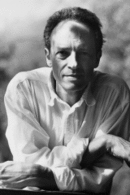 Sat. Dec. 6 -- Out-of-this-world (and around-this-world) pianist Larry Karush leads a quartet featuring percussionists Randy Gloss and Brad Dutz, and flutist Danilo Lozano. At Occidental College's Bird Recital Hall, 1600 Campus Road, Eagle Rock 90041; 7:30pm; (323) 259-2785.
Sat. & Mon. Dec. 6 & 8 -- There's this cute band out of Australia called AC/DC, where the really short lead guitar player wears a little schoolboy outfit. Weird. Read my review of their latest album here. At the Forum, 3900 Manchester Blvd., Inglewood 90305; $90.50 (yikes); www.ticketmaster.com.
Sat. Dec. 6 -- Thelonious Dub: just like the name says, but even stranger (and better). At Brenart Restaurant, 53 Union St., Pasadena 91103; 7pm; (626) 796-7460.
Sun. Dec. 7 -- Alex Cline presents longtime associate George McMullen, who plays trombone, writes his own stuff and leads a trio with Cline on drums and Joel Hamilton on bass. (Alex never errs when he brings in a little-known local vet.) Opening is the amazingly subtle and varied acoustic guitarist Jim McAuley, celebrating the release of an album of duos. At Center for the Arts, 2225 Colorado Blvd., Eagle Rock 90041; 7pm; $10; (626) 795-4989.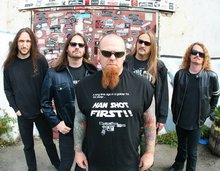 Sun. Dec. 7 -- The modern edition of original Bay thrashers Exodus have re-recorded their 1985 album "Bonded by Blood" as "Let There Be Blood," and they play it in its entirety tonight. Guitarist Gary Holt and drummer Tom Hunting remain from the original band; vocalist Rob Dukes stands in for Paul Baloff, who died in 2002. There are a number of reasons for a re-recording -- usually to take advantage of advanced studio technology and to rake some cash off songs whose initial versions the band doesn't own (both good motives). In this instance I think it sounds kind of forced; Exodus' 2005 "Shovel Headed Kill Machine" rocks realer. Anyway, the group deserves support for more than just having spawned Metallica's Kirk Hammett. At the Key Club, 9039 Sunset Blvd., West Hollywood 90069; $20; ages 15+; www.keyclub.com; (310) 274-5800.
Wed. Dec. 10 -- Matt Pike's High on Fire is like some ultimate reduction of the rock urge. At the Knitting Factory, 7021 Hollywood Blvd., Hollywood 90028; 11pm; http://la.knittingfactory.com.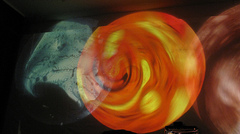 Wed. Dec. 10 -- Appreciation for early Tangerine Dream and Ash Ra Tempel should never go unrecognized, so pay tribute to World Ambient Symphony, an excellent trio of atmo-spacers including guitarist Matt Piper (a man of taste if not wealth), bassist Daren Burns and percussionist Koorosh Daryaie, plugging a new CD. Bassist/electroman John Von opens, and others follow WAS. Matt touts the room. At Air Conditioned Supper Club, 625 Lincoln Blvd., Venice 90291; 9pm; $5.
Thurs. Dec. 11 -- One of yer more multifaceted fusion trios, Ohm. Read my interview with guitarist Chris Poland here. At the Baked Potato, 3787 Cahuenga Blvd. West, Studio City 91604; 9:30 & 11:30pm; $20; (818) 980-1615.