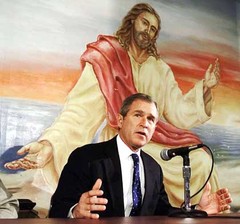 Consider the journey of a man who walked with God.
Now, Walker wasn't such an upright sojourner till he was born again through the agency of a great preacher and the words of St. Paul, from whose epistles he received much instruction. First, Walker learned that he should "put to death your members which are on the earth: fornication, uncleanness, passion, evil desire, and covetousness, which is idolatry. Because of these things the wrath of God is coming upon the sons of disobedience, in which you also once walked" (Colossians 3:5-7).
Henceforth, Walker would walk in righteousness. But his righteousness came from above, so when some of his prosecutorial servants held too closely to human law, Walker and his faithful steward recognized that they must be severed. The law, he had been taught, can actually incite sin: "When we were in the flesh, the passions of sins which were aroused by the law were at work in our members to bear fruit to death. But now we have been delivered from the law, having died to what we were held by, so that we should serve in the newness of the Spirit and not in the oldness of the letter" (Romans 7:5-6).
St. Paul intended thus to encourage relief from the complex Jewish system of scriptural prohibitions, which made people feel they were sinning every time they ate an unprovenanced hot wing or looked at a picture of Madonna. But Walker felt that Paul's instruction should be taken in a more general sense, since God's grace had "made known to us the mystery of His will" (Ephesians 1:7-9). When Walker had to decide which laws should be obeyed and which ignored, God would guide him.
Walker humbly acknowledged that he had been chosen for divine insight despite his own shortcomings -- God after all had previously singled out the self-admittedly fumble-tongued Moses as his mediator, as well as the inarticulate Paul himself, who had written, "My speech and my preaching were not with persuasive words of human wisdom, but in demonstration of the Spirit and of Power, that your faith should not be in the wisdom of men but in the power of God" (1 Corinthians 2:4-5).
By means of a miraculous election, Walker had found himself in a position to "guard what was committed to your trust, avoiding the profane and vain babblings and contradictions of what is falsely called knowledge" (1 Timothy 6:20). By "knowledge" Paul meant the arcane teachings of the Gnostics. But Walker, though a Yale graduate, had long recognized that learning was naught in comparison with the power of faith.
Walker's power, in fact, had been ordained and confirmed by God himself: "Whom He predestined, these He also called; whom He called, these He also justified; and whom He justified, these He also glorified. What then shall we say to these things? If God is for us, who can be against us?" (Romans 8:30-31)
If God told Walker to invade, he would invade. If God told Walker to torture, spy or pillage, he would do so. And his servants would comply in accordance with the mandate of Paul: "Let every soul be subject to the governing authorities. For there is no authority except from God, and the authorities that exist are appointed by God. Therefore whoever resists the authority resists the ordinance of God, and those who resist will bring judgment on themselves" (Romans 13:1-2). If a servant offered intelligence that contradicted God's, for instance, Walker would ignore or dismiss him.
Walker and his servants learned much from the regular Bible studies he instituted; of special interest was St. Paul, whose letters are quoted above. But even after Walker walks on, the lessons will not be complete. One day, perhaps, his eye will happen upon the words traditionally attributed to Paul's ally and rival, the Rock on which the Lord's church was built, in 1 Peter 2:15-16:
"For this is the will of God, that by doing good you may put to silence the ignorance of foolish men -- as free, yet not using liberty as a cloak for vice."
Amen.