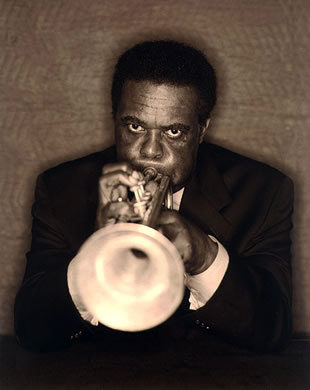 All the musicians knew Freddie Hubbard could play anything on the trumpet, cornet and flugelhorn. And certainly, when he was a kid, Hubbard was glad when the world's most famous jazzmen hired him to play anything. Somehow, though, it seemed as if he didn't usually end up playing what he wanted. You could hear it.
Hubbard emerged from the Indianapolis ghetto during a historic turn of the musical tide. Conservatory-trained, he got kicked out for playing too much jazz. But the jazz he loved was bebop, an intellectual form whose purest expression virtually expired along with Charlie Parker in 1955, when Hubbard was 17.
Pure lyricism, on the other hand, never went out of style, and it came easily to the tyro trumpeter. A romantic touch was what John Coltrane wanted in late 1958, when he tapped Hubbard to dip into a few ballads -- "Do I Love You Because You're Beautiful," "Then I'll Be Tired of You," "Something I Dreamed Last Night." Knowing Coltrane's rep for weirdness, Hubbard tossed occasional outside note choices into his steady, caressing trumpet solos. But sophisticated he was not; the interjections made him sound as if his dollbabe had chomped his ear.
By 1961, when Hubbard bipped some daringly errant high notes on Coltrane's "Dahomey Dance," his familiarity with the avant had grown, largely thanks to the late-1960 sessions for Ornette Coleman's "Free Jazz," where he desperately tried to fit in by attempting everything from flurried scales to "Melancholy Baby." But he was always ill at ease with the New Thing, frequently blown into a corner on those last two dates, for instance, by the confidently bent torrents of Eric Dolphy's alto. Even when Hubbard led the 1962 session of "Hub's Nub," the Dolphyesque alto expostulations of old pal James Spaulding made the trumpet work come off as careful, almost stiff.
Hubbard was hardly unproficient: On every session, he executed high-note flourishes, whipped the post-bop greyhound with stunning technique, and made some of the most cogent statements of melody any youngster in the '60s dared attempt. And by the time the climate attained ultimate freedom on Coltrane's 1965 "Ascension," Hubbard, despite imitating Trane's lightning arpeggios a little too closely, proved an appropriate ripstop-bop foil to the blurrier trumpet avantisms of Dewey Johnson. One might have wondered, however, as Hubbard essayed a hornified impression of the dry heaves, how seriously he was taking it.
In the midst of jazz's extreme flux, Hubbard found ways to focus his intuitive rhythmic precision. As early as 1960, Dolphy's first solo album kicked off with the twistingly difficult two-horn harmony riff of "G.W." Hubbard cut it perfectly, as he did similarly the next year on Oliver Nelson's "Stolen Moments" and also thereafter -- the jerking calypsoid theme of Sonny Rollins' 1966 "East Broadway Run Down," for instance, where his jaunty, leaping trumpet solos got a healthy shove from drummer Elvin Jones' swinging surge.
Aside from the avant-garde's eruption, the other main current of the late '50s and early '60s was bluesified jazz. And Hubbard didn't find his true home there, either. Whether on Dolphy's modernistic "Les" (1960) or on Dexter Gordon's more traditional "Society Red" (1961), he obviously knew the language of the blues -- his enunciation of it was just a shade rote, not felt in the gut. Many of the younger musicians, knowing they couldn't abandon the tradition, nevertheless associated blues with the plantation and tried to twist it, space it, stomp on it. Hubbard put it in the china cabinet.
Still, when I asked Richard Meltzer where Freddie Hubbard kicked most tail in the '60s, he zoomed straight in on Hubbard's longtime association with roots populist Art Blakey. Meltzer's choice was "Blue Moon," from a 1962 live set recorded right here in L.A. with a golden ensemble that included the ingenious two-part harmony arrangements of trombonist Curtis Fuller and saxist Wayne Shorter. The solo was a real heart thing, as Hubbard roused himself from soft balladry to launch a skipping bop-blues improvisation that radiated pure joy, emotional enough to make you forget all about technique amid a series of fanfare false endings.
My own picks are two. One is from 1965 with Wayne Shorter on the woozy waltz "Lost," where Hubbard pokes around the blind byways of earth before taking to the air, flapping high and scanning the horizon with the dust still trailing off his shoes. The other is Herbie Hancock's 1964 "Cantaloupe Island," which would be nothin' but an amiable soul groove if not for Hubbard's masterfully spare cornet lyricism, casual energy and smearing tonality -- smarts with stank.
Much of Hubbard's work in the '70s and '80s, from rockified ass-peddling to stale supergroup packaging in the VSOP ensemble, was made for money and sounded like it. I lost track. Saw him once or twice, and he was okay.
The record I kept coming back to was a double MusicMasters CD, "Live at Fat Tuesdays," recorded at the end of 1991 and dedicated to Blakey, who had died in 1990. The songs were long, and so were Hubbard's lines as he fired off clean, hard bursts on "Take It to the Ozone" or indulged a dark, melancholy tone on "Egad." Surrounded by an ingenious crew of younger players -- saxist Javon Jackson, bassist Christian McBride, pianist Benny Green and drummer Tony Reedus -- Hubbard was having a blast and, most important, playing exactly what he wanted, a fierce strand of high-energy post-bop. The more Reedus thumped and pushed on Hubbard's own "C.O.R.E.," the more relaxed the horn man got. He fluffed notes here and there throughout -- hey, this was live. But one track stood out: the Billie Holiday vehicle "But Beautiful," which Hubbard had recorded in 1960 on his first album as a leader. Though it got slotted two-thirds of the way through the first disc, I bet it was originally the last song on one of the two nights recorded. Hubbard sounded as if he'd imbibed a few -- slurring, a little choked up, alone with you at the bar, getting sentimental over some lost love -- and it was, like the man said, beautiful.
(While writing this, I found out Tony Reedus died from a pulmonary embolism in November at the age of 49, after getting off a long plane flight -- same thing that happened to Tim Russert. For god's sake, if you need to be in the air for a long time, get up and walk around occasionally. Anyway, Reedus was an inspired drummer, a foundation and a motivation who could stir things up the way Elvin Jones could, but with a heavier foot. I highly recommend his 1991 Enja disc, "Incognito.")
And then, in 1992, as Don Heckman wrote in Tuesday's L.A. Times obituary, Hubbard severely split his lip, it didn't heal properly, and he was never the same. As much as the man is revered among musicians, I see him as an artist who was always slipping in and out of phase with his time; his name could have been written much larger in the history of jazz. But godhood was not Hubbard's fate. And probably it wasn't his goal.