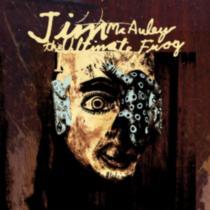 You've never heard musicians play inside each other's heads the way they do on this double album. At least half the credit goes to L.A. guitarist McAuley, who's on all 24 tracks. And of course, he's the one who picked his partners in the alternating duos -- violinist Leroy Jenkins, guitarist Nels Cline, drummer Alex Cline and bassist Ken Filiano. But everybody tuned in. Which is a tribute to both McAuley's openness and his guests' intuition.
It helps that McAuley and the others are universalists, not strict form guys. So when you hear Renbournish folk or Delta blues or Iberian passion, you hear them in whiffs, as part of a shared esperanto.
Each musician precipitates a completely distinct atmosphere. Alex Cline always makes sure you have room to breathe and feel as his gongs gorgeously overlap one another on "November Night"; McAuley generates raga-like drive with quick arpeggios on the low strings. Guitarist Nels Cline is more into the densities, as on the dissonant and even funny "Jump Start," where he and McAuley tangle together so closely that you can hardly tell who's who. AACM vet Jenkins' resiny violin skews nearest to the spirit of revolutionary freedom, on "Improvisation #6" contrasting almost classical leaps against McAuley's bluesy ding-slidations around the fretboard of what sounds like a dobro. Ken Filiano is the stealthiest partner, bowing a subconscious cosmic drone behind McAuley's chiming highs on "Bullfrogs and Fireflies" or chasing him around with burbling pluck on the almost acoustic-Zep-like "Okie Dokie."
The last selection, "For Rod Poole," finds McAuley in duo with Mother Nature, letting his fingers wander in folky wonder as the rain outside changes moods. The dedication commemorates his friend Poole, a guitarist stabbed to death randomly in a Hollywood parking lot in 2007. (My LA Times article is here.) I asked McAuley about the music, and here's what he wrote:
"I would routinely tape my practice sessions at home.....that night it happened to be raining. I played some tracks for Rod -- it was, I think, my last visit with him before he died. He really liked that track and said, 'You should have put THAT on your solo album.' So when I was assembling 'The Ultimate Frog,' I thought to add it as a 'duet' with the rain. I liked the fact that it was totally improvised and unselfconscious (when I'm practicing I can forget that I'm playing into a mike), as well as the connection to Rod, of course."
As improvisations will, this one seems to stop in mid-thought.