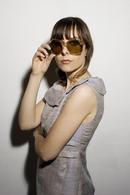 Fri. Jan. 16 -- Singer-songwriter Eleni Mandell still has a distance to go if she wants to get weird, but she can just jog in place if she only wants to stay excellent. I caught her on the first night of her Hotel Café residency on Jan. 6; as promised she did mostly songs from "Artificial Fire," which arrives Feb. 17. Mandell's eyes stayed cool behind her Diane Keaton bangs; guitar foil Jeremy Drake, in Bob Dylan cap, easily bridged the gap between Robert Fripp and Chris Stein; drummer Kevin Fitzgerald and bassist and bassist Ryan Feves thumped loud, by the restrained standards of the venue. Early in the set, Mandell maintained a skein to her decade-plus catalog with the noirish "My Twin" and the calmly bitter waltz "Girls," then it was all new and very together, her voice high, clear and pitch-perfect. (Check my record review here re the material.) After every song she got a great hand from the near-capacity crowd, who had no trouble swallowing the new-wave hooks and quirks that mark her current direction, with Drake's crosseyed solo on the Tom Waitsy "Needle and Thread" provoking no horror and the abstract "Two Faces," the strangest item on the new menu, proving an improbably memorable set closer. Mandell banged her head gently and dipped her electric guitar Go-Gogly on "Artificial Fire," and shook her hair in stylized rage behind the chordal bash of "Cracked." "Thanks for letting us rock," she said. No -- thank you. At the Hotel Café, 1623 1/2 Cahuenga Blvd., Hollywood 90028; $12.50; www.hotelcafe.com. Also Fri. Jan. 30.
Fri.-Sun. Jan. 16-18 -- An alto man with a biting edge, a deepdown African feel and a funky candleburn: Kenny Garrett brings a quartet. His latest is a high-quality live disc, "Sketches of MD." At Catalina Bar & Grill, 6725 Sunset Blvd., Hollywood 90028; 8 & 10pm; $20-$30; (323) 466-2210; www.catalinajazzclub.com.
Sun. Jan. 18 -- The Honorable DHC (Dean Chamberlain), his tight band and his duo of backup songbirds lay down mostly original Americana and Americanized imports. At Cinema Bar, 3976 Sepulveda Blvd., Culver City 90036; 8pm; free.
Tues. Jan. 20 -- Violinist Harry Scorzo's quartet presents a "tribute to the masters," and in his case that doesn't mean warmed-over dinner music; the guy has a distinctive touch and approaches his material with real emotion. At Catalina Bar & Grill, 6725 Sunset Blvd., Hollywood 90028; 8 & 10pm; $12; (323) 466-2210; www.catalinajazzclub.com.
Thurs. Jan. 22 -- If you're gonna commemorate the 70th anniversary of the Blue Note label with new recordings and live performances -- but without the original artists, who have mostly passed on -- you could hardly choose a better lineup than the one that appears on "Mosaic" by the Blue Note 7 and on this Royce program. When the 7 swing through tunes associated with Blakey, Monk, Hutcherson, Silver and the like, they don't recapture the soul of 1958; younger guys just speak a different language, and older listeners are unlikely to feel the connection. Still, fans of the players will find plenty to enjoy; the emphasis, since the Blue Note brand has been revived, settles on continuity more than reflection. Tonight's cast: pianist Bill Charlap, trumpeter Nicholas Payton, guitarist Peter Bernstein, saxists Ravi Coltrane and Steve Wilson, drummer Lewis Nash and bassist Peter Washington, aces all. Too conservative, too liberal or just right? Which of the three bears are you? At UCLA's Royce Hall, 8pm; $26-$50; www.uclalive.org.