Fri.-Sat. Jan. 9-10 -- Bombastic Meatbats knock out some verraverra funky instrumental shite behind the slapdown grooves of bassist Kevin Chown and Chili Peppers drummer Chad Smith, the boinging clavinet of Ed Roth, and the itchy explosions of guitarist Jeff Kollman. Bad, man. At the Baked Potato, 3787 Cahuenga Blvd. West, Studio City 91604; 9:30 & 11:30pm; $20; better call for reservations at (818) 980-1615.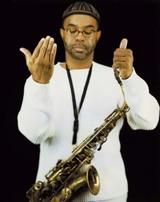 Wed.-Sun. Jan. 14-18 -- An alto man with a biting edge, a deepdown African feel and a funky candleburn: Kenny Garrett brings a quartet. His latest is a live disc, "Sketches of MD," and since he's played with Miles, I'm guessing he don't mean Medical Doctor, Mogen David or Michael Douglas. At Catalina Bar & Grill, 6725 Sunset Blvd., Hollywood 90028; 8 & 10pm; $20-$30; (323) 466-2210; www.catalinajazzclub.com.
Thurs. Jan. 15 -- A really good selection of local edge dwellers: Brotulid (Andrew Pask, Steuart Liebig, G.E. Stinson), the trio of Stephen Lockwood, Ellen Burr & Ken Rosser, the trio of Jeremy Drake, Joe Berardi & Jesske Hume, dance from Roxanne Steinberg, and live visuals by B.K. Bynum. Electronics, improv, abstraction. The small auditorium suits this kind of show, a march of the fresh. For a notion, check out the YouTube videos here. And this from Mr. Stinson: "BYOB with complimentary glasses and corking." ResBox at Steve Allen Theater, 4773 Hollywood Blvd., Hollywood 90027; 8pm; $10.
Thurs. Jan. 15 -- Nervous, thrashy metal with a 1992 Priest vibe from 3 Inches of Blood, Megadethy fluid energy from Early Man. At the Key Club, 9039 Sunset Blvd., West Hollywood 90069; www.keyclub.com; $14; (310) 274-5800.
Thurs. Jan. 15 -- South Africa's Tribe After Tribe smokerocks ya slow and crazy. Read my review of their new "M.O.A.B." here. At Spaceland, 1717 Silver Lake Blvd., Silver Lake 90026; 10pm; cheap; (323) 661-4380.