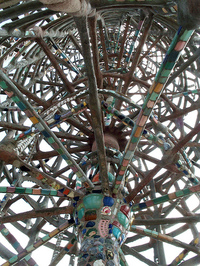 Curator Hans Fjellestad threw such a big wad o' taffy at us this night, we'd have needed to be Teflon patrons not to get stuck.
Joseph Berardi, Jeremy Drake & Jesske Hume warmed up the functional little hall on keyboards, guitar and bass (with truckloads of FX boxes, one need hardly add), with another mysterious Presence lying in front of them. Waves of soothing electro-noise suffused the space; distant tech beats emerged and disappeared; the Presence, in fright wig and bulky white mummy wrap, swatted flies, spazzed awake and slowly rose. Bursts of synth noise shot through Drake's feedback; bass and oscillators moaned. The derelict Presence, who turned out to be the amazing butoh dancer Oguri, agonized into a glacial zombie walk. Despite the talents of all concerned, it didn't quite come together, largely because the staging worked against Oguri, who must have wanted to see what effect he could produce when maximally hobbled: the wrapping, the wig and the indirect lighting kept us from observing the infinite gradations of his movements and the incredible distortions of his face. Maybe he was commenting on homelessness by evicting himself artistically.
A parallel quartet next grabbed the stage: guitarist Ken Rosser, keyboardist Stephen Lockwood, flutist Ellen Burr and dancer Roxanne Steinberg. And the communication flowed, especially between Steinberg and Lockwood, who had set up his Kurzweil so he could face her action and respond with melodic commentary, Cecilian intensity and even a segment on hand drums and handclaps. There was plenty of variety and dark drama all around. On eight-string amplified acoustic and nylon-stringed folk guitars, Rosser slid, slapped, fluttered, twisted his tuning pegs, and engaged in ethereal chord combinations with Lockwood. Burr punctuated on three flutes and electronified vocal treatments. The musicians' motion complemented the tortures of the lanky Steinberg, who reflected Oguri's concept by peeling off layers of straitjacketish white over/underwear and unleashing her waterfall of hair. Her freedom, though, rang ambiguous as she staggered smoothly (a good trick) in red galoshes, rolled back her dying eyes in collapse, rose again to verify her existence in a hand mirror, and finished with a slow, vacant, wide and toothy smile that was one of the scariest things I've ever seen onstage. An emotional performance.
Brotulid (named after a mightily fanged species of fish) conjured another effective collaboration of electronic and visual abstraction. Guitarist G.E. Stinson and bassist Steuart Liebig have been ransacking each other's memory banks for well over a decade, windman Andrew Pask's association with them is hardly less familiar, and image projectionist B.K. Bynum is Stinson's wife. The ghetto-capped Stinson and the hook-beaked Liebig share a love of big beats that's rare in avant-glitch circles, and it really helps draw an audience in. Stinson generated some synthetic clatter-rhythms, Liebig funked into a grating groove, and Pask condensed the air with fast arpeggios on soprano sax. Bynum, meanwhile, splashed exactly the right kind of images over and above them, alternating black-and-white with color, splooey organic shapes with barely identifiable architectural images, flying birds with geometric kaleidoscopes. Stinson waka-wakked; Liebig bumpa-bumped; Pask noised loops to a mechanical climax amid visuals of electrostatic rain; tribal voices faded out to an auditory trickle of water. Inspired urban art, physical enough for the meatheads. Like me.