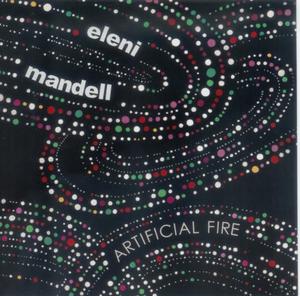 This record is very 1978. In Mandell's distinctive way, of course. The L.A. singer-songwriter has usually rolled with a touch of the retro -- vintage togs, a French-cinema album cover, some hillbilly guitars -- but "Artificial Fire" is about as recent as the flashbacks have flashed. Hey, it was three decades ago. Time flies.
When I ran into Mandell at the Dan Morris memorial (at which she sang) a few months back, she said some of the pre-release reactions to the "Fire" material were not overwhelmingly positive. (I'm writing before its February 17 street date because she's previewing the music in her Hotel Café residency this month.) People heard it as a jarring change. They thought it was weird. She said she was going for a more band-oriented approach.
Well, I think you'll like it. "Artificial Fire" is Mandell's artiest album, but it's immediately recognizable as what she does. And what are you, anti-art?
I also think I know what a very few listeners (not I) won't like: Jeremy Drake. Drake, an L.A. guitarist usually known for total abstraction, does what you might call a Marc Ribot thing here. His quirky/edgy but melodic riffs and obbligatos stand right up front with Mandell's cushy voice, and a couple of his grittiest figures encrust the very first two songs -- the jangly title tango and the dark, Sadé-esque reverie "God Is Love." "Don't miss the mark," coos Mandell on the latter, referencing sin's original etymology (it's an error, not a transgression) and hinting at the new fruit she's harvesting. So she throws down a bit of a glove.
It seems Mandell, the most intimate voice in popdom, wants to add some distance. She often cedes space to Drake's electronic endroidery. Her back-cover pose is ironically vampy, as if she wants to speak more as an actor than a confider. The inside photo of the band, in sharp black garb and neckties, references an entertainment-conscious New Wave sensibility.
So what was going on in '78? "This Year's Model" by Elvis Costello. "Jesus of Cool" by Nick Lowe. "Blue Valentine" by Tom Waits. The Brian Eno-produced No Wave compilation "No New York." Toss that stuff in the blender, and you get a good idea of "Artificial Fire."
The Costello chunks yield the album's rockinest attractions via the weaving, sliding riffery of "Don't Let It Happen," the condensed anger (an emotion Mandell rarely grants overt expression) of the concluding "Cracked," and the album's catchiest tune, the stomping "Little Foot." "Bigger Burn" kicks forth some of that Lowe/Blondie bounce behind Kevin Fitzgerald's surfwavy drums. "Needle and Thread" whistles past the Tom Waits graveyard with a spooky minor-key refrain that could haunt you.
Mandell isn't always concerned with hooks. The feel of several songs is impressionistic, always with some kind of surprise, like the 6/8 meter of "Tiny Waist," or DJ Bonebrake's effected vibes on "Front Door," or the way the harmonies (featuring Inara George) suddenly grow out of nowhere from the electronic auroras of "I Love Planet Earth." Her lyrics carry the signature details ("his hands upon my waist in my old Italian dress") that make the listener feel like a spy, and the will-he/won't-he moment of a kiss often provides the personal drama that connects her so strongly with an audience, as you know if you've caught her live.
So this isn't a different Eleni Mandell, just a fine artist continuing to grow, on something like her seventh album. And that's what makes art fun, don't ya think?
* * *
Eleni Mandell plays the Hotel Café, 1623 1/2 Cahuenga Blvd., Hollywood 90028, January 6, 16 and 30; 8pm; $12.50; tickets here.
Read my 2004 LA Weekly interview with Eleni Mandell here.