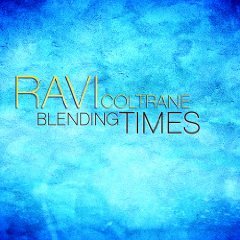 Ravi Coltrane, "Blending Times" (Savoy Jazz)
Ravi Coltrane writes that the unexpected January 2007 death of his mother, Alice Coltrane, "reshaped every aspect of my life." Since four of the tracks on "Blending Times" were recorded before her passing and six after, the record makes for a vivid snapshot of how the saxist's reshaping has begun to transpire.
The presence of Ravi's quartet on nine selections makes the album cohere. After the surging, fraught suburban ballad "Shine," which starts things off, you might tab pianist Luis Perdomo as simply a pretty player -- then he shows he can also stab, and haunt, and peel pages from the books of Cecil Taylor and Thelonious Monk. Drummer EJ Strickland roams all over, often implying a groove as much as stating it, though he whisks along lightly Latin-style in the second half of "Amalgams" and slaps the funk down on "Narcined." Drew Gress remains an unsurpassed bassist, obsessed with foundation while also offering multiple options to the rhythm and harmony. Their practiced ensemble work impresses every time.
In the past, Ravi Coltrane's playing has usually leaned toward a beauty and technical mastery exemplified here by Ralph Alessi's staggeringly complex dirtbike ride "One Wheeler Will." He's the kind of intellectual jazzman who chooses, rather than name himself as composer of five tunes, to credit them as "improvisations conceived and directed" by him. Now he challenges himself to bend his tenor in more emotional directions -- meditative on the rich, slow-rolling "A Still Life," moody in the mode of late Strayhorn on the dark ballad "Before With After." Ravi reaches deepest, though, on the concluding song, Charlie Haden's classic Spanish ballad "For Turiya," written for Alice Coltrane back in the '70s. In procession with Brandee Younger's shimmering, ascending harp and Haden's heart-throbbing bass, Ravi's sax is a reverent, thoughtful moan. But he's still a little detached. Reshaping doesn't happen in a day, or a year.
Ravi Coltrane clearly has more than one parent on his mind. Between more melodious passages, his bold vertical schematics (as always) frequently recall those of his father, John Coltrane, in structure if not in attitude. And in choosing a Thelonious Monk composition, he opted for the one most associated with John -- the hopping, twisting "Epistrophy." The feel is quite different, though. Where late-'50s Monk-Trane renditions, depending on the drummer, could swing free and playful (with Roy Haynes), crazed and insistent (with Shadow Wilson), or relaxed and artfully groovin' (with Art Blakey), Ravi's runs fast, clean, tight -- modern.
Which may be just what Ravi Coltrane is getting at. Not a nostalgic imitation of his forebear, but a clear contrast: Times have changed.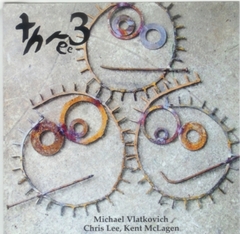 Michael Vlatkovich, Chris Lee, Kent McLagen, "Three" (Thankyou)
When's the last time you heard about a trombone-led trio? Well, why not? And this thing swings.
While L.A. boneman Vlatkovich may have scored his widest rep in avant circles, he's always shown he loves every kind of jazz; drummer Chris Lee and bassist Kent McLagen lay down the kind of wide asphalt groove he can ride on all day.
"Three" growls along like a Rolls right from the beginning, as the bluesy-balladic introduction of "The Fat Dance" gives way to hip-wigglin' shooga-beat; you can almost see Vlatkovich sticking his slide in the air as he works out on the high notes and McLagen locks into a motivational solo. Huh! Huh! Variations on the boogie -- Afro-Caribe, syncopated bopulations, old-line tick-a-boom -- surface sequentially, with an overall whapping Ronald Shannon Jackson vibe permeating thanks to the sometimes rhythmically contrarian Lee, who knocks some unusual sounds out of his cymbals, such as the soft overlapping surf crashes he stirs up on "Somehow . . ."
Vlatkovich must've envied the freedom Sonny Rollins enjoyed in those old trio sessions, and he shows that a sufficiently virtuosic trombonist can generate a similarly liberating atmosphere -- riffing, sliding, spitting out ambiguous split tones. A couple of free-improv tracks don't kick quite as much tail, but they do give the group a chance to smear some fresh colors, notably via McLagen's arco sustains.
The recording by Craig Keyser and the editing/mastering by Wayne Peet maximize the sparse resources; you'd hardly know "Three" was recorded live in a Denver bookstore. Original/funny cover artwork by William Roper, too. An unexpected treasure, highly playable.
Michael Vlatkovich, bassist Anders Swanson and drummer Christopher Garcia play Center for the Arts, 2225 Colorado Blvd., Eagle Rock 90041; Sun., Feb. 1; 7pm; $10; (626) 795-4989.

"Three" and other Vlatkovich recordings are available here.