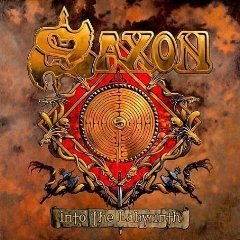 Saxon, "Into the Labyrinth" (SPV)
Saxon have gotten better after 30 years. Or I've gotten stupider. Or both.
Some history. Saxon were the primary model for Spinal Tap. Saxon were the New Wave of British Heavy Metal champions who created the thunderously dunderheaded 1981 anthem "Denim and Leather." Saxon precipitated the most paranoid moment of my life, when I feared that I was about to be shot by an imaginary home invader and that my wife would engrave "He died listening to Saxon" on my tombstone.
Well, times have changed: If we can make that "He died listening to 'Into the Labyrinth,'" I'm cool with it.
Damn, this sh*t rocks. The whole thing. On first listen, all 50 minutes ripped by without my diving for the eject button to slap on some James Gang or Mountain. Which for me is a Saxon first.
In the past, Saxon could be tasked for laziness. Their songwriting could be unfortunate. Their arrangements could be nonexistent. Their production could be prefab. Their guitar tones could be crap.
Not this time, Clive. The very first track, "Battalions of Steel" (ha!) for instance: A low thrum of synth sets the mood for a church bell; a guitar chimes in; monks start to chant!; an organ swells!!; a kick drum thuds!!!; THE SNARE POUNDS AND GALLOPS!; THE RIFF CRUNCHES DOWN!!; BIFF BYFORD STARTS TO HOWL!!!; AN "EXORCIST" CHORALE WAFTS UP!!!! . . . Holy moly, this chariot is hurtling right over the precipice!
Auspicious start; keyboards also play an alchemical role in introducing the next coupla tunes. "Live To Rock," complete with a sausage-munching Bon Scott vocal imitation by Byford, is the best piledriver AC/DC never wrote, overdriven by a slick key change for the guitar solo; "I coulda been a lawyer," blusters Biff, daring you to guffaw. Saxon tread more Saxonlike territory in thrashily celebrating "Demon Sweeney Todd," supported by a bloody-eyed bridge and a couple of fluid solos from Paul Quinn and Doug Scarratt -- each axman is allotted his own kick-drum pattern!
The details make the album special. For instance, Saxon sneak in a number of inventive instrumental setups. The guitar tones go down like creamy bonbons. The rhythm-guitar work can chop quick celery on "Valley of the Kings" (which sports a chorus grandiose enough to make you grovel in awe), or leave just enough hesitation space, as on the Priestly midtempo groover "Come Rock of Ages." While we're running down all the acts from which Saxon expertly thieve, might as well mention the lowdown & squealin' axes of "Protect Yourselves," going Wylde on yer ass; the deft theft of Peter Green's bottleneck-and-tambourine "Showbiz Blues" for the concluding "Coming Home"; and the roughneck ZZ Top boogie of "Slow Lane Blues." Steal away, long as it rocks. And German producer Charlie Bauerfeind extracts every fleck of granite.
The lyrics, one need hardly note, are often drawn from the permanent exhibition at the Museum of Cliché, occasionally transgressing the pain threshold with lines like "Live to rock/Never stop" and "I can't put out my fire/You've got what I desire." Filtering out the words may require some imbibing; twist my arm.
"Into the Labyrinth" may be a better album than AC/DC's "Black Ice," which is a mighty lump indeed. Bring on the chisel and let it be writ.
Six Feet Under, "Death Rituals" (Metal Blade)
Behemoth, "Ezkaton" (Metal Blade EP)
These came out around Veterans Day, but I slacked on reviewing because they were mp3 downloads. Since I hold both bands in high esteem, though, it's time I squeezed out a few words.
Six Feet Under's "Commandment" contended as one of 2007's mightiest heavy discs. On that one, the art lurked in the riffs; on "Death Rituals" it stands out more in the playing. Drummer Greg Gall has really grown in his 13 years with the band: His grooves, whether slow & relentless or thrashy & headlong, really hang together, and even when he executes a lot of changes, he doesn't overplay. Can death metal acquiah taste? Yes! Gall spins out even more intriguing musicality on the cymbals, like the way he dings around the bell tops on the Arab-riffed closer, "Murder Addiction." Guitarist Steve Swanson, too, rips his solos with fresh authority -- fast, intense and defined, the precision accentuated by the clean (if that's not a dirty word) production of vocalist Chris Barnes, whose rhythmic woof remains a template for the genre. You don't hear bassist Terry Butler, you feel him, and he feels right. A few years back, I thought Six Feet Under were beginning to slide. Nope.
Poland's Behemoth dig the EP form. So when guitarist-voxman Nergal came up with a neat little four-song black-metallic suite, he thought he'd toss it out there as "Ezkaton." The best segments are the abstract "Qadoah," pushed by Inferno's omnidirectional drums and a heroic bridge, and the thrashing midtempo nugget "I'm Not Jesus (I Can't Heal You)." The last three tracks, all live, include two furious catalog hits -- "From the Pagan Wastelands" and "Decade ov Therion" -- plus a stage version of the thundering, squealing title track, "Chant for Ezkaton 2000," whose simple single-string riff rocks with considerably more bristle & gristle than the studio opener. Custom-made as a quick introduction to Behemoth.