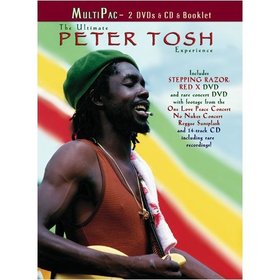 The Rolling Stones' endorsement to the contrary, Peter Tosh was not a gale force in Jamaican reggae of the '70s and '80s; for the biggies (to begin with), turn to Bob Marley, Burning Spear, Joe Gibbs, Augustus Pablo, Lee Perry, Jimmy Cliff, King Tubby, Sly & Robbie, U-Roy, even Ras Michael. But Tosh had a lot going for him. His voice was a marvel: ballsy, gruff and authoritative on one end, able to strike sweet falsettos with perfect pitch on the other. He was a solid guitarist, and an innovative keyboardist who made the clavinet a staple of the era's music. Onstage, his centered presence drew the eye. With Tosh and Bunny Wailer, the Wailers packed more dimension and soul than Marley's subsequent solo career ever mustered.
As a songwriter, though, Tosh was no barnburner, relying on political messages and basic rhythms while minting few durable melodies. Of the songs most associated with him -- "Get Up, Stand Up," "Stepping Razor" and "Don't Look Back" -- he had a hand in only the first, and that was a co-write with Marley. Still, thanks to three Rolling Stones Records releases from 1978 to 1981 and collaborations with Mick & Keith, Tosh became the second most visible reggae artist in the world. He was also a crazy, paranoid MF who sucked his Truths out of a spliff, pissed off allies and enemies alike, and got killed by robbers (or somebody) in 1987 at home, where he claimed he had discovered 49 devils. He was systematically casting out the duppies; looks like he missed a few.
Tosh led a legend-worthy life, skillfully laid out in Nicholas Campbell's Canadian Academy Award-nominated 1992 documentary "Stepping Razor: Red X," the first DVD in the new Shanachie collection. We follow Tosh out of his country birthplace to the bloody streets of Trenchtown, where he falls in with the Rasta crowd -- some bizarro Jah elders get to speak their piece -- and joins the Wailers. Joe Gibbs, Bunny Wailer and some sociologist types offer trenchant observations (Gibbs says Marley represented the perfect union of white and black), and there's some revealing vintage performance footage. When it comes time to discuss the murder, a dozen friends and victims present contradictory versions; we're not spared photos of the dead Tosh on a slab, or the spectacle of the widow pointing to the bloodstains that remain on her floor years after the attack. Interspersed throughout are segments of "Red X," a film wherein Tosh points a camera at his own eerily backlit face and calmly explains that everybody's out to get him. "It is dangerous to have the truth in your possession," he warns, part of his truth being, according to one acquaintance, that some malefactors once tried to assassinate Haile Selassie, but the bullets bounced off.
The second DVD contains Tosh live footage from 1978 to 1983, plus interviews with tiptop reggae authority Roger Steffens. Though it's fun to watch Tosh costumed like some kind of Rasta pope as he rants about downpressors and brandishes a crucifix or a samurai sword, I find that reggae performance documents, especially post-1980, leave me a little cold compared to studio recordings, which themselves are often overslickified. In Tosh's case, one reason for the live deficit is the absence of Sly & Robbie, who were featured on many of his records; in his traveling band, Word Sound Power, drummer Santa Davis and bassist Fully Fulwood don't achieve the same polyrhythmic acuity (though we do get some freaky lead guitar from Donald Kinsey). Part of the musicians' motive for skeletonizing, I hasten to note, must've been to account for concert conditions, where complexities were likely to get lost. Nobody thought bozos like me would be watching at home 30 years later with no stoned crowd milling around, no island sun warming our necks, and no gulf wind tossing the sound into the palm trees.
The third disc is a CD of 15 "Rare & Classic Recordings," which overlaps only a little with Columbia's wide-ranging 1997 three-CD Tosh set, "Honorary Citizen," now out of print but still available. On "Ultimate," I like the densely atmospheric trance-chant "Rastafari Is" (1981), the cheap synth and vocal effects on "Babylon Queendom" (1976), and the previously unreleased gloomy dubplate version of "Let Jah Be Praised" (1976), with its Mt. Sinai volcano rumbles. "Rare & Classic" isn't intended as a Greatest Hits, but if you want such, the jahketplace provides.
Considering the dearth of Tosh biographies, the historically minded will find treasure in the set's 32-page booklet. Notes by project producer Randall Grass and reggae expert Roger Steffens provide valuable perspectives, and onetime Tosh manager Herbie Miller closes the deal with several thousand words on the politics, the religion and the timeline. Shanachie did bang-up work on this one.
The release date for "The Ultimate Peter Tosh Experience" has been pushed back to February 10, but it can be pre-ordered on Amazon.com among other places.