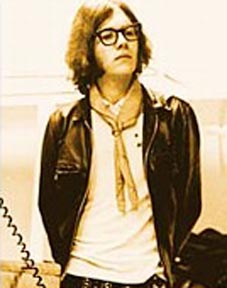 Just a few words here, about a guitarist who made a difference.
Because of Iggy, everybody points to the Stooges as forefathers of punk rock. Because of Ron Asheton, more people should point to the Stooges as forefathers of heavy metal.
The Stooges first album: 1969. Black Sabbath's first album: 1970. I dunno if Sabbath guitarist Tony Iommi ever heard "The Stooges" or "Fun House," on which Asheton was the guitarist, but there are some parallels. Both bands hailed from industrial centers -- Detroit and Birmingham. Both rejected flower power in favor of heavy sounds that resonated more closely with their lives. Black Sabbath were aware of heavy rock from the American Midwest, having recorded as their first single "Evil Woman," written by Minneapolis' Crow.
In the rock history of slow doom, only the Velvet Underground (whose John Cale produced "The Stooges") preceded the Stooges, and Ron Asheton added the crucial elements of simple riffs and a hyperdistorted guitar sound. Both the Stooges' "No Fun" and Black Sabbath's "N.I.B." ripped off the Kinks' "You Really Got Me." In Detroit, the MC5 had more of a soul thing than the Stooges; SRC and Frijid Pink were more psychedelic. The Stooges alone had cruel grinders like "Ann" and "Dirt"; the Stooges alone stayed consistently heavy.
So thank you, Ron Asheton. God bless your wah-wah. When I was a young stooge, you made music that sounded the way I felt.