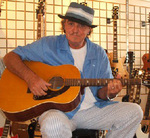 Fri. Feb. 13 -- Terry Reid is one of those cases where it's better to be famously jinxed than not famous at all. When he hit the English rock scene as a teenager in the late '60s, jaws dropped at his penetrating blues holler, his pinup looks and his guitar-slingin' charisma, displayed briefly in the film "Groupies." Great things were expected, and then his momentum got derailed by a split with his manager/producer, Mickie Most. After turning down opportunities to sing for Zep and Purp, Reid never maintained consistenst visibility, occasionally surfacing with well-respected albums, and getting a boost from having three of his songs featured in Rob Zombie's 2005 filmic killfest "The Devil's Rejects." It's our privilege that we get to see him now and then at small venues; the man has soul. At McCabe's, 3101 Pico Blvd., Santa Monica 90405; 8pm; $20; (310) 828-4497; www.mccabes.com.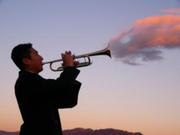 Fri. Feb. 13 -- The planet's most intelligent global electro-trance-groove guy, trumpeter Jon Hassell, rocks down low with his Maarifa Street band; his new ECM album, "Last Night the Moon Came Dropping Its Clothes in the Street," keeps to an even quieter, more ghostly vibe than usual, but always with that underlying beat of circumspect forward motion. Tunisian singer Dhafer Yussef opens. At UCLA's Royce Hall; 8pm; $22-$40; YouTube videos and tix at www.uclalive.org.
Fri. Feb. 13 -- Becca Mhalek hosts a new series of local avantsters, this week featuring a 7pm flea market and then the music: Volt Snatch (saxist Mhalek, guitarist Tom McNalley, bassist Vincent Atkins, drummer Pancake) and Manu-Rau (windman Andrew Pask, trumpeter Jeff Kaiser, guitarist G.E. Stinson, keyboardist Wayne Peet, bassist Steuart Liebig, drummer Chris Allis, percussionist Brad Dutz). Quite an impressive lineup; too bad its past my bedtime -- boo-hoo! At Vlagrant Space, 3501 Eagle Rock Blvd., Eagle Rock 90065; 10pm; cheap.
Fri. Feb. 13 -- Thelonious Dub assail the West Side with their trippin' wet & heavy Monk covers. Read my live review here. At Santa Monica Bar & Grill, 3321 Pico Blvd., Santa Monica 90405; 10pm; cheap; (310) 453-5001; www.smbgrocks.com.
Fri.-Mon. Feb. 13-16 -- The 17th Pan African Film & Arts Festival concludes. At Culver Plaza Theaters, 9919 Washington Blvd., Culver City 90232; www.paff.org.
Sat. Feb. 14 -- Operatic, witty yet simplemindedly rockin', Ron & Russell Mael's Sparks (out of L.A.!) were one of my fave early-'70s bands -- hey, I've still got their first LP, from when they were called Halfnelson. Tonight they perform their landmark 1972 album, "Kimono My House" (featuring "This Town Ain't Big Enough for Both of Us") in its entirety, as well as all of their new "Exotic Creature of the Deep." At UCLA's Royce Hall; 8pm; $30-$40; www.uclalive.org.
Wed. Feb. 18 -- Jeannette Lindsay's landmark L.A. music-and-art documentary "Leimert Park" screens; it's also available on DVD. Researchers wanting to see uncut interview footage can do it here. At UCLA's Charles E. Young Research Library Presentation Room 11348; noon; free.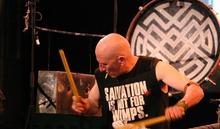 Thurs. Feb. 19 -- *****I am super, super stoked about this one: Longtime pals and experimental sound advancers Carl Stone & Z'ev (the latter pictured above) play together for the first time since their CalArts days in 1972. Check Stone's music at www.sukothai.com; Z'ev's site at rhythmajik.com is under reconstruction -- read my LA Weekly interview with him here. Plus, lawdy dada, you get solo and duo sets from wind magician Vinny Golia and percussionist Tatsuya Nakatani, along with visuals by VJ Fader. Best value of the year. ResBox at Steve Allen Theater, 4773 Hollywood Blvd., Hollywood 90027; 8pm; $10; BYO.
Thurs. Feb. 19 -- Eleni Mandell sings the songs she wrote. For a review of an earlier show and a link to my review of her new album, check here. At the Echo, 1822 Sunset Blvd., Echo Park 90023; 10:30pm; $10; 18+; (213) 413-8200; www.atthecho.com.