Fri. Feb. 20 -- Out-there filmmaker Werner Herzog ("Grizzly Man," "Aguirre: The Wrath of God") talks. Read my review of his latest DVD here. A UCLA Live presentation at Royce Hall; 8pm; $28-$48; www.uclalive.org.
Fri. Feb. 20 -- Slop yourself in the rich goo of the fusionistic tone bucket with guitarist Michael Landau, bassist Chris Chaney and drummer Gary Novak. At the Baked Potato, 3787 Cahuenga Blvd. West, Studio City 91604; 9:30 & 11:30pm; $20; (818) 980-1615.
Sat. Feb. 21 -- Local metalmen Sadistic Intent have one of the most original and scariest sounds I've heard, all wozzed up and coming at ya from all directions. Closing a substantial bill at the Knitting Factory, 7021 Hollywood Blvd., Hollywood 90028; http://la.knittingfactory.com.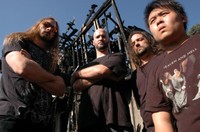 Sun. Feb. 22 -- Total radness and loose tempo changes from Tampa's early death gods Deicide; dense, dynamic black metal from fellow Tampans Order of Ennead (pictured); and double kick till you double over from New England's epical Vital Remains, whose history with Deicide goes way back. At the Key Club, 9039 Sunset Blvd., West Hollywood 90069; 8pm; $25; ages 15+; www.keyclub.com; (310) 274-5800.
Sun. Feb. 22 -- A strong right hand on the reins and the guitar strings: The Honorable DHC and band tear up roots on a bill with Tony Gilkyson and many friends. At Cinema Bar, 3976 Sepulveda Blvd., Culver City 90036; 9pm; free.
Mon. Feb. 23 -- LATE ADD: Skim the cream of the L.A. avant with The Other Three (Brad Dutz, John Fumo, Rob Lockart) and the long-established foundational duo of windman Vinny Golia & cornetist Bobby Bradford. At the South Pasadena Library, 1100 Oxley St., South Pasadena 91030; 8pm; $5; (626) 403-7330.