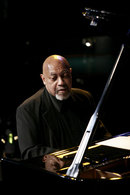 Fri.-Sun. Feb. 27-March 1 -- Pretty piano from the old school: Kenny Barron, with bassist Kiyoshi Kitagawa and drummer Francisco Mela. Sometimes I think Barron doesn't strike the keys, he thinks 'em. At Jazz Bakery, 3233 Helms Ave., West L.A. 90034; 8 & 9:30pm; $30; (310) 271-9039; www.jazzbakery.org.
Fri. Feb. 27 -- Nice sampler of independent jazz bands. Out of CalArts origins (and reminding me a bit of James Carney), high variety and use of space from Slumgum (saxist Jon Armstrong, pianist Rory Cowal, bassist David Tranchina, drummer Trevor Anderies). Out of Santa Barbara, spare geometric meditations from the duo of saxist Colter Frazier and drummer Matt Crane. Also Whale Shark, about whom I have no dope. Haven't been to this venue: Tribal Café, 1651 W. Temple St. #A, Echo Park 90026; 7:30pm; free; $6 minimum; www.tribalcafe.com.
Fri.-Sat. Feb. 27-28 -- Fine musicians pay tribute to Miles Davis' classic 1959 album "Kind of Blue." Friday it's Josh Welchez, Matt Zebley, Matt Otto, Gary Fukushima, Hamilton Price and Jens Kuross, with original music in the second set. Saturday's "all-star" KoB sets feature Zane Musa, John Beasley, Keith Fiddmont, Sam Minaie and Jason Harnell. At Pasadena Jazz Institute, 260 E. Colorado Blvd., Suite 206, Pasadena; 8:30 & 10:30pm; $20; (626) 398-3344; www.pasjazz.org.
Sat. Feb. 28 -- Fun stoner-rock event: "Blazed & Confused." Starts with a film documentary featuring the likes of High on Fire, Dead Meadow and Wino Weinrich, then three bands -- Hallowed Engine, Ride the Sun and Gusto, the last including former Kyuss and Queen of the Stone Age drummer Alfredo Hernandez. DJs, too. Presented by Hellfire Red Rock Art & Photography at Silver Factory Studios, 915 Mateo St., downtown 90021 (near 7th & Santa Fe); 9pm; $8; 21+.
Sat. Feb. 28 -- LATE ADD, EARLY SHOW: The quartet of drummer Tootie Heath (who musta played on a thousand records), now-generation saxist Kamasi Washington, everybody-wants-him bassist Trevor Ware and pianist Phil Wright. At the World Stage, 4344 Degnan Blvd., Leimert Park; 4pm; FREE.
Sun. March 1 -- An "L.A. creative jazz veteran supergroup," sez Alex Cline, and I ain't arguing: percussionist Brad Dutz, cornetist John Fumo and saxist Kim Richmond, abstractifying as The Other Three. Plus unbelievably fast and unconventional thinking from pianist Thollem McDonas. At Center for the Arts, 2225 Colorado Blvd., Eagle Rock 90041; 7pm; $10; (626) 795-4989.
Sun. March 1 -- Poland's Aga Zaryan is a fine jazz singer in the tradition; what puts her over the top is a world-class band featuring guitarist Larry Koonse, bassist Darek Oles and drummer Munyungo Jackson. At Jazz Bakery, 3233 Helms Ave., West L.A. 90034; 8 & 9:30pm; $25; (310) 271-9039; www.jazzbakery.org.
Wed.-Thurs. March 4-5 -- Bombastic Meatbats romp & stomp the fusionfunk -- that's Peppers drummer Chad Smith along with guitarist Jeff Kollman, bassist Kevin Chown and keyboardist Ed Roth. At the Baked Potato, 3787 Cahuenga Blvd. West, Studio City 91604; 9:30 & 11:30pm; $20; (818) 980-1615.
Thurs. March 5 -- Always glad to hear about a new jazz concert venue, so let's support LA Modern Jazz Series, especially as it's booking quality sounds, beginning this week with the post-traditional yet consistently beautiful vibraphone of Nick Mancini, supported by pianist Otmaro Ruiz, bassist Dan Lutz, drummer Dan Schnelle, windman Katisse Buckingham and clarinetist John Tegmeyer. Nick urges you to buy tix at the web site so they know how much booze to buy. At Whitefire Theater, 13500 Ventura Blvd., Sherman Oaks 91423; 7:30pm; $20; click here.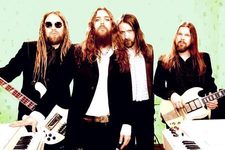 Thurs. March 5 -- Remember when rock was really grand and had a lotta keyboards? That was fun, and gear geeks can spend the whole night scoping out BigElf's gear. With heavy instrumental rippin' from Nebula. Read my review of BigElf's latest record here. At the Key Club, 9039 Sunset Blvd., West Hollywood 90069; $12; www.keyclub.com; (310) 274-5800.
Thurs.-Sat. March 5-7 -- One long note from the tenor of Pharoah Sanders, and it's 1965 again. With pianist William Henderson, bassist James Leary and drummer Karon Harrison. At Jazz Bakery, 3233 Helms Ave., West L.A. 90034; 8 & 9:30pm; $30; (310) 271-9039; www.jazzbakery.org.