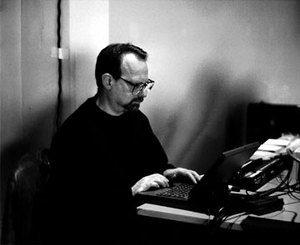 Great way to set up the 40th anniversary of the CalArts collaboration between sound frontiersmen Carl Stone and Z'ev: some vintage roll & squeal by the almost-as-veteran edge cruiser (and current CalArts instructor) Vinny Golia, plus, in from Pennsylvania, edge-scraping percussionist Tatsuya Nakatani.
Using violin bows, Nakatani literally scraped the edges of a vertical-mounted cymbal -- a technique that allowed him to generate, harmonize and re-pitch two separate skin-tingling drones, like sawtooth synth oscillations but far fuller in dimension; dude was a regular Jimmy Page on the metal discs. The tall warrior with the long black ponytail had other arrows in his quiver: grinding the skin of his floor tom for turntable-like scratch effects; knocking resonant bowls around on it; blowing on his snare with intimate lips to raise howling vibrations. Nakatani's intensely physical and highly musical solo efforts popped sweat on his forehead after only a few minutes, and he kept changing modes while scattering pings on his small cymbals and ringing bicycle bells that weren't bicycle bells, his rhythms unstated but subliminally felt. When he ended with drones similar to the ones with which he started, we felt as if we'd heard a composition rather than an improvisation.
Golia began his solo set rocking from foot to foot as he exhaled trancy arpeggios on his beloved bass clarinet. The deep mahogany tones and interlocked harmonic structures wrapped us rapt, and the white-maned Golia, hardly breaking stride, tossed in false-fingered split-tone chords -- it sounded as if he's now figured out how to get as many as four simultaneous notes. A beautiful meditation, full of ideas and motion.
Switching to saxello (pitched between soprano and sopranino, he told me after), Golia called Nakatani back. The drummer scared up feedbacklike sustains from a cymbal before going to whole-kit agitation with his mallets; Golia's quacking horn cut and stabbed through the rumble, and they built to a furious old-school avant boil. Like, wow.
A rumpled prof in beat black sportcoat and glasses, Stone (pictured) perched behind his PowerBook while shave-skulled and baggy-T-shirted Z'ev, smoking like the Titanic, positioned himself with back to us in front of a vertically mounted pan drum's four-foot face. Z'ev had some kind of vibrating mallet with which he painted invisible swirls around the skin and altered the tonality by positioning the other claw on its surface; his sound was a continuous swelling/ebbing massage to which Stone added simple, richly colored lines. The distinctions between the two musicians quickly merged into a union of subconscious drift, and the house cricket, who had been chirping for communion the whole night, made it a sympathetic trio.
The ever-theatrical Z'ev moved to the other side of the big drum, backlit so we could see his silhouette on the skin while he pounded the jumping Ubangi rhythm of the Velvet Underground's "Sister Ray," a distorted recording of which was squalling from Stone's computer. Stone squashed and sampled the already noisy epic till it became a total abstraction centered on Z'ev's insistent beat, which eventually changed tribes, picking up the dark rhythm of Pink Floyd's "Set the Controls for the Heart of the Sun." Z'ev cranked faster, Stone got more chaotic, and the whole thing crashed to a loud, satisfying conclusion.
Both of the source materials for the duo's improvisation came from 1968, which was about the time Stone and Z'ev first made music together. It was a good year for noise. But so is this.