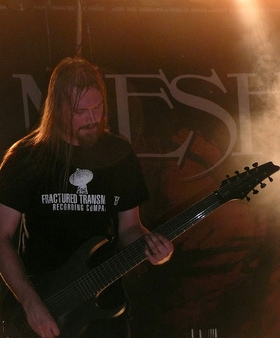 Today's proggo-geeks rock harder than yesterday's. Some of them even have girlfriends. Anway, it's metal, and few wimps could've survived this tuna-packed night at the most patron-punishing tin cantina in town.
The Faceless got reinstated on the tour after being banned from the Disneyland-adjacent Anaheim House of Blues for -- what? Using a Vocoder? Admitting the influence of Allan Holdsworth? No, it was probably cuz they've got a song called "XenoChrist," about "dispensing false salvation." (Thank gawd we repealed that damned First Amendment. Didn't we?) These local kidz made a hell of an impression, and I don't mean visually -- just a bunch of pokers in T-shirts with guitars scrunched too high under armpits. They cut loose with explosive variety, from rumbling psychedelic prog to Wagnerian sweep-picking to lowdown death crunch. Drummer Lyle Cooper approached the often daunting beats with a holistic balance that helped the songs come across clearly, and I loved the single cymbal-ding he applied before launching into one passage of total abandon. Guitarist Michael Keene tore along in complete control, highly technical but showing a fluid melodic sense, betraying weakness only in the occasional clean vocals that alternated with the death grunt of Demon Carcass, son of Mr. & Mrs. Beelzebub Carcass. Two albums along, the Faceless already have their own apocalyptic stage backdrop, not to mention millions of MySpace hits. They will soon be headlining.
No member of Florida's Cynic had invaded California's orange-competitive environs for over a dozen years, but the dudes had the clean & mighty new "Traced in Air" to plug, and had ended their long recording hiatus with a determination to demonstrate how this metalfusion sh*t is sposed to crank. Bookkeeperish guitarist Paul Masvidal and his cohorts sported the latest in headstockless nerd-axes, with Masvidal spinning out attractively weird lead scales between leaping riffs. The constant pummeling surge of Sean Reinert's drums dominated a poor sound mix that obscured Tymon Kruidenier's guitar-triggered synth washes and Masvidal's Ty Tabor-ish high voice, which colored his prayerfully aspirational compositions; the murk and the group's general aloofness detracted from the inward passion that stabs so precisely on record. The ethereal guest vocals of Amy Correia didn't alleviate Cynic's general sexlessness. Though we could tell they were amazing, we had to use the ol' intuition too much.
It all came together for Meshuggah. And it was no accident, cuz these highly respected Swedes know how to play live, providing clues that many a band would do well to follow. Clue 1: Not too fast; the rhythms are extremely challenging, and compressing them with speed would choke the best efforts of any sound man. Clue 2: Stay out of bandmates' way, playing off rather than on top of one another -- a virtue Lamb of God, for instance, exemplifies; when executing unisons, get really, really tight, which is almost impossible with all these lurching accents, not to mention downtuned eight-string axes. Clue 3: Keep the guitar lines uncluttered, usually on single strings.
Now, I write this stuff as a recent convert, therefore many thanks to Nuclear Blast for keeping after me for years with continual reissues etc. Because Meshuggah have made some offputting production mistakes, especially on videos, where too much echo destroyed them. Their music hasn't always been easy to grasp, coming off as listless/boring till repeated exposure wore me down. And silly me, I was annoyed by their whimsical name, which is so wrong for this very serious bunch of musicians.
So. Meshuggah welled up with intense, jabbing riffs cushioned by a dark synth drone, and bright white lights flashed, and the sci-fi skull backdrop glowed behind them, and baldie Jens Kidman's voice barfed forth -- he's got one of modern metal's best throats, coming at you like a drunk/wounded warrior, humanity showing through his brute pain. Bassist Dick Lovgren struck noble poses; Fredrik Thordendal (above) and Marten Hagstrom nodded broodingly over their guitars. And it was a revelation to observe how the sophisticated audience (sporting many a Meshuggah shirt) spazzed and pumped fists as these bastards locked together with between-the-beats bash-and-crunch. Uncommon rhythm structures or not, the music drove forward like as ter smash ya flat, with Thordendal slipping now and then into a greased-zucchini lead or hitting sustained howls that made us know he understood where Cream's "Strange Brew" was coming from before he was born. Surprises kept surfacing, as when drummer Tomas Haake pushed the energy to one of many trashy climaxes of asymmetrical confusion, then clacked some hesitation accents that in any other context would've been called pure calypso.
Exciting! Almost made me forget my screaming feets.