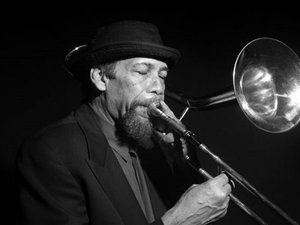 Phil Ranelin's father had died in Indianapolis that morning, but Ranelin came out amid steady rain to play two sets in a cubbyhole. He said the passing hadn't been unexpected; his dad was almost 92. (Ranelin's 93-year-old mother survives.) It seemed trombonist Ranelin, at age 69, wanted to seize every life-affirming opportunity; he himself was nearly killed in a car accident a few years back.
For his first number, Ranelin picked his own "Freddie's Groove," the lead track from his excellent 2004 album "Inspiration." The Freddie of course was Hubbard, who died December 29 at 70; both sprang from Indianapolis origins, and Ranelin soldiered in one of Hubbard's more highly reputed outfits in the early '80s. The tall, wizard-thin Ranelin made his Hubbard tribute celebratory rather than sorrowful, blowing condensed harmonies in a full-chested solo pushed by the densely rolling drums of Lorca Hart (Billy's son), who colored the post-bop riffology with a Latin tinge.
Horace Silver's Latinate standard "Song for My Father" followed naturally with its lovely shoulder-shaking riff. Ranelin showcased an ability to articulate quick multi-note phrases with only lip technique while leaving his slide in one position. (No keys on this 'bone, either.) His attitude toward the subject matter rang generous and happy, with only a few hints of shivering conflict, as Hart rocked the cowbell. Hulking skinhead bassist Kevin O' Neal showed more emotion, bowing a high, plaintive solo shrouded in twisted hurt.
O'Neal (could this be the guy who played with pop's Bus Boys back 'round 1980?) made quite an impression overall. While his plucking was crisp and pocket-conscious, on solos he had a distinctive way of sliding into notes with imaginative double-stopped chords, sometimes rolling his eyes back to examine the ceiling tiles. He obviously dug grooving down with Hart, and the whole group's interplay kept up a high level of rhythmic pressure.
Young pianist Mahesh Balasooriya looked studious and played an encylopedia -- driving hard on Cedar Walton's "Firm Roots," getting floridly bizarre on Ranelin's jaunty "Jamaican Sunrise" (dedicated to L.A. trombonist-arranger Melba Liston), miscegenating blues with Liberace on a heavy-lidded urban ballad, spraying baroque complexities on Wayne Shorter's soulfully intellectual swing-jerk classic "Footprints." I see on his MySpace page that Balasooriya has won about a hundred awards, and when he starts injecting a little more grit and snot into his incredible chops, he's gonna be major.
Watching Ranelin is always an education: the way he can saturate his tone by enveloping the microphone with the trombone bell; the effortless blending of swing, soul and adventure; the humble, puzzled expression on the face of a man who's one of the world's top trombonists and arrangers, and only about 80 people know it. So we're always delighted to see you, Mr. Ranelin, whatever the weather. Except for that lavender-and-silver striped tie. Man, bury that thing.