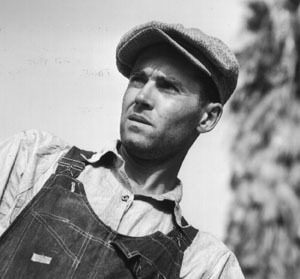 Already anointed among America's most sacred metal proselytizers, Lamb of God have now cast their net wider with "Wrath." The smart money says they're gonna land a lot of fish.
I've been soaking up these Virginians' blood for nine years, and it's been quite a bath. Since they didn't make an album till they'd been together nearly a decade, they've honed their musicianship to a fine edge -- always getting tighter and more focused, touring like the very devil. They swore they'd take a good break after promoting the Grammy-nominated "Sacrament," which dropped two and a half years ago, so "Wrath" is the sound of a powerful exhalation. It's also the sound of five dudes scoping out new worlds to conquer.
If there was one line of criticism the Lambs had to lie down with, it was that their intricately structured attack blasted forth with a certain post-thrashy sameness. But now: What's the first thing we hear on "Wrath"? A gently finger-picked acoustic guitar, followed by classic metal grandiosity and howling ax tones straight out of '80s Judas Priest. And what's the last thing? Acoustic again, more ominous this time but accompanied by the splashing of waves. The mood throughout skews toward apocalyptic "On the Beach" rather than fruit-punchy Waikiki Beach. But the Lambs are definitely on a journey.
"In Your Words," for instance, veers from screaming thrash to heroic half-tempo pose, and finishes with repeated lofty arpeggios that build like cumulus clouds. "Fake Messiah," though simple riffwise, cycles through time signatures you won't be able to count on all 11 of your fingers. The ghost of Euro-folk metal haunts the twin guitars and melodic rapture of "Grace." "Broken Hands" surges into gloom-gothy mansions where Marilyn Manson could overdose in comfort. And the clash between Zep-like acoustic slide and desperately fang-rent metal waltz makes "Reincarnation" one of the more challenging conclusions you're likely to survive. The rest of the time, LoG keep busy in the usual way: punching you in the gut.
Vocalist Randy Blythe confronts the perennial dilemma: how to court a wider audience without coming off like a pussy. And he succeeds perfectly, throwing in just a few manly notes of melody between the utterly committed screams and screeches he executes better than anyone.
Lamb of God possess a postgraduate degree in composed instrumental architecture, but only a bachelor's in improvised solos, a field that guitarists Mark Morton and Willie Adler are exploring more frequently if somewhat tentatively. Alien sustains and skyrocketing twiddles make a welcome addition to the arsenal -- hey, metal is about freedom, not just control.
One Lamb who must be delighted with "Wrath" is Chris Adler, who shows why he's the American drummer emulated by more modern metalists than any other. If you want a clinic on the tasteful yet explosive use of double-kick for accent, drive and color, you couldn't do better than the hurtling "Set To Fall." But Adler's so clean, precise and fluid all over the album that drummers may be demanding a student mix that foregrounds him, just so they can examine his technique in detail.
The sound is warm, enveloping, heart-centered, as compared to LoG work such as "Sacrament" with the more, uh, machinelike Machine at the knobs. Listing Josh Wilbur as producer, Lamb of God have opted for a young engineer with few production credits who's tweaked good sounds for the likes of Avenged Sevenfold, Pink and (yes) Avril Lavigne. In other words, they felt ready to produce themselves.
Early interviews have found Lamb of God describing "Wrath" as "raw." It's not. But it sure does rawk.

* * *
Read my 2007 interviews with Lamb of God here.
Read my 2003 LA Weekly story on Lamb of God here.