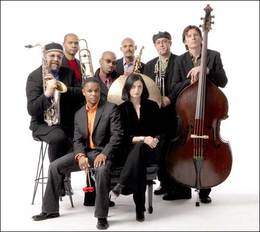 Fri.-Sat. March 13-14 -- One supergroup I can recommend with few reservations is S.F. Jazz Collective, featuring among the most forward-thinking of modern improvisers, and oddly also some of the most known: tenorman Joe Lovano, trumpeter Dave Douglas, altoist Miguel Zenón, trombonist Robin Eubanks, pianist Renee Rosnes, bassist Matt Penman and drummer Eric Harland. (Catch Harland before he trots off to Switzerland with Charles Lloyd.) At Catalina Bar & Grill, 6725 Sunset Blvd., Hollywood 90028; 8 & 10pm; $25-$37; (323) 466-2210; www.catalinajazzclub.com.
Fri. March 13 -- So what if the C (Dennis Chambers) and the A (Brian Auger) aren't in this version of CAB? You still get guitarist Tony MacAlpine, drummer Virgil Donati, keyboardist Otmaro Ruiz and the B, bassist Bunny Brunel. And fusion don't get no stronger. At the Baked Potato, 3787 Cahuenga Blvd. West, Studio City 91604; 9:30 & 11:30pm; $20; (818) 980-1615.
Fri. March 13 -- Dig the outness of ICU -- Improvising Composers United, featuring Jon Armstrong, Casey Butler, Daren Burns, Ingo Deul and Sarah Phillips, often adding electronic limbs to their traditional instruments. With video from Kio Griffith and dance from Jesske Hume -- I have seen the latter recently, and she is a killer. At the Wulf, 1026 Santa Fe Ave. #203, downtown 90021; 8pm; pay as you are moved.
Fri. March 13 -- Joe-Less-Shoe (drummer Jason Harnell, guitarist Jamie Rosenn and vet saxist Matt Otto) play attractive instrumental originals with sophisticated simplicity. At Café Metropol, 923 E. Third St., downtown 90013; 8pm; $10 cover, $10 minimum; (213) 613-1537.
Sat. March 14 -- Historic SoCal art/music alert: In the late '70s/early '80s, a lotta artists were in punk/art bands, and some of 'em, such as Michael Uhlenkott (Monitor, Romans) and Keith Mitchell (Monitor, Mazzy Star), were also in an art collective called World Imitation Productions (WImP) along with Laurie O'Connell, Steve Thomsen, Anne Connor and Jeff Rankin. Now Donald Krieger is curating "High Strangeness," a show of their vintage product. Opening party at Center for the Arts, 2225 Colorado Blvd., Eagle Rock 90041; 7-10pm; $10; (323) 226-1617.
Sun. March 15 -- Flutist Antares Boyle and pianist Rory Cowal play some of that new music, which, judging from the sample he sent me, is highly proficient, intelligent, abstract & adventurous stuff that leaves space so that he who has ears may hear. Works by five different composers. At Brand Library & Art Center, 1601 W. Mountain St., Glendale 91201; 7pm; free.
Sun. March 15 -- Happy birthday, Charles Lloyd, age 71.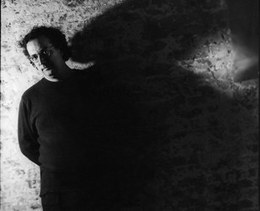 Mon.-Tues. March 16-17 -- Uri Caine is a New York pianist whom I admire tremendously and who sometimes chafes my lobes. Great touch, great harmonic sense, but when he gets to overorchestrating Mahler and Schumann (and Monk and Bach and God), he can often buy a one-way ticket to Quirk City. In trio, though, as here with the brilliant bassist Drew Gress and the communicative drummer Ben Perowski, you'll be able to hear his advanced ideas clearly. Great chance, don't miss. At Jazz Bakery, 3233 Helms Ave., West L.A. 90034; 8 & 9:30pm; $25; (310) 271-9039; www.jazzbakery.org.
Thurs. March 19 -- Spooky mystic beats & Tuvan throat singing from Portland's Soriah; free-jazz acoustic bass & drums from Northwesterners Basshaters; fragmented Enoism & improv from L.A.'s Department of Real Estate -- you always get difference with a difference from Hans Fjellestad's bookings. ResBox at Steve Allen Theater, 4773 Hollywood Blvd., Hollywood 90027; 8pm; $10; BYO.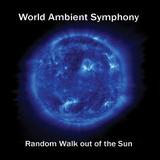 Thurs. March 19 -- Fall into the physical dream universe of World Ambient Symphony, the trio of multi-instrumentalist Matt Piper, electropercussionist Koorosh Daryaie and bassist Daren Burns. If I were unsure of WAS's honesty, I would have been incredulous about the group's claim that their album "Random Walk out of the Sun" was improvised live with no overdubs or edits -- it feels like a composed Symphony in a real sense. A cosmic whale calf moans, an electro-gamelan bongs, alien ululations zap across the sound field, digital monkeys chatter, effect following effect with steady purpose and natural blend. I was wrapped into a state halfway between attention and trance, buffeted and rubbed by a huge bass or yanked by the ears down stairsteps of echo. "Photosphere" would make a great alarm clock; its laptop skronks and gearbox tornadoes are irritating enough to wake you, yet comfortable enough to avoid cruelty. The 19-minute "Convection Zone," after making me feel I had been pulled upward into a spacecraft by some kind of alien beam, built a rhythm of psychedelic dance and squealing intersphere friction to accompany the inevitable lab experiment, painlessly conducted under semialert sedation. It's a trip indeed; turn off the lights and play it loud. Check out music samples and find purchase options here. Piper says he's also been digging the music of the other performers on the bill, Nudge, 60-Watt Kid, VoicesVoices and Slair. At Avant Garden at El Jardin, 17021 Roscoe Blvd., Northridge 91325; music starts 8pm; cheap or free.
Thurs. March 19 -- With the Chick Corea-John McLaughlin Five Peace Band, you gotta be a little wary, first because these Gods of Fusion affairs can be really spotty due to inevitable age trimming of the inner mounting flame, second because you want to have enough money left over for breakfast, and third because Peace is bad for music. Still, the band is boggling: bassist Christian McBride, saxist Kenny Garrett, drummer Vinnie Colaiuta. And the YouTube video on the web site looks pretty hot. A UCLA Live presentation at Royce Hall; 8pm; $38-$80; www.uclalive.org.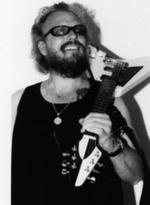 Thurs. March 19 -- Few guitarists combine radical shredmanship with true melodic sense, which is what musicians admire about UFO/Scorpions guitarist Michael Schenker. His Group here includes singer Gary Barden, drummer Chris Slade, keyboardist-guitarist Wayne Findlay and bassist Robbie Crane. Electro-robot guitar hero Doug Doppler opens; seems mighty slick. At House of Blues, 8430 Sunset Blvd., West Hollywood 90069; 9pm; $25; (323) 848-5800; www.ticketmaster.com.