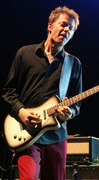 ***Fri.-Sat. March 27-28 -- HEY! HEY! YEAH, YOU! It's the major improvological event of the spring, Cryptonights, featuring the hottest of the roster from our world-respected local label Cryptogramophone. FRIDAY opens with the all-star quintet Myra Melford & Be Bread, featuring the thinking/splattering pianist plus wizardly trumpeter Cuong Vu (whose urban rhythm proves as trenchant as his space shockwaves), electric bassist Stomu Takeishi (who regularly grooves with Vu), clarinetist Ben Goldberg (a dry avant wit) and drummer Matt Wilson (in demand everywhere for his feel and scope), and closes with drummer Alex Cline's Continuation Quintet, a marvel of meditation and motion featuring Melford, violinist Jeff Gauthier, cellist Maggie Parkins and bassist Scott Walton -- read my review of Alex's new album here. SATURDAY opens with Jeff Gauthier's Goatette (with Alex Cline, Nels Cline, David Witham and Joel Hamilton; read my review of a live show here, and closes with the expanding and contracting guitar universes of The Nels Cline Singers, with bassist Devin Hoff and whomping drumster Scott Amendola. We gotta turn out and show we love our own as much as they do in New York. At REDCAT, 631 W. Second St., downtown 90012; 8:30pm; $20; www.redcat.org.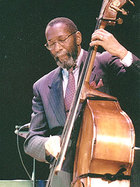 Fri.-Sat. March 27-28 -- Whale of a trio: bassist Ron Carter, who'll confuse you with jazz and classical loyalties the way he sometimes did with Miles, alongside been-everywhere pianist Mulgrew Miller and Diana Kral guitarist Russell Malone. At Jazz Bakery, 3233 Helms Ave., West L.A. 90034; 8 & 9:30pm; $35; (310) 271-9039; www.jazzbakery.org. Seems I've plugged four shows at the Bakery this week; take advantage cuz they've lost their lease and will be operating from different venues after May 31.
Fri. March 27 -- National Sunday Law is an extremely heavy L.A. duo that'll muck yer hubcaps. Read my review of their record here. In the middle of six bands at the AlterKnit Lounge in the Knitting Factory, 7021 Hollywood Blvd., Hollywood 90028; 7pm; $10; http://la.knittingfactory.com.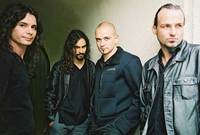 Sat. March 28 -- Normally I wouldn't plug gigs outside of L.A., but this year's California Metalfest is worth the drive to Anaheim. Carcass (10:30) have survived the early grind years in some form to become a more conventional but no less powerful unit. Y'all know Exodus (9:35), who've returned to bolster the revival of the Bay Area thrash they helped create. New York's Suffocation (8:40) have been one of the more listenable death cabals for nearly two decades. SoCal's The Faceless (7:20) are rising at a dizzying pace with their supertech prog-metal. Noisy Tennessee post-thrashers Whitechapel (6:40) have some solid songs. I'm digging the way Switzerland's Samael (pictured, 6:00) have turned up the density and the double-kick energy on their devastatingly mytho-heroic new "Above." Psycroptic (4:00) have double kick drums tuned so high they sound like a hyperdrive rivet gun; they can also sludge away quite worthily. And those are just a few of the highlights on the main stage, where the battle begins at 12:30; there's a whole other stage rocking from noon onward, and that's often where the most surprises crop up, before it gets too crowded to see anything. At the Grove, 2200 E. Katella Ave., Anaheim 92806; www.ticketmaster.com.
Sat. March 28 -- Mood, myth and rhythmic sophistication mark modern metalers The Acacia Strain, second-billed to popular thrashers Bleeding Through on a four-band bill. At the Key Club, 9039 Sunset Blvd., West Hollywood 90069; doors 7:30pm; $17; 15+; www.keyclub.com; (310) 274-5800.
Mon. March 30 -- Can't fault pianist/electronicist Motoko Honda for lack of ambition; she's composed a 13-part suite about Los Angeles ("I love the beauty and the ugliness"), and you can hear the whole thing if you get there for the first set. I saw a condensed version at Angel City Jazz Fest last summer, and it spans waaayyy 'cross the L.A. range, from inky dusk to bloody dawn and all through the sticky afternoon. Our local avanteers love to play with Honda: violinist Jeff Gauthier, drummer Joseph Berardi, bassist Steuart Liebig, trumpeter Kris Tiner, cellist April Guthries and a saxophonist to be named later in exchange for Manny Ramirez. At Jazz Bakery, 3233 Helms Ave., West L.A. 90034; 8 & 9:30pm; $25; (310) 271-9039; www.jazzbakery.org.
Mon. March 30 -- Here's an unusual/intriguing even: a lecture on improvisation/composition (do they tell you how to make money at it?) plus a performance by Onibaba, a top-flight ensemble featuring windman Vinny Golia, trombonist George McMullen, guitarist Scott Collins, bassist Daren Burns and drummer Craig Bunch. Plus video by Kio Griffith. At the Donald R. Wright Auditorim in the Pasadena Public Library, 285 E. Walnut St., Pasadena 91101; 7pm; FREE.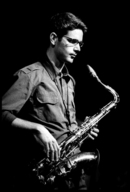 Tues. March 31 -- Saxist Ben Wendel is one of our region's more valuable futurejazzical assets, and he's got a new album that exploits his individual way of looking at rhythm and mode. Check it out here. With keyboardist Adam Benjamin, guitarist Larry Koonse, bassist Darek Oles and drummer Nate Wood, a truly impressive crew. At Jazz Bakery, 3233 Helms Ave., West L.A. 90034; 8 & 9:30pm; $25; (310) 271-9039; www.jazzbakery.org.
Wed. April 1 -- I know when Dub Club DJ Tom Chasteen gives the heads-up about reggae legends hitting town, it's time to listen. Tonight he's got singers from the late '70s/early '80s, Triston Palma and Michael Palmer, backed by Cualli (full band including horns), plus Randy's Studio 17 producer Clive Chin selecting and presenting a slide show/lecture about the vintage Jamaican days. At the EchoPlex, 1154 Glendale Ave., Echo Park 90026; $15; $10 before 10pm, which is a good deal cuz Chasteen himself will probably be spinning his ultraheavy collection.
Thurs. April 2 -- It's concept time as atmo-guitar mainman Bill Frisell puts together a live presentation of his double-disc "History, Mystery," inspired by the Depression-era photos of Mike Disfarmer, which will be projected. The music is spare, dry Americana like the images, and the band are the distillation of excellence: violinist Jenny Scheinman, steel player Greg Leisz and bassist Viktor Krauss. At the Skirball Cultural Center, 2701 Sepulveda Blvd., L.A. 90049; 8pm; $30; www.skirball.org.
Thurs. April 2 -- Rejoice; my favorite Israel-rooted psychedelic/spiritual groove trio, Maetar, are back with a new drummer, the well-traveled master James Gadson (Bill Withers, Marvin Gaye, et al.). At Harvelle's, 1432 Fourth St., Santa Monica 90401; 9pm; cheap; (310) 395-1676.
Thurs.-Sun. April 2-5 -- Omar Sosa can veer from beautifully pure piano improv and driving rhythm to rather generic whirled cheez, and his new "A Tale of Rhythm & Ancestry" unfortunately leans toward the latter. But this local gig finds him with a whole different outfit -- percussionist John Santos, adventurous saxist Peter Apfelbaum and bassist Childo Tomas. So I'm guessing you'll get the juicy jungle stuff like you find on track 2, "Glu-Glu." At Jazz Bakery, 3233 Helms Ave., West L.A. 90034; 8 & 9:30pm; $30; (310) 271-9039; www.jazzbakery.org.
Thurs. April 2 -- Metal don't get much more intense than the icepick guitar of former Fear Factory worker Dino Cazares, the kickin' heavy drums of Tim Yeung, the raging bark of Tavis Neal and the lowdrive of bassist Joe Payne, a.k.a. Divine Heresy. At the Whisky, 8901 Sunset Blvd., West Hollywood 90069; www.whiskyagogo.com.